Great food and beautiful table settings are key to a great lifestyle, no matter the occasion. Here at the office, sweets are a frequent topic of conversation. Around 3:00 pm, the cravings hit. The conversation usually starts with
Senior Designer Samantha Lanza
saying "You know what would be delicious…" and continues with our staff throwing out ideas of yummy dishes. One recent afternoon, Sam suggested that I browse Cupcake Rehab,
 a dessert-driven blog
, and needless to say, I was hooked. I tapped founder Marilla Liff to share her seasonal standby.
"This apple-cranberry pie is a relatively new favorite around here, but it works for both early fall/apple season as well as Thanksgiving! Plus, it gets us away from pumpkin overload," says Marilla.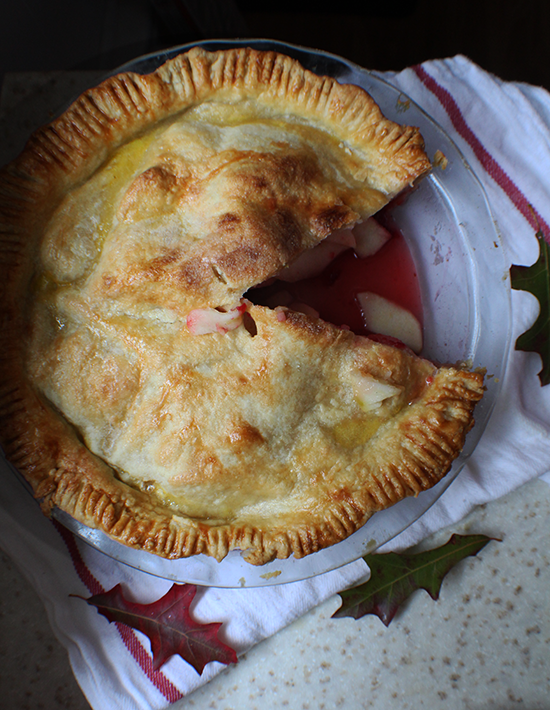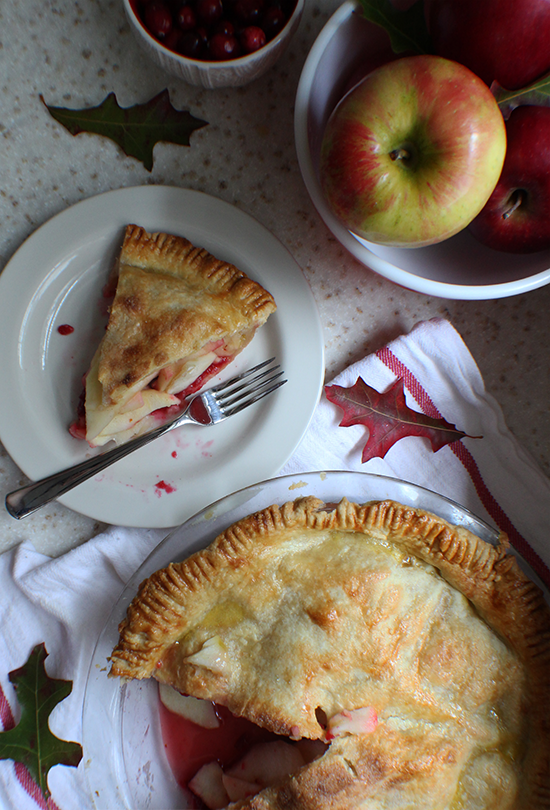 Images via Cupcake Rehab
Ingredients:
PIE CRUST:
15 tablespoons cold unsalted butter
1/2 teaspoon salt
2 cups all-purpose flour
1/4 cup + 1 tablespoon cold water
PIE FILLING:
2 cups cranberries, fresh or frozen
1/4 cup water
2 teaspoons finely grated orange zest
1 cup sugar, divided, plus 1 tablespoon for top of pie
1/2 teaspoon ground cinnamon
the caviar of one vanilla bean
1/2 teaspoon Kosher salt
1 tablespoon cornstarch
3 1/2 lbs  sweet crisp apples (Jonagold, Golden Delicious, Braeburn), peeled, cored, and cut into 1/4-inch-thick slices (6 to 7 medium)
1 egg, beaten lightly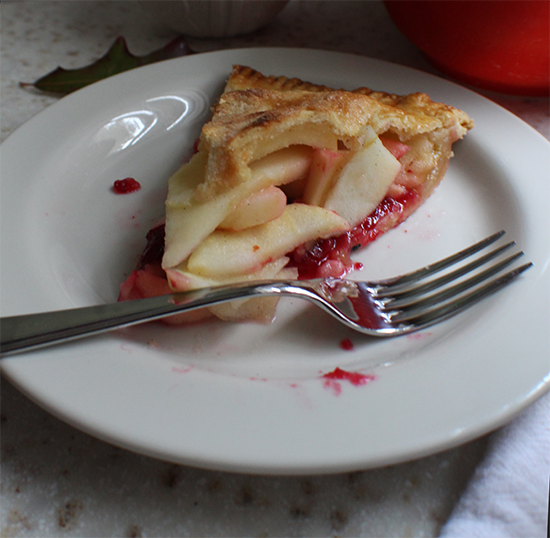 Directions:
First, you're gonna want to make the crust: This recipe will give you enough for the bottom and top to be fully covered. If you have a food processor, mix the dry ingredients and butter until just crumbly, then slowly pour in the water and mix until combined. Knead into a ball with your hands and wrap with plastic wrap. Refrigerate for one hour or overnight. You can also do this by hand, I highly recommend using a pastry cutter/blender if you do.
Now it's time for the filling:

Bring cranberries, 1/4 cup water, 1/2 cup sugar, orange zest, 1/4 teaspoon cinnamon, and 1/4 teaspoon salt to boil in medium saucepan over medium-high heat. Cook, stirring occasionally and pressing berries against side of pot, until berries have completely broken down and juices have thickened to jamlike consistency (wooden spoon scraped across bottom should leave clear trail that doesn't fill in), 10 to 12 minutes. Remove from heat and cool to room temperature, about 30 minutes.
Meanwhile, mix 1/2 cup sugar, remaining 1/4 teaspoon cinnamon, vanilla bean caviar, remaining 1/4 teaspoon salt, and cornstarch in large microwave-safe bowl; add apples and toss to combine. Microwave on high power, stirring with rubber spatula every 3 minutes, until apples are just starting to turn translucent around edges and liquid is thick and glossy, 10 to 14 minutes. Cool to room temperature, about 30 minutes.
While fillings cool, adjust oven rack to lowest position, place rimmed baking sheet on oven rack, and heat oven to 425° degrees. Remove 1 disk of dough from refrigerator and roll out on generously floured (up to 1/4 cup) work surface to 12-inch circle about 1/8 inch thick. Roll dough loosely around rolling pin and unroll into pie plate, leaving at least 1-inch overhang. Ease dough into plate by gently lifting edge of dough with one hand while pressing into plate bottom with other hand. Leave dough that overhangs plate in place; refrigerate until dough is firm, about 30 minutes.
Transfer cooled cranberry mixture to dough-lined pie plate and spread into even layer. Place apple mixture on top of cranberries, mounding slightly in center; push down any sharp apple edges.
Roll second disk of dough on generously floured work surface (up to 1/4 cup) to 12-inch circle about 1/8 inch thick. Roll dough loosely around rolling pin and unroll over pie, leaving at least 1-inch overhang on each side.
Using kitchen shears, cut evenly through both layers of overhanging dough, leaving 1/2-inch overhang. Fold dough under itself so that edge of fold is flush with outer rim of pie plate. Flute edges using thumb and forefinger or press with tines of fork to seal. Brush top and edges of pie with egg and sprinkle with remaining tablespoon sugar. Using sharp paring knife, cut four 1 1/2-inch slits in top of dough in cross pattern.
Place pie on preheated baking sheet and bake until top is light golden brown, 20 to 25 minutes. Reduce oven temperature to 375° degrees, rotate baking sheet, and continue to bake until crust is deep golden brown, 25 to 30 minutes longer. Transfer pie to wire rack to cool at least 2 hours. Cut into wedges and serve.
Heavy-duty baking calls for dishware that will stand up to high oven temps and caramelized residue. Marilla likes Longaberger for kitchenware, and I vote to pair her autumnal creation with their Woven Traditions pie plate. It's pracitcal and sturdy, yet homey and nostalgic. Exactly what a pie plate should be.
If you bake this dish, make sure to share you pictures with me on social media by tagging @houseoffunkdesign!