Great food and beautiful table settings are key to a great lifestyle, no matter the occasion. As chilly fall evenings descend upon us, the urge to cozy up indoors with a warm bowl of soup is top of mind. To this end, creamy, delicious butternut squash soup is a prime choice for an easygoing night in. Pour it into a classic dish for a homey presentation.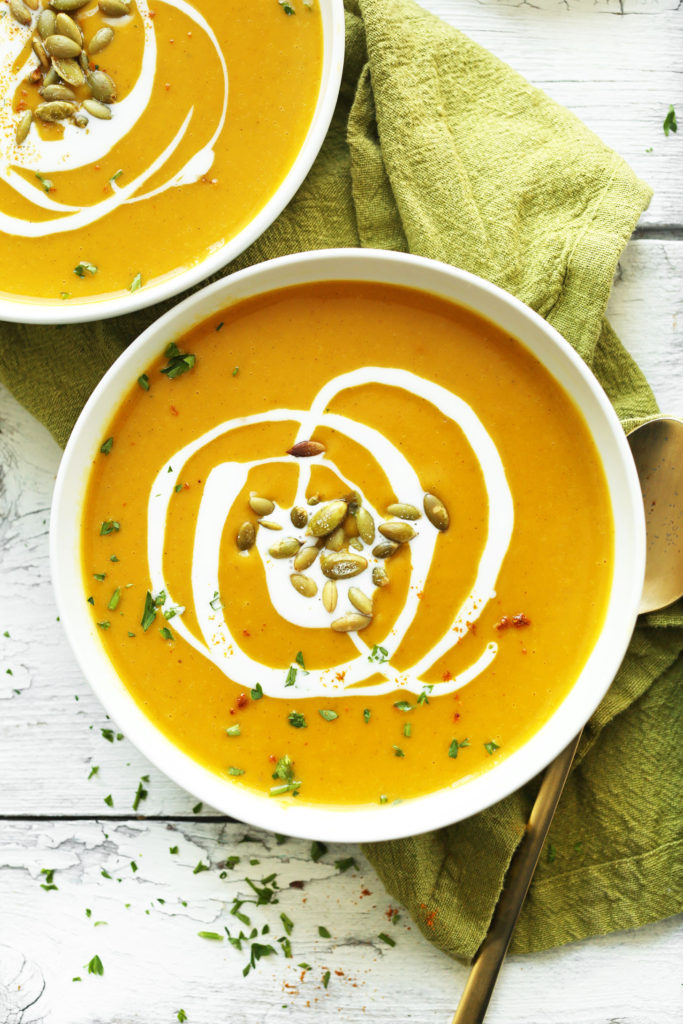 The Minimalist Baker dreamed up this piping-hot meal in response to cooler weather, and describes it as "flavorful, soul-warming, and subtly spiced." I couldn't agree more. From prep to serving, the soup only requires simple ingredients and comes together in about thirty minutes, making it the perfect weeknight meal. Borrowing from Thai greats, the recipe blends notes of curry and coconut to delicious result.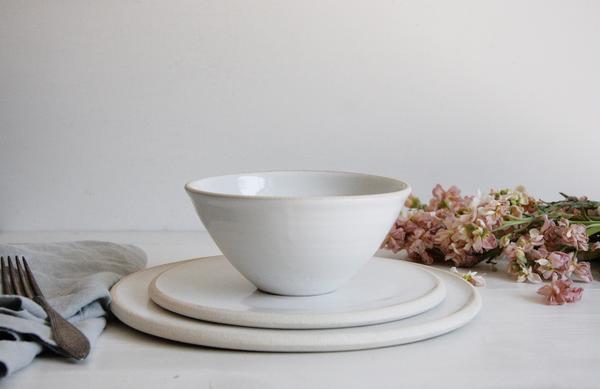 Peter Sheldon Ceramics's Silverlake bowl is the perfect complement to this warm, comforting meal. The bowl's stone-rim style aptly showcases a vibrant dish. Hand-spun and fired, the piece is rustic, yet simultaneously contemporary, in feel.
Ingredients
SOUP
1 Tbsp (15 ml) coconut or grape seed oil
2 shallots, thinly diced (~40 g)
2 cloves garlic, minced (1 Tbsp or 6 g)
6 cups (840 g) butternut squash (~ 1 small butternut squash)
Pinch each sea salt + black pepper, plus more to taste
1 1/2 Tbsp (12 g) curry powder
1/4 tsp ground cinnamon
1 14-ounce (414 ml) can light coconut milk
2 cups (480 ml) vegetable broth
2-3 Tbsp (30-45 ml) maple syrup (or sub coconut sugar)
optional: 1-2 tsp chili garlic paste
FOR SERVING optional
Toasted pumpkin seeds
Chili garlic paste
Full fat coconut milk
Directions
Heat a large pot over medium heat.
Once hot, add oil, shallots, and garlic. Sauté for 2 minutes, stirring frequently.
Add butternut squash and season with a pinch each salt and pepper, curry powder, and ground cinnamon. Stir to coat, then cover and cook for 4 minutes, stirring occasionally.
Add coconut milk, vegetable broth, maple syrup or coconut sugar, and chili garlic paste (optional – for heat).
Bring to a low boil over medium heat and then reduce heat to low, cover, and simmer for 15 minutes, or until butternut squash is fork tender.
Use an immersion blender, or transfer soup to a blender, and purée on high until creamy and smooth. If using a blender, return soup back to pot.
Taste and adjust seasonings, adding more curry powder, salt, or sweetener as needed. Continue cooking for a few more minutes over medium heat.
Serve as is or with garnishes of choice (options above). Store leftovers covered in the refrigerator for 3-4 days, or in the freezer up to 1 month. Best when fresh.