Full-Service Interior Design
What do you offer?
·  Full-service interior design
·  Additions and renovations consulting
·  New-construction consulting
·  Project management
·  Kitchens and bathrooms
·  Furniture and accessories
·  Space planning
·  Custom cabinetry
·  Fabrics and upholstery
·  Floor coverings and rug design
·  Wall coverings
·  Window treatments
·  Lighting design
·  Corporate offices
·  Hospitality and restaurants
·  Showhouses
·  Public spaces and lobbies
·  Sustainable design
·  A network of contractors, electricians, plumbers, drapery treatment fabricators, faux finishers, painters, wallpaper installers, tile installers, custom glass crafters, movers, demo crews, wood finishers, lighting experts, cabinet makers, stone fabricators, custom concrete artists, architects, landscape architects, art consultants, upholsterers, bedding and pillow fabricators and much, much more.
What do you get?
Full-service interior design consists of three major phases:
Conceptual Design
Detailed Design
Purchasing and Execution
Our full-service approach enables us to manage projects from initial concept through to completion, designing your home down to the final detail. It is our job to take care of the major and minute design details that turn a house into a home.
What is Conceptual Design?
The Conceptual Design Phase takes approximately eight weeks and includes the following design services:
· We assess the current project space, take measurements and photos, and document any items that will be staying.
· Design the ideal floor plan to ensure the best possible layout for the project.
· Create inspiration board(s) to communicate what we envision for the project.
· Determine initial selections to confirm the design direction.
· Create a investment estimate to capture the elements that will be needed to make the project a reality, from furnishings to trades.
· Conduct "Trade Day" at your home. This is where we consult with our trades and vendors on site to review the project concepts and take detailed measurements in order to receive accurate quotes. (It is imperative to be on site with the vendors to discuss obstacles and options at the outset).
Conceptual Design includes the following:
· Floor plan(s)
· Inspiration board(s)
· Limited Initial selections
· Updated investment estimate for approval
During this phase, we will confirm the design direction, layout, and investment estimate of the project, with one revision offered. The one allowed revision will add time onto this phase depending on the scale of the revision.
What is Detailed Design?
The Detailed Design Phase takes approximately eight weeks, and consists of the following design services:
· Selection of each item according to design direction, investment estimate, and floor plan(s)
· Procurement of written quotes from all trades and vendors
· Completion of selections in accordance with approved inspiration boards and initial selections
· Finalizing the approved floor plan(s) with actual selections
· Drawing relevant elevations of the space
· Completing any custom piece drawings as needed
· Presentation preparation to communicate the design
· Confirming the actual numbers against the approved investment estimate
Detailed Design includes the following:
· Inspiration board(s)
· Floor plan(s), elevation(s), and relevant custom drawings
· Proposal of each item for your approval, with all details to confirm orders and the coordinating samples
· Investment estimate updated with actual costs
What is Purchasing and Execution?
The Purchasing and Execution Phase is time dependent on scope of project and the contractor's schedule.
Purchasing and Implementation Phase:
· Placing orders & assessing delivery times
· Complete the purchasing of goods on your behalf
· Clarify and communicate estimated delivery times
· Manage open orders by efficiently tracking goods
· Prepare the construction & installation timeline
Construction
· Oversee the construction and installation timeline
· Coordinate project logistics with contractors and vendors
· Provide site checks for project accuracy
Installation
· Coordinate deliveries and installations
· On site presence during deliveries and installations, where applicable
Furniture Installation and Styling
· Provide turnkey furniture installation, which means that all of the furnishings are delivered at one time, once any construction is complete
· Plan and execute the styling process
· Style and photograph the completed project, where applicable
The Reveal
· Provide documentation that supports the care and maintenance of your newly completed project
· Identify any deficiencies that we've noted during installation in the format of a project punch list
· Present the styling price list for each item installed, where applicable
· Confirm what you want to keep or return from the styling price list, where applicable
· Pick up and return any items identified to be returned, where applicable
Identify & Resolve Deficiencies
· Identify and resolve all deficiencies identified on the project punch list
How long does it take?
The Conceptual Design Phase typically takes approximately eight weeks and the Detailed Design Phase takes approximately eight weeks. The Purchasing and Execution Phase is time dependent on scope of work and the contractor's schedule.
What can I expect emotionally during the project timeline?
We truly envision your project from all angles, making sure that spaces flow from one room to another, that they fit your lifestyle, family, and aesthetic, as well as the character of the architectural structure. Design is personal, and we are familiar with the typical emotional ups and downs our clients experience in relation to having their homes worked on.

This cheeky graphic helps us illustrate our design project timeline (in client feelings).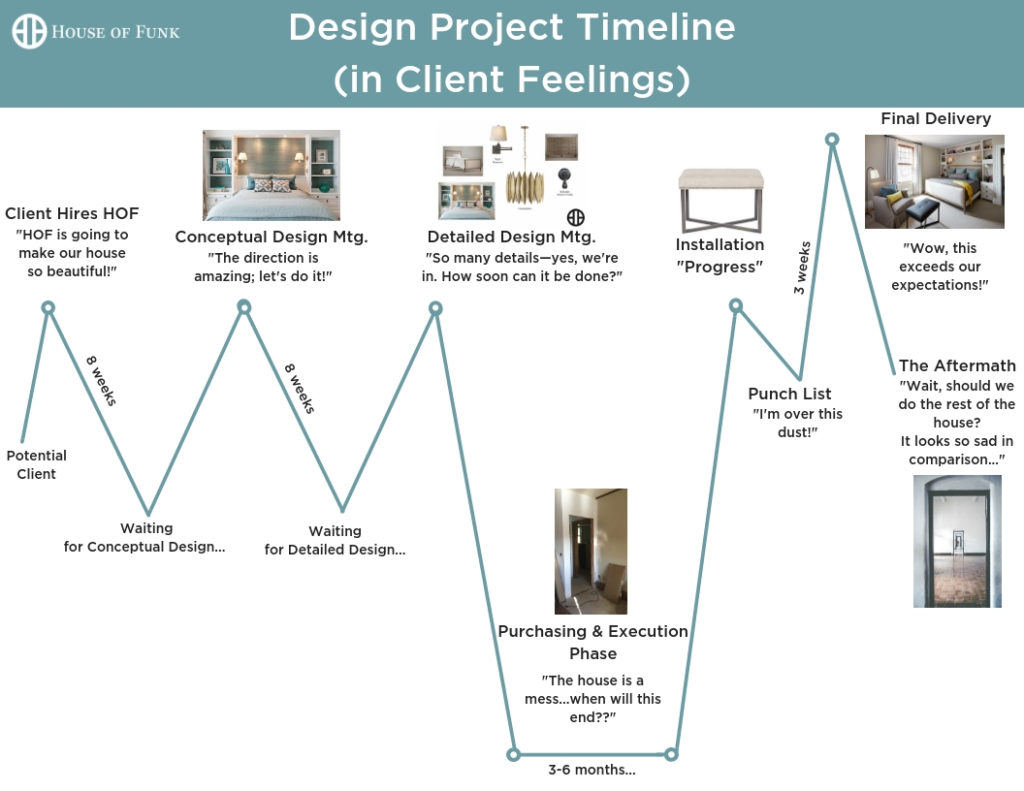 What is the fee structure for full-service interior design?
As every project is different, Sandra will meet with you and access the scope of work, then determine the design fee accordingly. Full-service interior design is a flat design fee per project.
How do you handle purchasing?
All purchasing and execution goes through us.
Your purchase of interior design items (i.e. furniture, tile, fixtures, fabrics and other design materials) through us will serve as payment for our services during the Purchasing and Execution Phase. We charge commercially reasonable "retail" prices.
We have developed and refined our process over the last 12 years and are not willing to deviate from it. We do not offer options in design presentations, as we find that when we provide options, we end up with a very "vanilla" design. Meaning, everything has to be interchangeable, which is not how we develop layered, thoughtful, and detailed designs. Our true value is in putting together the mix. Options greatly detract from that.
In addition, full-service interior design features to-the-trade pieces purchased through House of Funk. Although it may seem obvious in hindsight to swap out a few items for less expensive options, that isn't how full-service interior design works. Our agreement is that we set a investment estimate together, then furnishings are purchased through House of Funk. This is the business model that we have to stick to make our flat fees functional as a business.
Why do you require full payment at purchasing?
We require 100% deposit on all orders for many reasons. One of our favorite responses (loosely quoted by Tobi Fairley) is: "If, after placing an order, you decide you don't want that sofa, I can assure you that I don't want it either."
Once a custom order is placed, it is non-refundable.
We've had clients go through tough times that pulled them away from the project. While it is completely understandable that someone dealing with a personal crisis can't focus on the design project, the custom orders already set into motion cannot be paused or cancelled, which means production will conclude and balances will be due. Basically, we're a design firm, not a bank.
Those examples aside, there are many benefits to paying 100% up front:
·  It cuts paperwork in half (instead of billing for a deposit and final invoice).
·  Since we do turn-key project installations (where we do one delivery after all of the orders are in at our local receiver's warehouse), you would still be required to pay for items in full prior to receiving them.
·  Projects move more quickly this way, as it makes the entire order process more efficient and allows us to complete your project quicker.
Here's an example to illustrate our point:
 Our vendors won't ship your items until they are paid in full, so in the case of a 50% deposit, we would then pay our vendors 50%. They would send us an invoice when the item is ready to ship. We then send you a balance-due invoice. We process your payment, then pay our vendor. Some vendors still send paper invoices and only take checks, so this can add a week or two to the lead time.
Can you recommend a contractor for my project?
There's no need for you to sift through interviewing contractors and hoping that the team you put together gets along.
Our greatest resource is our team of designers, project managers, vendors, makers, craftspeople, artisans, installers, and contractors. We manage the entire design and renovation process; from conceiving the design, to project managing the renovation, down to placing the last pillow. This assures that our design is executed with the utmost quality and efficiency.
Our team is extremely talented. You'll see.
Do you have references?
We invite you to talk with our clients about their experience. Please reach out for a list of references.
Do you have any advice for design project financing?
A home equity or construction loan would be a great way to finance your dream project. This allows you to complete your project now, while paying for it over time.
You only make payments on what you actually borrow, not the entire loan.
If there is a large construction project happening, the bank will use the plans and budget for the home appraisal. They will base the loan amount on the future value, not the current home value. This allows you to use the future value of the home to pay for those improvements now.
Helpful resources:
5 Basic Types of Mortgage Loans
Did we answer your questions?
Great! Now for the fun part.
Click Here to Get Started
Online Interior Design
How long will it take for me to receive my design?
You will have your design in approximately six to eight weeks from the date that we receive your completed design pack (longer if there are holidays).
Is there a way to estimate in advance the cost of the furnishings you specify for my room?
The online interior design questionnaire asks you to select from one of three furnishing target budget tiers. These are only targets that will help inform our design process and selections, not guarantees. Once you receive your design pack, you can implement as specified or substitute items to meet your specific budget. You have complete control of when and what you purchase.
If I have questions, special needs, or requests or want to add information during the time my room is being designed, how do I do this?
Please feel free to use the comment section of our questionnaire to expand upon your specific needs and requirements. You can also email us after you've submitted your online interior design pack.
Do you have a telephone number where I can call and speak with a designer about my room? I have more information I would like to share.
Feel free to communicate with us via email. Calls will be billed at a flat rate fee, if necessary.
Will I be purchasing the items you recommend from you directly?
In some cases you will have the option to purchase products directly from us when a custom or to-the-trade item fits your needs and budget. In the case that a product is to be purchased from a third party vendor, you will be directed to links shown on your online interior design page.
Do I have to submit inspiration images or can you give me direction?
The steps to our program were carefully crafted to ensure success. The inspiration images are a huge part of making sure we are on the same page. We cannot begin your design until all of your design components have been compiled and submitted. Houzz and Pinterest are great resources for starting that inspiration search.
If I change my mind on which room I want designed after I've submitted my questionnaire, measurements, and inspiration images, can I transfer my design fee to a different room and start over?
You can change rooms while you are in the process of pulling all of your components together. However, once you've submitted all of those components and our team has started working on that room, no changes can be made.
If I change my mind and want to cancel my room after turning in all of my information, will a refund be issued?
You may cancel your purchase of design services for a full refund up to seven calendar days after the date of purchase, or the date on which we begin receiving your components (i.e. room photos, room measurements, inspirational photos). If you wish to cancel your purchase, you must notify us of your decision to cancel at info@houseoffunk.com. We will notify you of your cancellation number within three business days of cancellation.
Once my online interior design plan is delivered will I still be able to communicate with you? What if I want to make changes to the selections?
We can stay in touch via email. Our goal is to deliver a design that you are thrilled with. To this end, we are pleased to accommodate one change, be it one specification or substitution, per space. Any additional changes will be assessed and paid for via an additional flat fee.
Do you keep records of all of my files? If I buy another room in the future, will my previous information still be available to ensure flow of all rooms designed?
Yes, your information is retained with us.
How can I be sure that the furnishings you select for me will fit my room?
Properly measuring your room is crucial to our design process. The information you provide us helps us create your specific design. We recommend measuring everything twice to double check your numbers, taking extra care to measure door openings. We are not responsible for any incorrect measurements.
Do you design spaces outside of the U.S.?
We work with online interior design clients worldwide, however, please keep in mind that most items will be sourced from U.S.-based vendors and retailers. As a result, shipping costs may be higher and any customs or foreign transaction fees associated with these purchases will carry additional costs.
Transform your space with the click of your mouse.
Get started today.
Click Here to Get Started