There's décor I like, and then there's décor I can't. stop. thinking. about. Every week I showcase an item the team is currently obsessing over, aka a "Funk favorite." Painting everyday objects in luxurious strokes is an underrepresented way to add a dose of vintage glam to accessories. Pigeon & Poodle rose to the occasion, giving the venerable tissue box a beautiful, gilded makeover that is sure to have guests talking. Their antique gold Atwater Tissue Box won't just accent your chosen space, it will elevate it to a whole new level.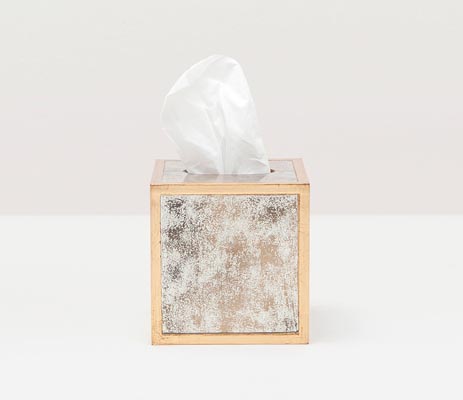 Detail-oriented Pigeon & Poodle is all about that luxurious powder-room experience, offering a wide spectrum of handcrafted items in incredible materials. From soap dishes sheathed in seashell and hyacinth, to hand-woven canisters and soap pumps molded from stripes of bamboo and resin, there is no end to the company's imaginative craft. Their genius doesn't stop in the bathroom, either: Their site also offers picture frames, hurricanes, and bar and desk accessories in their signature style.
Part of their gorgeously weathered Atwater Collection, this tissue box is the definition of stylish utility. With a textured shell of antiqued mirror, it exudes a sophisticated vibe that pairs perfectly with many interior color schemes. The piece is edged off with a border of gilded wood in either silver or gold leaf: the choice is yours.