Baby, it's cold outside. Time to fluff up the duvet, gather the pillows, and crawl back into bed. Or…warm up with a delicious and healthy bowl of winter granola (or both, if that's an option!). This seasonal episode of The Dish is in with another heaping dose of feel-good food paired with smart, complementary table settings that'll satisfy both your hunger and your sense of style. Living the Healthy Choice's wintertime spin on granola, true to its name, is a hearty and mindful take on the well-loved camping classic, with bonus crunch. The mix is packed with nutritious seasonal nuts, delicious cold-weather staples like cranberries, cinnamon, and maple syrup, and a pleasant tropical hint of coconut. Get the full recipe below, plus the bowl I recommend pairing with it. Because, what you serve food in matters just as much as what you're serving.
Winter Granola
Ingredients
300g oats
80g hazelnuts
80g almonds
80g walnuts
25g pistachios
2 tsp cinnamon
1 tsp ginger powder
½ tsp cloves
1 tsp nutmeg
1 pinch of sea salt
3 tbsp maple syrup
2 tbsp coconut oil (melted)
Topping:
45g cranberries
15g desiccated coconut
Directions
Preheat the oven to 160°C.
Mix all ingredients (except the topping!) together in a big bowl and stir well.
Evenly spread out the granola on a baking tray lined with baking paper. Bake in the oven for about 20-25 minutes, occasionally stirring the mix.
Take out of the oven and sprinkle with the cranberries and desiccated coconut.
Store in an air-sealed container or eat it all right away!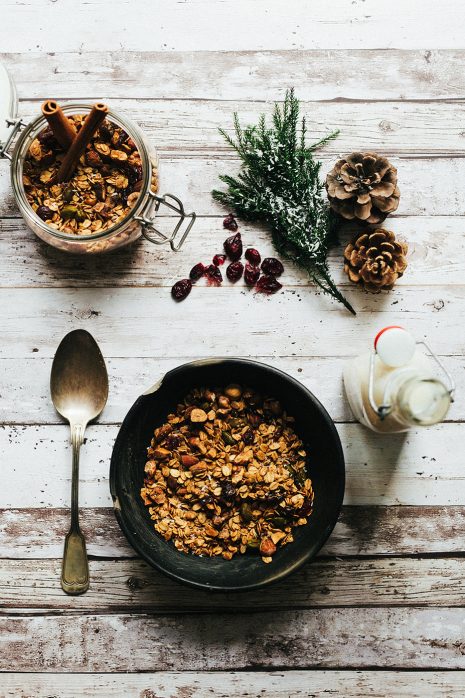 For absolutely charming, Instagram-worthy results, this down-to-earth dish begs to be paired with minimalist, pared-down plating. My pick for transforming those chilly mornings into cozy cabin scenes: Tina Frey Design's extra-large wide bowl. It's hand-sculpted from matte-black resin, and is designed to last forever.