The new year is ramping up, and I'm sticky to my resolution to eat well. But it's still winter, and I'm craving comfort food…the compromise: sizzlingly good (and healthy!) fajita sweet potatoes…aka, comfort food with a kick of cumin.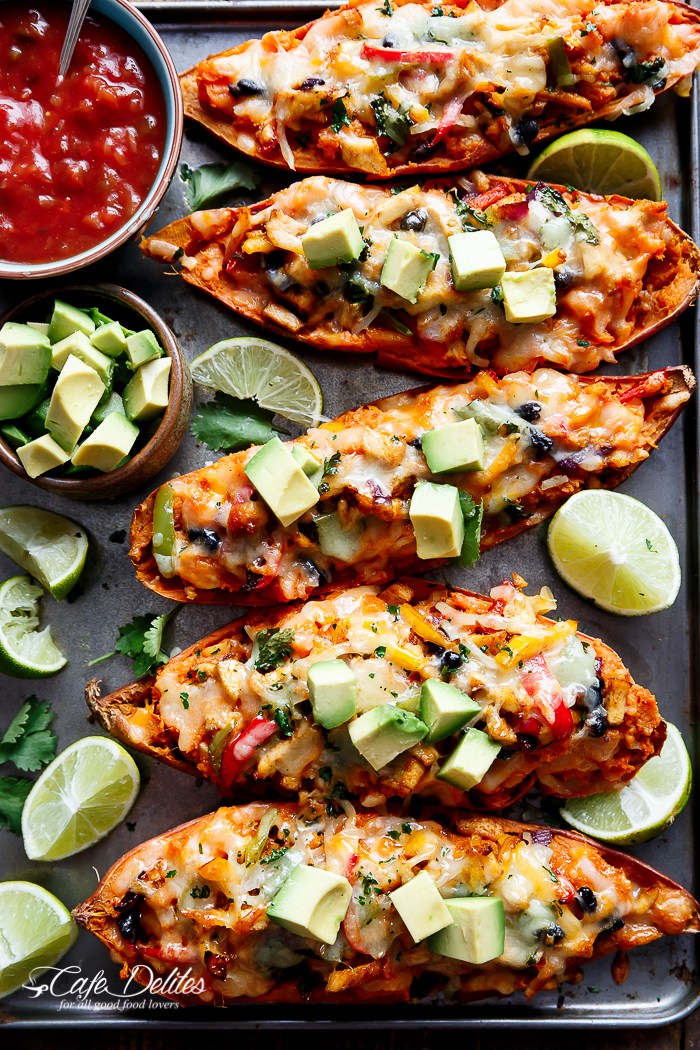 The Dish goes Southwestern this week with these deliciously low-cal Twice Baked Chicken Fajita Sweet Potatoes, the perfect fuel to finish up your January to-do lists. Quick and easy, with a heaping dose of shredded Mexican cheese and spices, this recipe naturally goes great with a chunky salsa or fiery Pico de Gallo.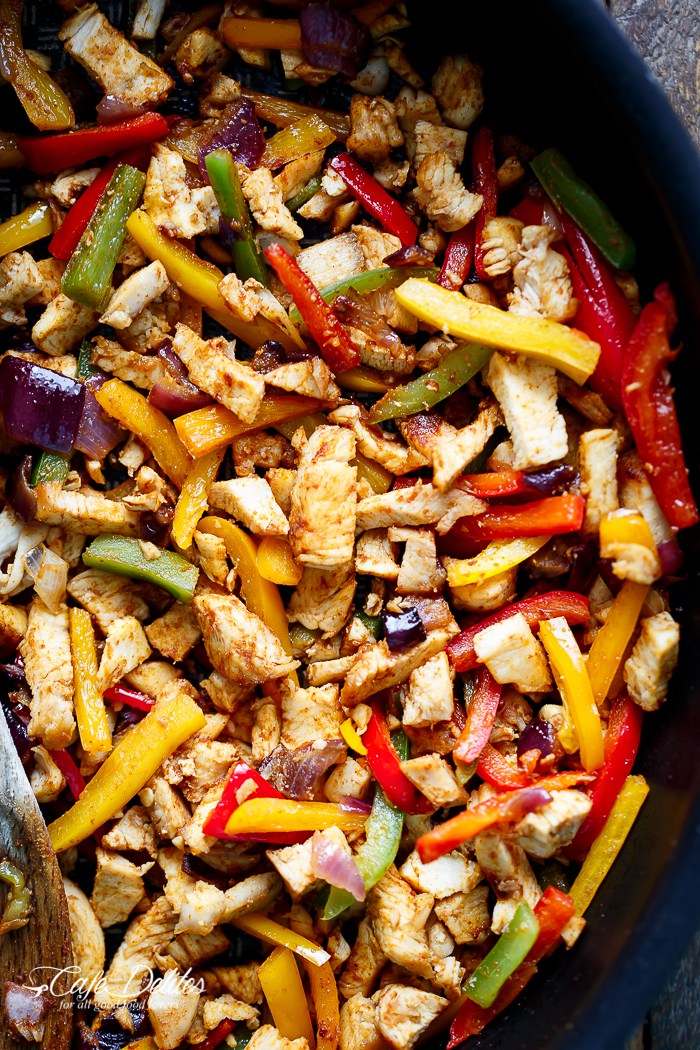 Twice Baked Chicken Fajita Sweet Potatoes
Ingredients
3 whole medium-sized sweet potatoes, washed and scrubbed
Olive oil
½ a red onion, thinly slice
1x 250 g | 9 oz cooked chicken breast, sliced into 1-inch strips
2 cloves garlic, minced
1 small red capsicum/bell pepper, sliced
1 small orange/yellow capsicum/bell pepper, sliced
1 small green capsicum/bell pepper, sliced
¼ cup tinned black beans, washed and rinsed
½ teaspoon ground cumin
1 teaspoon sweet (or smoked) paprika
1 cup shredded Mexican cheese (or cheddar or mozzarella cheese)
1 lime, juiced
¼ cup coriander/cilantro leaves
Extra lime wedges to serve
1 Avocado, diced (to serve – OPTIONAL)
Salsa to serve

Directions
Fast Method:
Wrap sweet potatoes in one piece of paper towel. Microwave on high settings for 10 minutes. Remove carefully from microwave and unwrap (being careful of the steam that will escape from inside the paper towels). Pierce all over with a fork, wrap again and microwave for a further 14-15 minutes until soft (if the centres are still a little hard, don't worry they will continue to cook in the oven later).
Slow Method:
Preheat oven to 220°C | 430°F. Spray a baking tray/sheet with nonstick spray and arrange sweet potatoes the tray. Roast for one hour in the oven, or until soft (check them after 40 minutes, pierce with a fork, and continue roasting if needed).

While the sweet potatoes are cooking, add a small amount of oil to the pan; add the onions to a skillet/frying pan over medium-high heat. Once transparent (about 1-2 minutes), add the chicken, garlic and capsicum/peppers. Cook until the garlic is fragrant.

Add in the seasonings and continue cooking until chicken is completely coated in the seasonings. Mix the beans through; take off heat and set aside

Remove the sweet potatoes from the oven; allow them to cool for about 5 minutes until they are just warm enough to handle (not until they're completely cold); and carefully slice them in half. Slice around the inside of the skin, leaving 1cm 'wall' around the inside of the skin. Slice small cubes into the flesh for easier removal. Scoop out the flesh and transfer it into a medium-sized mixing bowl. Set the skins aside.

Add the chicken fajita mixture to the flesh in the bowl; mix it through until completely combined. Stir in the lime juice.

Arrange the skins on the same baking tray/sheet, and stuff them with the fajita sweet potato mixture. Sprinkle with cheese and the coriander/cilantro leaves. Put them back into the oven for 15-20 minutes until cheese is bubbling and starting to brown (or place under the grill/broiler in the oven for golden, crispy cheese for 10 minutes).




Serve with any left over coriander/cilantro leaves, lime wedges, avocado pieces and smother in salsa dip.

World Market Ivory Organic Rimmed Charger Plate
To put the finishing touches on this fun Tex-Mex meal, we recommend a neutral-toned plate that showcases the dish's vibrant ingredients. These matte Ivory Organic Rimmed Charger Plates from World Market do this and more, adding an intriguing stoneware border to whatever recipes you whip up.