Let's talk holiday decorating ideas.
Whether it's delicious food, quality time with family and friends, or a chance to display all of your favorite decorations, the holidays are a time to indulge in all things festive.
I love the bustle and celebration, and believe that the all-important holiday spirit starts in a well-furnished home. Every year brings a new opportunity for interesting holiday decorating ideas.
It's up to you to create the right ambiance for your space, so start early. A month or two of planning makes all the difference, and I encourage you to work ahead.
Starting early also means avoiding the holiday shopping rush and stress about getting it all done. Below, how to make the most of your space, just in time for the holiday cheer. When you're ready, click here for our holiday decorating guide.
The Tree
When your hear "tree decorating," you might think only Christmas-time, but the truth of the matter is that stringing up ornaments on branches has its roots in holidays around the world. With a little bit of innovation, a festive tree can be a great decorative piece no matter the event.
What's trendy now: rustic-style Thanksgiving trees, laden with cards expressing gratitude. Simply arrange nice branches in a vase to get that homey autumnal feel. (Insider tip: Head to your local flower district or nearby flower market and tell them exactly the vibe you're looking to convey. They will help you pick the right type of branches for your space.)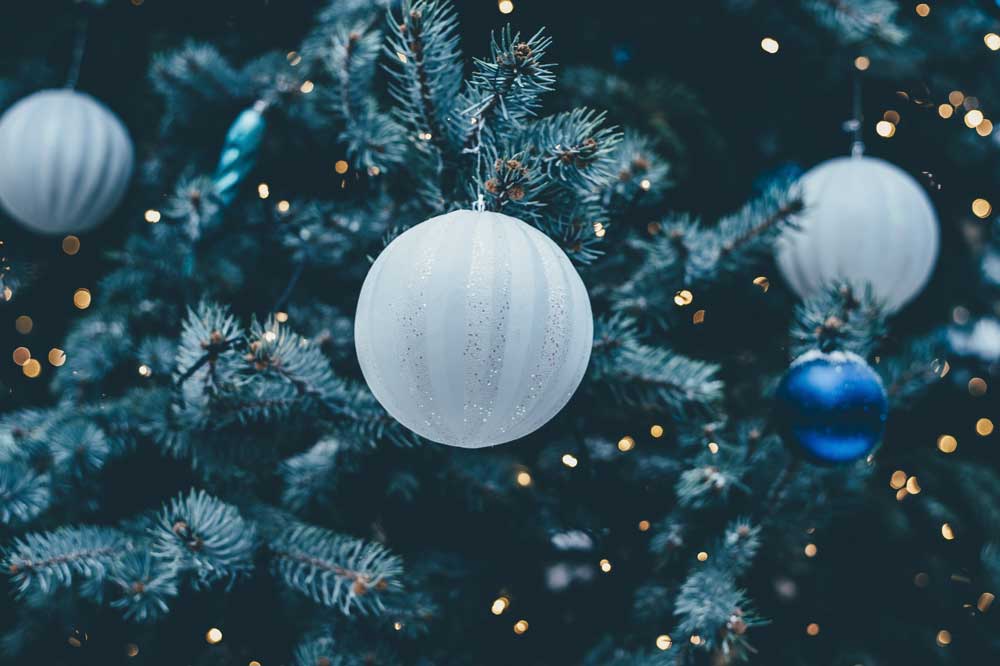 1. Nostalgic
On nostalgia: "The key is to embrace it. Nothing will match, there will be handmade items from your kids, gifts from holidays past and ornaments you've picked up along the way.  What's fun about this décor is that there are no rules, and it's a great chance to get the whole family together for a tree trim that also provides a walk down memory lane."
2. Aesthetic
For a more glamorous tree, the more dramatic, the better. Break out of expected color pairings and go for something new and interesting. I recommend organizing your ornaments by color and style beforehand to create a cohesive tree. My other tip: Go shopping to see what's on the shelves, see what you are drawn to, then dig in on quantity. Stores like Pier1, West Elm, Pottery Barn, Target, and Michaels are great resources for affordable seasonal décor.
One year my look was pine cones, raffia, and artificial snow. Not only was my tree bedecked with these items, but the snow was piled high onto every console table, creating the ultimate winter wonderland. Another time, I went all out with red bulbs, and filled every vase in the living room with them, then created amazing dining room centerpieces with the vases. This helped tie everything back to the red bulbs on our tree."
3. Jekyll and Hyde
If your love of nostalgia can share a space with your flair for style, I vote for a "Jekyll and Hyde" approach. "Over the years our Christmas trees have mostly been positioned in a corner or in the front window, creating the perfect opportunity to sneak in those mismatched keepsakes just around the bend.  This way you can create a theme for the front section of the tree and simply carry over any lights, garland, or snow to the back where the loved, but less-coordinated mementos are hung."
Table Settings
Festivities naturally go hand-in-hand with parties, so table settings are key. A good centerpiece can uplift the whole dining room, and bring the mood up along with it. Think about what kind of color palette you want to use and how it relates to your home—a traditional selection of deep oranges and yellows conveys a classic Thanksgiving vibe, while a teal and amber pairing is a touch more elegant. Metallic accents add a modern twist to the ritual, and you might even consider throwing in a calming neutral shade to balance out the look.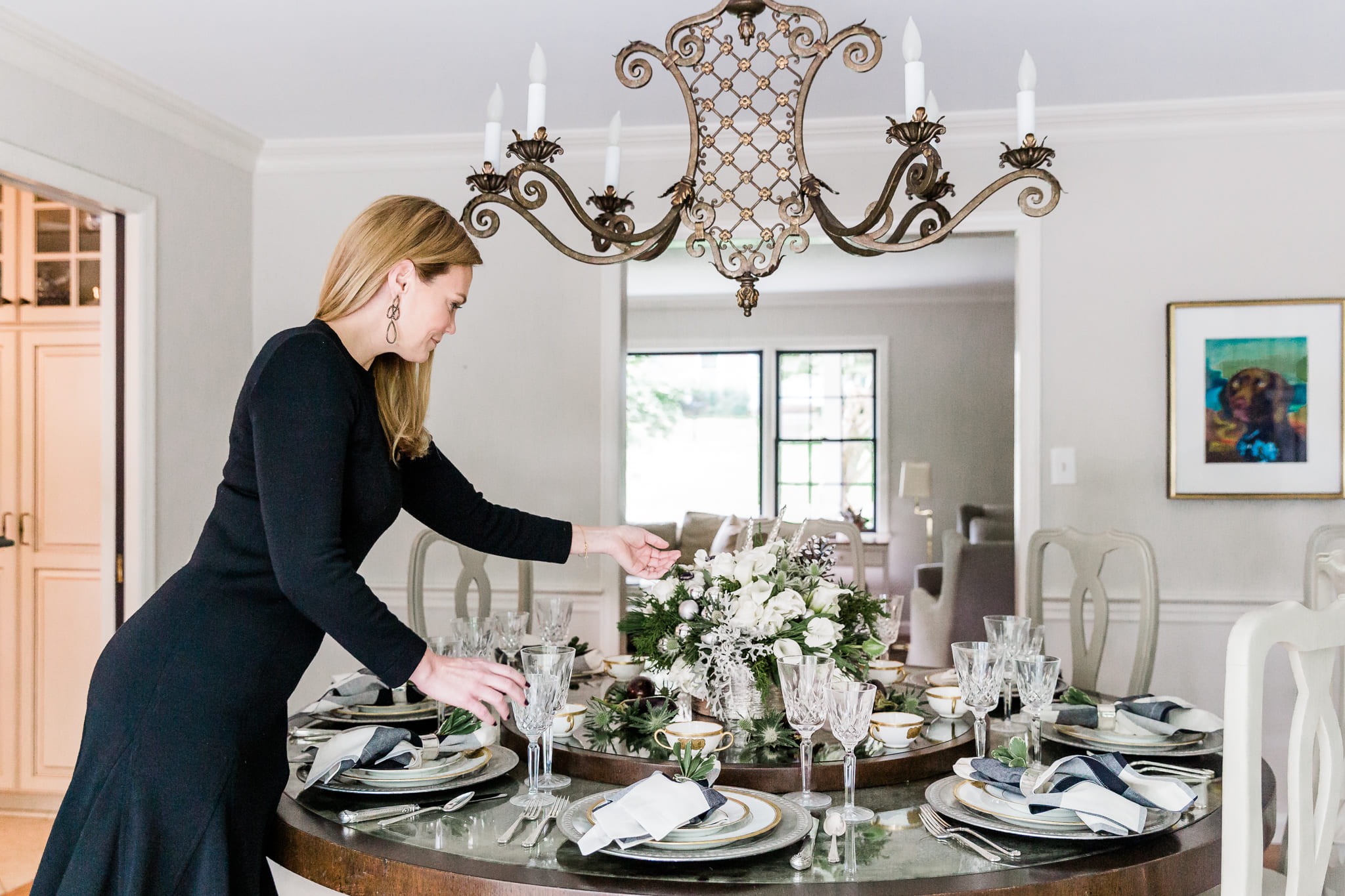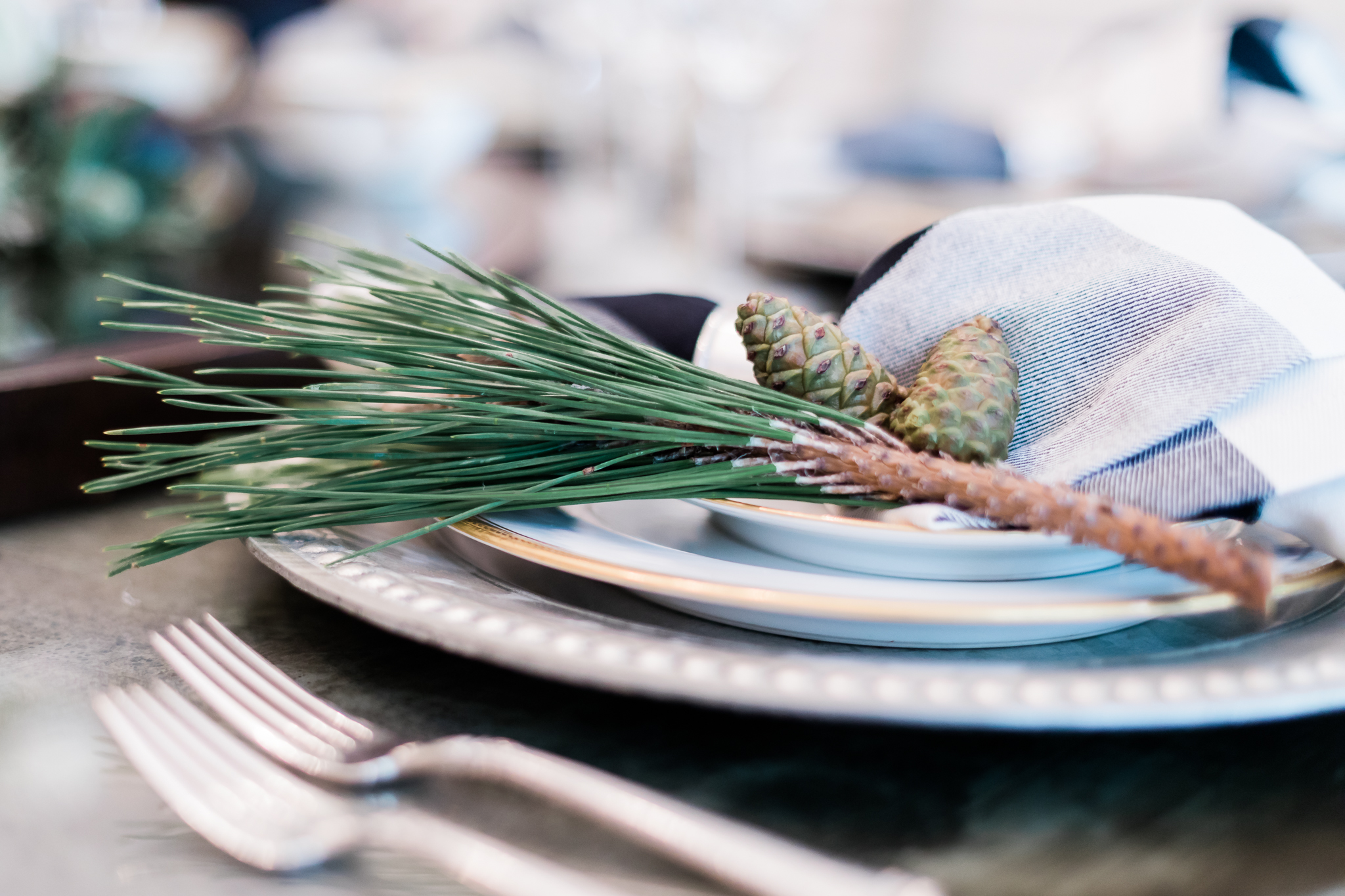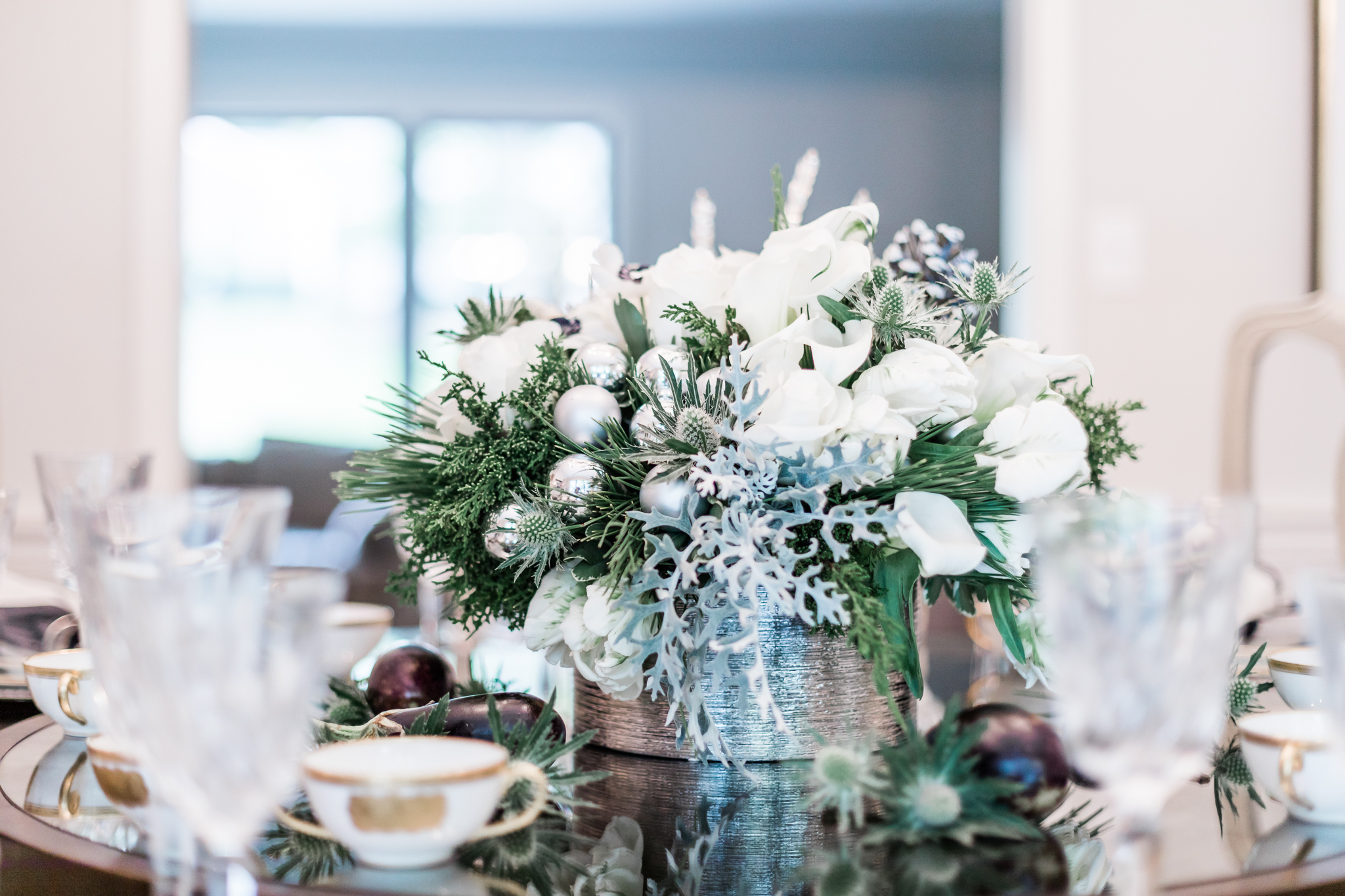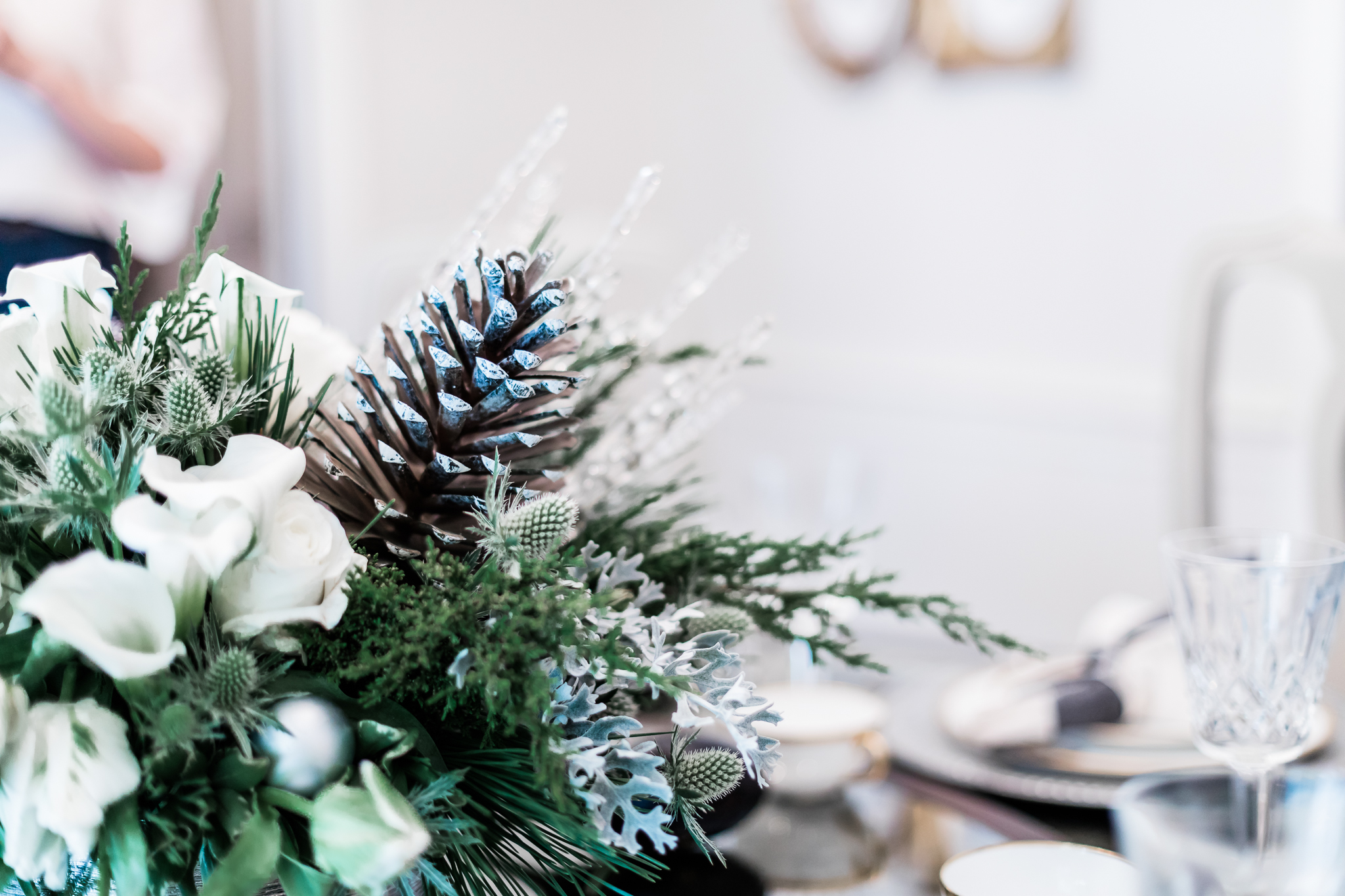 Keep your base colors down to one or two for optimal cohesiveness. Flowers and plants are always a welcome addition to any setting, regardless of the occasion. A well-crafted bouquet on the table is a time-tested centerpiece, but I also like working with bundles of wheat, potato vine, and even succulents for fall flings. These options make for instant conversation pieces and spice up a traditional meal. Another way to add a little greenery into your décor scheme: Tuck a few sprigs of fresh herbs (I'm partial to rosemary and thyme) around your napkin holders.
Speaking of greenery…Pantone defines "Greenery," their 2017 color of the year, as a "fresh and zesty yellow-green shade." It's a great color for warming up those monochromatic winter palettes.
The easiest way to incorporate Greenery into your home décor around the holidays is to choose accessories that showcase the shade. These add dimension to a room without completely changing the original aesthetic. Ornaments in that color displayed in a beautiful bowl feel festive, napkins with fresh leaves in the color, and candles or coasters with a hint of greenery are an inexpensive way to infuse your table with Pantone's 2017 color of the year.
Another area of table décor that I like to add a personal touch to is handwritten notes or place cards. These are a thoughtful way to show your guests and visitors how much you appreciate them. Insider tip: The right stationery makes all the difference. I love super-thick card stock—it's worth the tiny splurge! That kind of attention to detail will make your party a memorable event, an effect that can be further strengthened by the addition of simple party favors and keepsakes. My kids love to make the place cards and fuss over who sits where. They make for a great keepsake for visiting family and friends.
Fabric
Choosing quality textiles for your napkins or tablecloths can have a dramatic effect on the feel of your room. A bold color choice can strengthen an otherwise delicate palette, while a creamy, subdued array of neutrals can cool down a fiery space. Layer your napkins for a pleasing complexity, or fold them origami-style into an intriguing shape.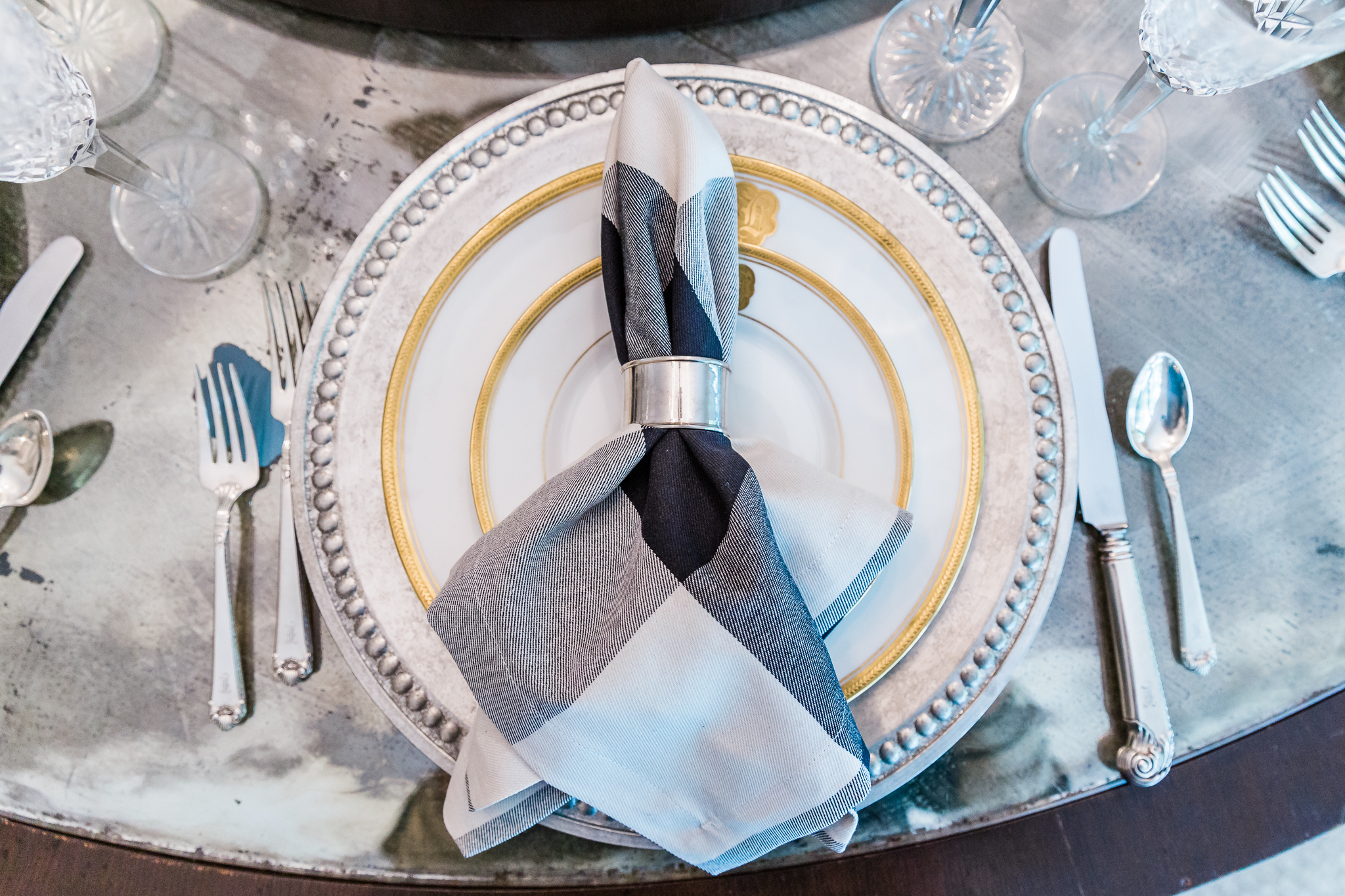 With plates, round, white ceramic is my go-to, but there's no need to stop there. To get that high-end, French-chic vibe, serve meals centered on square dishes with liberal garnishes.
Another option is to throw some texture into the mix, in the form of chargers. I recommend mercury glass, woven jute, or hammered bronze for very elegant options. For a take on East-meets-West, try these Korean-style bronze dishes brushed with dramatic tree-sap lacquer. Your guests will fawn over the artful contrast of these pieces, so pair it with a food that is sure to match.
The Fireplace Mantle
When it comes to fireplace mantle décor, I prefer a classic, but lush, winter-green approach.
Both holly and white pine are native to New Jersey, and branches of either variety make for beautiful fireplace mantle decorations. Ask your local nursery which variety of greenery they offer for the holiday season, then display accordingly on your mantle or even as a centerpiece on your dining-room table.
"I've also been known to bend to whimsy and go all out with a non-traditional color schemes (turquoise and cherry red are holiday favorites). Other hues I favor this time of year:  Kelly green and citron wrapping paper. And I love matte black holiday décor. Again, classic with an edge. When décor is modern, keep it modern. A little goes a very long way."
Outdoor Decorations
Let's talk outdoor holiday decor. Here are my thoughts on the topic of front-door décor and wreaths:
Ne're a bow shall meet. Frankly, I'm not super flowery or into bows. But, this can be a place for seasonal embellishment. I lean toward natural elements, branches, leaves, etc.
For those with a more playful or contemporary lean, colorful ornament wreaths are eye-catching and fun. This year, we're starting with winter greens surrounding the door with simple white lights (LED, of course) and a great-big green wreath on the door. Then, we'll embellish with natural materials thru fall and bring out a few colorful touches into December that foretell the theme inside.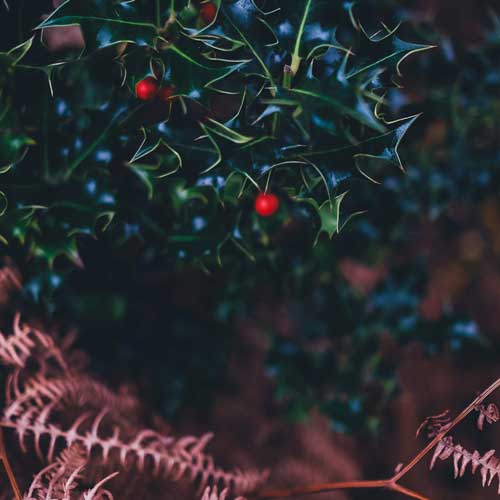 Photo by Alisa Anton
Gift Wrapping
Gift wrapping can go one of two ways in my book:  super tonal or totally old school with the more-is-more-is-more approach.
I'm a sucker for brown paper packages tied up with string (always have been!). Lately, I've been digging the new take on the classic trend: matte black, interesting color combos, and natural greenery as accents instead of saccharine, store-bought bows.
"I like to incorporate simple, natural materials. It jives with my tenets of honesty, beauty, simplicity, and authenticity. If it's the thought that counts, then put a little thought into it and make the wrapping just as special as the gift you give. There's great joy in giving a well-wrapped present."
And that's a wrap (literally and figuratively!) on my holiday tips.