Lifestyle blogger Jordan Reid is an authority in many spheres: fashion, home, and even, parenting. Her site,
Ramshackle Glam
, is one of my go-to destinations for advice and tips on all subject matters. She's as lovely as can be, talented, and funny to boot. Her honesty and wit are refreshing and inspiring. So it's no surprise that I tapped her to share her thoughts on East Coast vs. West coast style, and her new, boho-chic California home. As a lifelong New Yorker who recently transplanted to the Bay Area, she has a lot to say on the subject, and I'm all ears.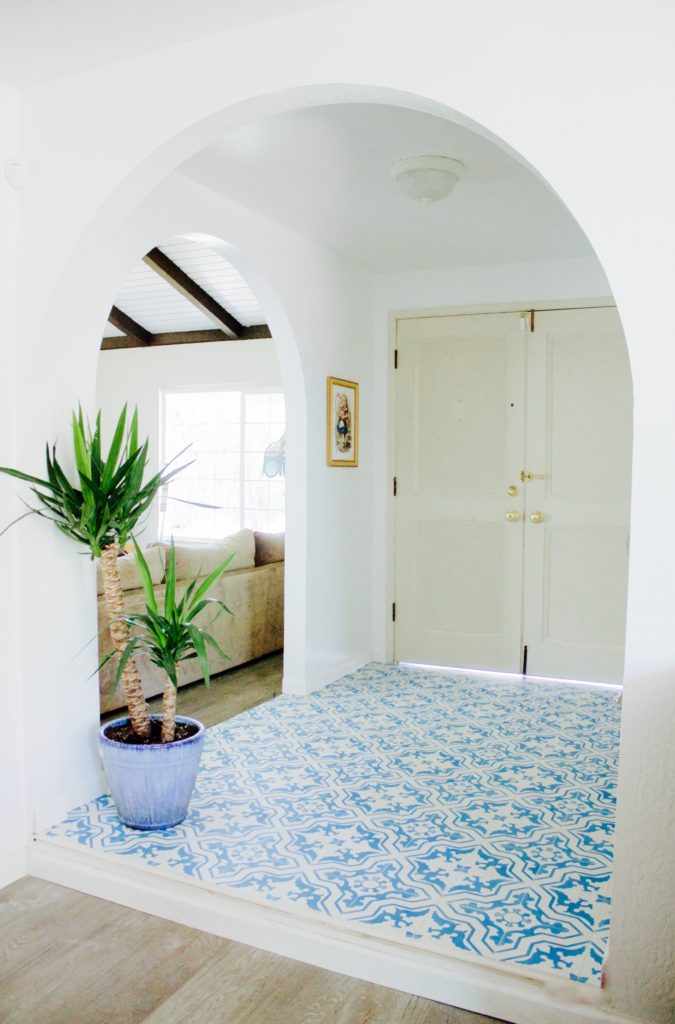 Tell us about your interior design style:
My approach to decorating has always been simply to fill my home with the things I love. In my living room right now, for example, is a framed Coney Island poster, one of my paintings, a few milk glass bud vases, a little green glass mushroom, and a pair of massive wooden candlestick holders that I painted neon yellow. Would everyone be into it? Probably not, but what matters to me is that I love everything my eye falls on.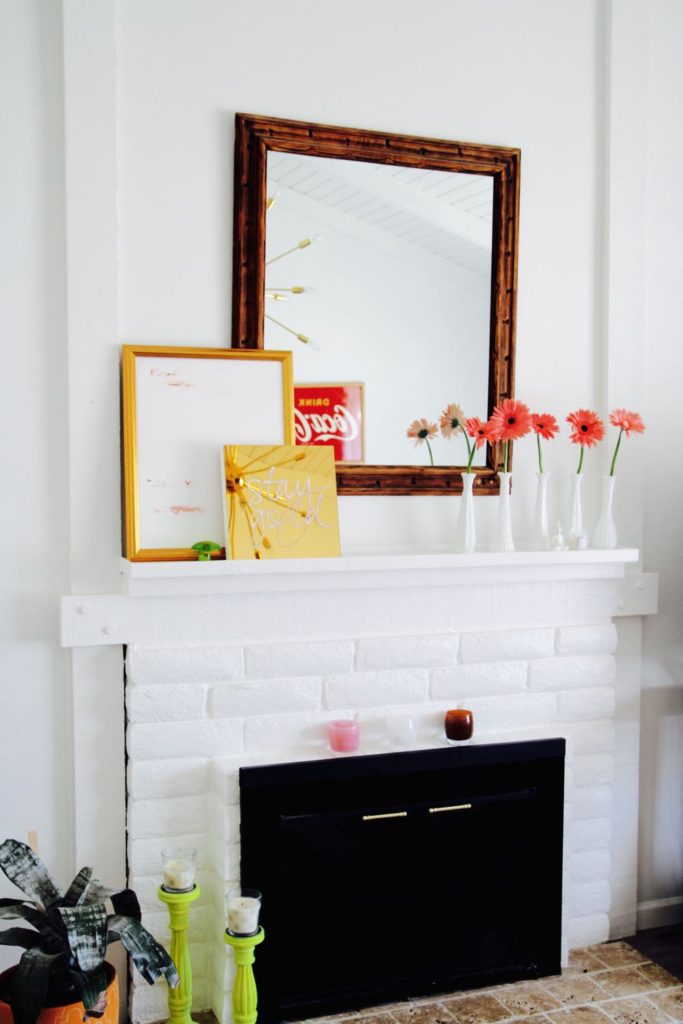 Please dish on East Coast vs. West Coast living and how that translates to your current home décor:
Since our new place is very much indoor/outdoor living—we have big sliding doors that lead out into the patio/pool area, and they're open nearly all year 'round—we do a lot more entertaining than we used to, and I've tried to design our house to accommodate that. There are tons of different seating areas, all very mismatch-y and casual. I've also started focusing a lot more on lighting—it's so gorgeous outside that I want it to feel bright and fresh inside, too. I've also bought a ton of houseplants to emphasize that indoor/outdoor flow, and have miraculously managed to keep (most of) them alive.
How has living in California changed your outlook and your approach to design?
I've definitely embraced color more since moving to the Bay Area. My Westchester home was serene, fairly monochromatic, and had a Brooklyn-townhouse vibe to it. Our new place is full of patterns and colors:  banana-leaf pillows, a pink, green, yellow, and navy rug, and rainbow throw blankets everywhere.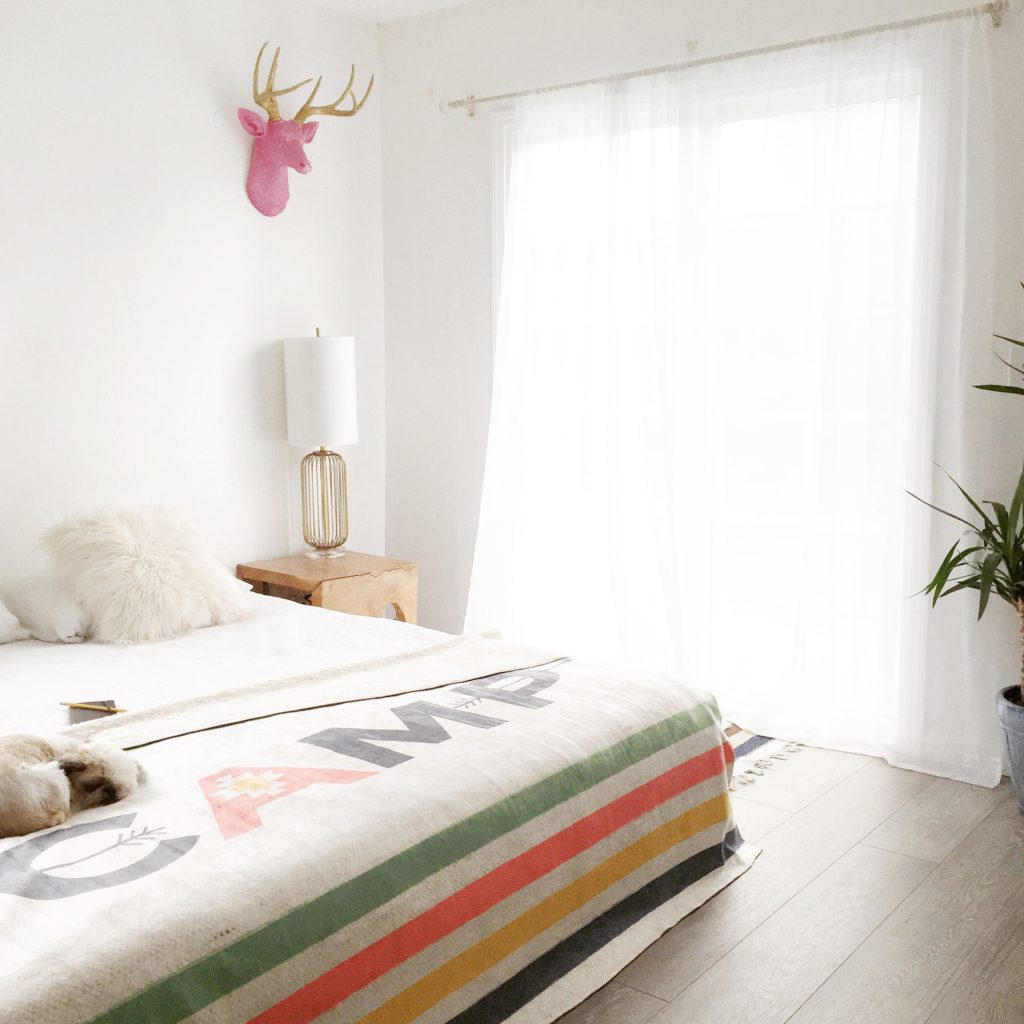 What do you miss most about living in New York and the design sensibility there?
I miss the architecture, for sure. California has some beautiful architecture, of course, but my neighborhood is mostly '50s and '60s ranch-style houses. I miss the detail that you find in prewar NYC apartments (although I have to say, I don't miss climbing four flights of stairs multiple times a day).
Your favorite home-centric DIY:
I paint everything. My walls, my mirrors, my frames…even my son's old toys have been attacked with gold leaf. I also make drip paintings on framed, thrift-store artwork, and have experimented with splatter paint on some décor pieces. I find painting super relaxing, and I love the fact that if you screw up, so what? Just paint over it.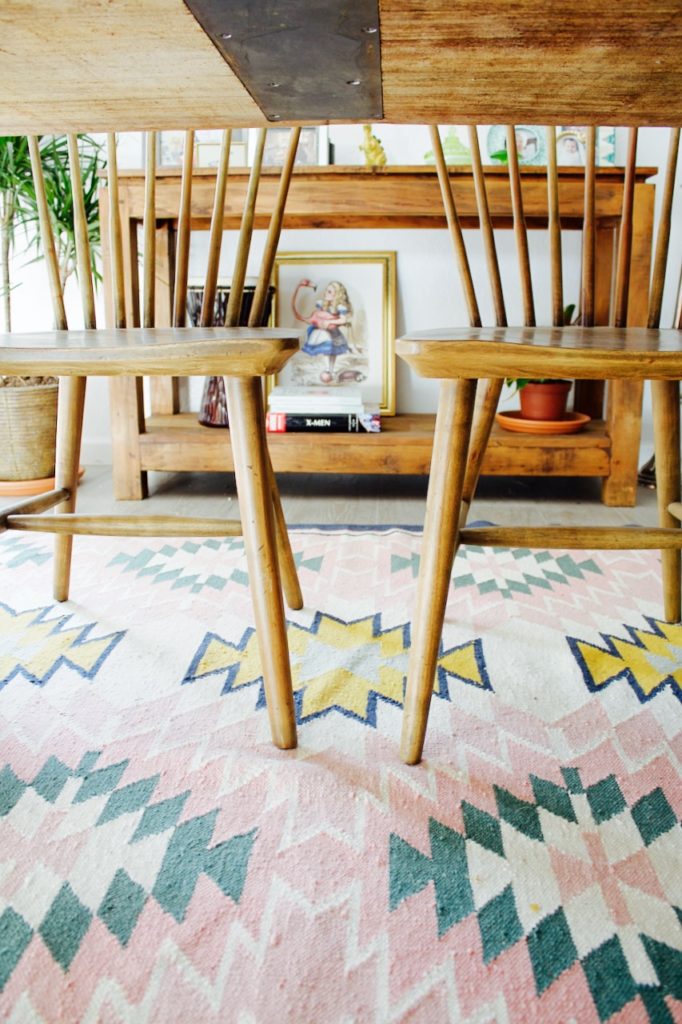 What do you love to serve this time of year? 
I'm really into a simple
spaghetti bolognese
lately (and so are my kids, which is great because my recipe is filled with vegetables). I'm not a huge cocktails girl, but I never turn down a Bud Light, regardless of the time of year.
Favorite travel destination:
Ogunquit
, Maine: the tiny coastal town where Kendrick and I got married. I've been going there every summer since I was a little girl.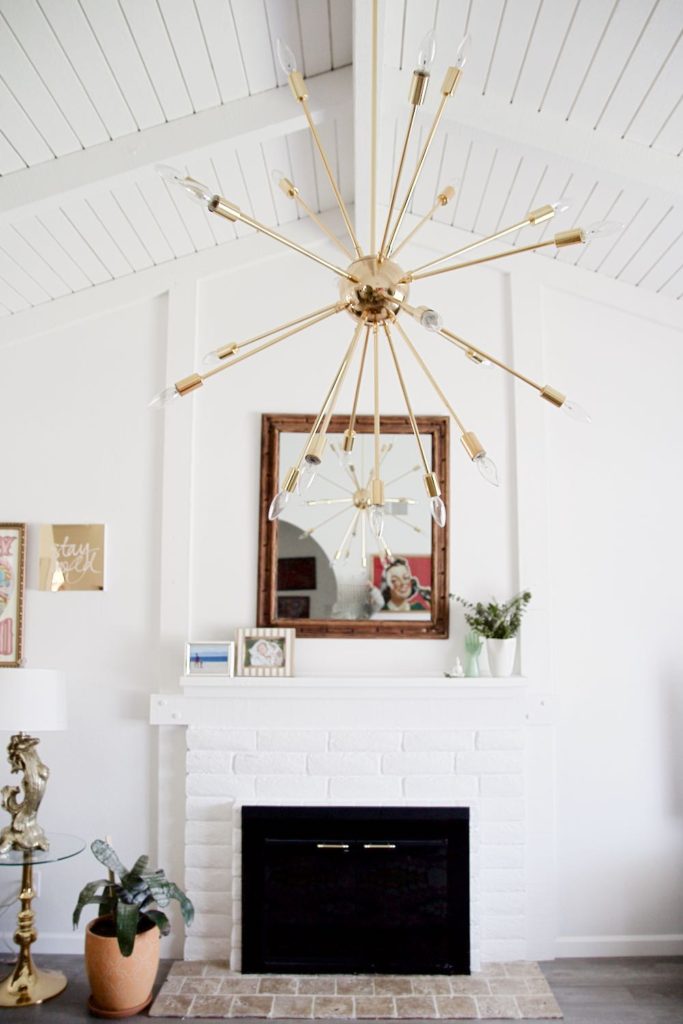 Three décor accessories you can't live without:
Statement lighting (the
Sputnik pendant
in our living room is one of my favorite things in our home), throw pillows and blankets (my favorite is this 
Camp blanket
from my online shop, glam | camp), and
plants
.
Best splurge purchase and best thrift find in your home:
I have
two antique horsehide chairs
in my dining room that were way too expensive, but that I couldn't resist. My husband and I were driving through a small town in upstate New York and passed an antique shop and I literally yelled "STOP THE CAR," because sitting on the street outside the shop were my dream chairs. I did not need chairs. I bought them anyway, because they were too perfect.
My favorite thrift find is this 1940s' arts-and-crafts-style chair and ottoman that I found at a charity thrift shop for $75.
I posted about it on Ramshackle Glam
because I couldn't find any information on the piece save for that it was designed by Howard Furniture…and the son of the man who designed it found the post and wrote to me. Since then, that post has become a kind of hub for people looking for information on Howard Furniture pieces.
Your dream residence would feature:
An open-floor plan, tons of windows, and a hot tub.