Spring is around the corner, and with the upcoming season comes a strong desire to swap heavy winter fare for lighter meals. My compromise? A warm and hearty black lentil and vegetable bolognese from Green Kitchen Stories that's both filling and healthy. Rich, bold flavors make this dish a favorite for cozy weeknights in and Sunday suppers with the family. Pair with a glass of good Cabernet and mood-inducing candlelight for a top-notch meal.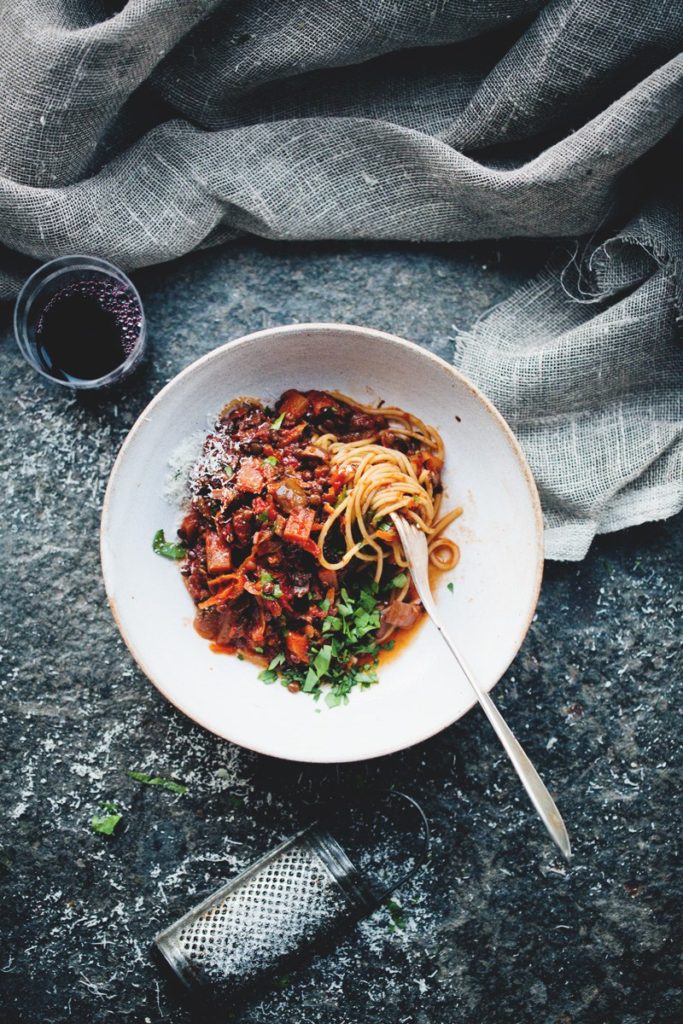 Vegetarian Bolognese (serves 4-6)
Ingredients
2-3 tbsp olive oil
1 large onion, peeled and coarsely chopped
3 garlic cloves, peeled and crushed
2 large carrots, peeled
2 sticks celery, rinsed
4 tbsp green olives, stones removed and slightly bruised
1 tbsp fresh basil (or 1 tsp dried)
1 tbsp fresh oregano, rosemary or marjoram (or 1 tsp dried)
125 ml / ½ cup red wine
100 g / ½ cup uncooked beluga lentils (or puy), rinsed
400 ml / 1 ½ cup vegetable stock (or water)
2 bay leaves
2 x 400 g / 14 oz tins crushed tomatoes
sea salt and freshly ground black pepper
To serve
pasta of choice (we used a lentil flour spaghetti)
vegetarian parmesan style cheese
fresh parsley
olive oil
Directions
Heat the oil in a large saucepan on medium heat. Add onion and garlic and sauté for a few minutes. Meanwhile, chop one of the carrots and the celery into 1 cm / 1/2 inch chunks and add them to the pan along with olives and dried herbs (if using). Let soften for a couple of minutes, add the red wine and let cook until the alcohol evaporates. Add lentils, half of the vegetable stock, bay leaves, tinned tomatoes, fresh herbs (if using), salt and pepper. Grate the remaining carrot and add it as well. Bring to the boil, reduce the heat and let simmer for 30 minutes or until the lentils are cooked, stirring from time to time as not to burn the base of the sauce. Add the remaining stock or water, little by little, to loosen the sauce whenever it is looking dry. Taste and adjust spices to your preference.
Cook your pasta of choice. Serve the sauce stirred through the pasta, topped with a sprinkling of grated cheese, fresh parsley or other herbs and a drizzle of oil.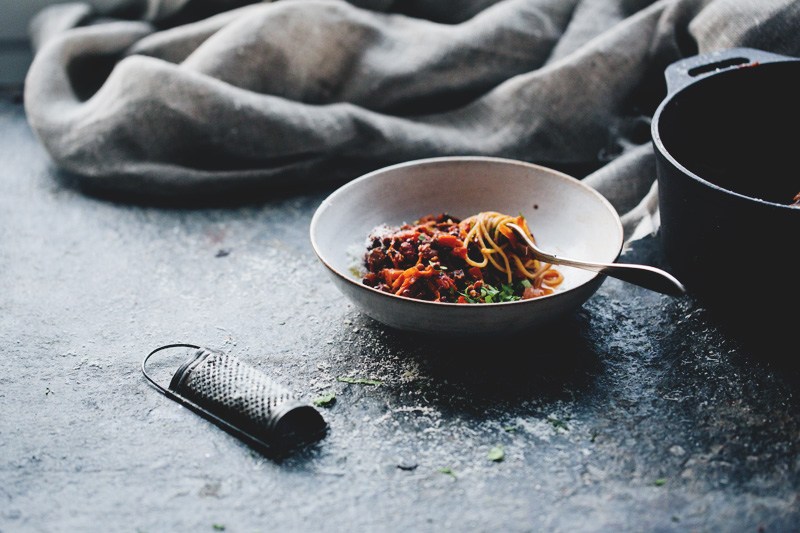 This recipe looks especially good served in a vibrantly colored bowl that adds dimension to the dish and highlights the different textures at play. These blue Perasima serving bowls from Anthropologie do the trick, thanks to their rustic yet sleek design. A gold rim lends a touch of elegance to these everyday dishes, excellent for impressing impromptu company.