Fearless, exciting, modern: Whatever your personal style,
Cynethia Ali's
consulting agency Raid Your Closet will help you transform your wardrobe into your personal arsenal. For Cynethia, a veteran of the fashion industry, uplifting clients' spirit is just as important as helping them look stunning. RYC's stylists work closely with customers to not only tailor their wardrobes, but also to instill in them the confidence needed to own those wardrobes. Read on for Cynethia's top styling tips and the motto she lives by.

Tell me about how Raid Your Closet came to fruition: 
The idea of Raid Your Closet has always been a dream of mine. I've forever been fascinated with clothes, hair, makeup, and each outlet's transformational powers. In the past, I often helped girlfriends and others define and elevate their look, and dispensed where-to shopping advice. After 20+ plus years of working in both retail and wholesale fashion, I became somewhat of an expert on the topic. The business idea and the components of RYC came together about a year ago. I went through a total lifestyle transformation, losing nearly 50 lbs. I looked up and realized I had a closet full of clothes ranging from size 4-14. Raid your closet began with my own personal raid. It was during this process that I realized that there must be other women just like me on their journeys, each looking for some direction and clarification. I wanted to help. For me, Raid Your Closet is about empowerment: Helping others to become the best versions of themselves by creating a clear style message.

What is the most rewarding thing about being your own boss? The most challenging?
The most rewarding part about being my own boss is the endless amount of opportunities I can set for myself. There are no glass ceilings or barriers of any kind holding me back.
The most challenging thing is that I'm working every waking minute. Work-life balance does not apply when you're running your own business. I'm constantly thinking about work. The success of the business is solely up to me to get the job done, and that's a lot of pressure.

How has running your own business changed your outlook on life?
It has made me realize that we should all seek and discover our true purpose, our passions. Large, corporate-world salaries don't necessarily equal happiness. Happiness is doing what you love and loving what you do.

Best part of the job:
The beauty of my work is that I have the privilege and honor of entering into someone's closet to help them discover, define, and create their style message. This is such an intimate process, and one that I do not take for granted. I am extremely grateful for the trust that is bestowed upon me.

Most surprising part of the job:
I'm constantly surprised by each and every closet that I enter. Every job is a new adventure!

Current fall fashion trend you're loving: 
I love the feminine romanticism that we're seeing this fall in the form of floral prints, oversize bows, and subtle ruffles. I'm a big fan of the bare shoulder trend that's continuing. An exposed shoulder is very sexy and powerful, yet unexpected.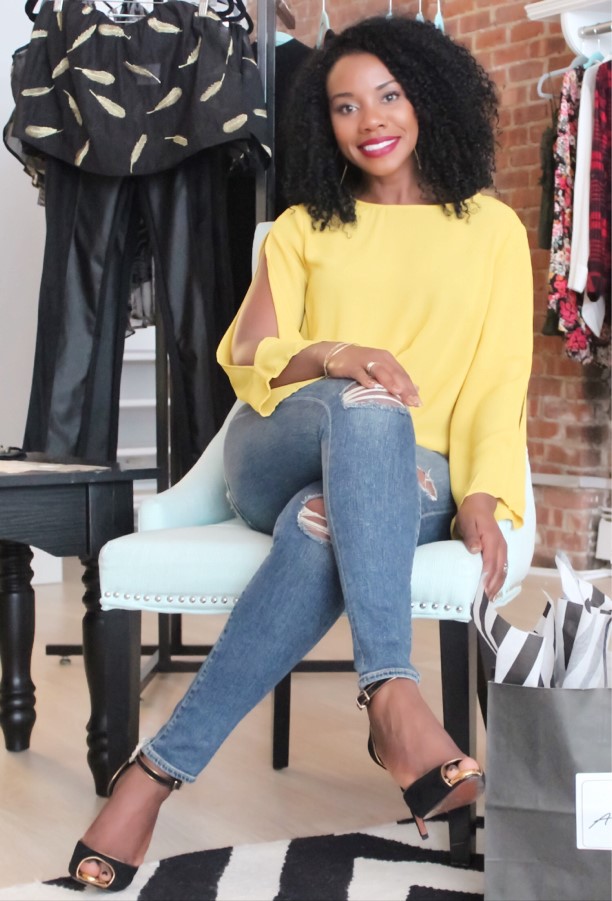 Accessories every woman should own:
Statement necklace
A chic pair of flats
Black leather jacket/blazer
A cool scarf
Diamond studs

Three tips for making the most of your closet, no matter how big or small:
Categorize and color-code your wardrobe: Group clothing by category―dress pants, jeans, casual shirts, work tops, etc.―to make putting together outfits easier. Another take on organizing: Arrange clothes by color, from light to dark.
Take advantage of doors: An over-the-door rack or mirror makes the most of the unused space behind a closet door.
Eliminate clutter: Streamline your space in order to eliminate clutter. Every three to four months, go through unused items and donate them to charity.

Advice you'd give to other female entrepreneurs looking to start their own companies:
The secret is getting started. Just do it! It's okay if you don't have all the details completely figured out. Keep moving forward. If you have a partner or husband, make sure that they are also fully on board with your endeavor.

Motto you live by:
"My mission in life is not merely to survive, but to thrive; and to do so with some passion, some compassion, some humor, and some style."
—Maya Angelou
And my own: Attitude is everything.