Great food and beautiful table settings are key to a great lifestyle, no matter the occasion. Summer is winding down, but I'm still in the mood for lighter fare. This crunchy salad with creamy Caesar dressing from the Clever Carrot fits the bill. Pair it with Arte Italica's hand-painted Burano bowl for the perfect end-of-season dinner.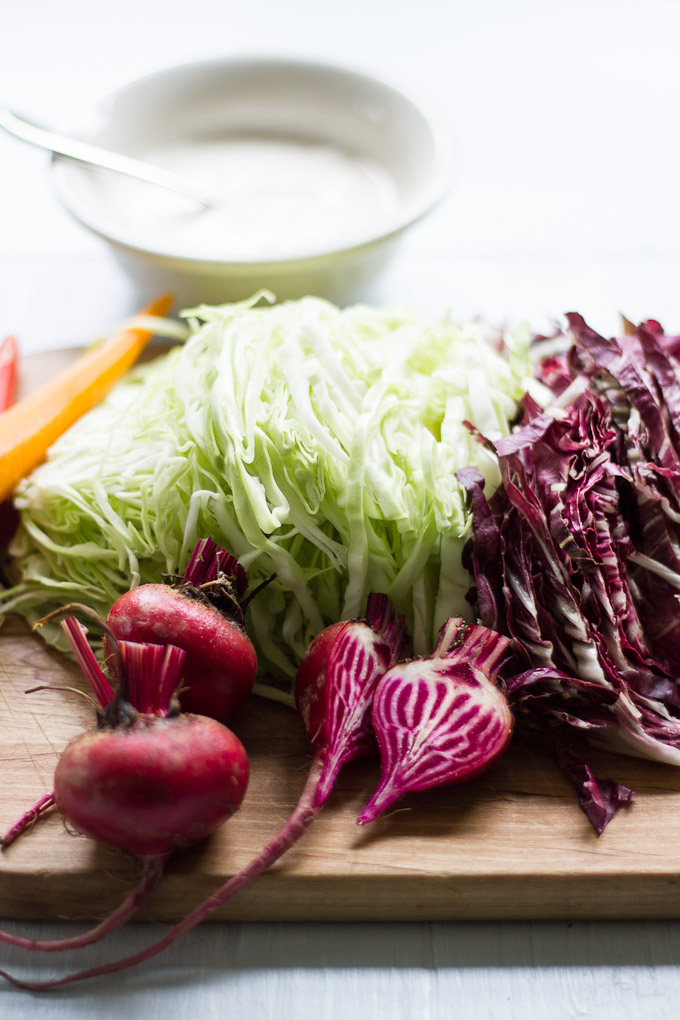 The Clever Carrot came upon the idea for this chilled, tasty dish after a happy accident: a refrigerator malfunction ended up freezing her produce. The result, she explains, is a delicious middle ground between coleslaw and Caesar salad. Green cabbage, rainbow carrots, and candy-cane beets all combine to create a pleasantly crisp and sweet arrangement. A garnish of grated radicchio adds a summer vibrancy to the dish that is welcome this time of year as we bid farewell to warm summer nights.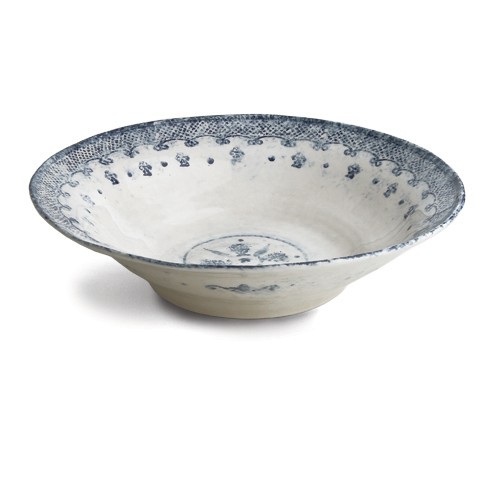 As for the Dish itself, the Burano Large Shallow Bowl by Arte Italica delivers on rustic, weathered charm in a big way. Few people would turn down a beautiful salad plated in this lacy, hand-painted design. Below, how to make the dish at home. Happy eating!

Caesar dressing
zest + juice of 1 lemon

½ garlic clove

4 good quality anchovies

2 tbsp. olive oil

½ c. low-fat Greek yogurt

¼ c. parmesan cheese

salt + pepper to taste
Salad
½ head green cabbage

4 carrots

2 chioggia (candy cane) beets

handful of fresh basil leaves
* To make this in advance, only dress the salad about 15 minute prior to serving. Any longer and it will start to get watery.
To make the dressing, add the first 5 ingredient to a blender and run the machine. Pour the dressing into a bowl and stir in the parmesan cheese. It will be thick. Season with salt and pepper and have a taste. Add extra lemon juice if needed.

Cut the cabbage in half and remove the core. Slice into thin shreds.

Using a vegetable peeler, remove the outer skin from both the carrots and beets.

Peel the carrots into ribbons.

Peel the beets into strips.

Add all of the vegetables to a large bowl.

Pour some of the caesar dressing over the top. Using tongs, toss well to coat adding more dressing as needed.

To serve, thinly slice a small handful of fresh basil leaves and scatter over the top of the salad.

Enjoy chilled.