I like to shop and cook seasonally, and with spring veggies in abundance, I'm opting for fresh fare and protein to keep me fueled all day long. The Year in Food's lentil salad with spring greens, asparagus, and an egg is my new go-to. Asparagus and radishes provide crunch while lentils offer texture and a deep, earthy flavor. Filling salads are great for busy weeknights when I'm rushing home from work and throwing a quick meal together before taking my kids to various after-school activities. Read on for how to whip up this healthy dish and to see which bowl I recommend serving it in.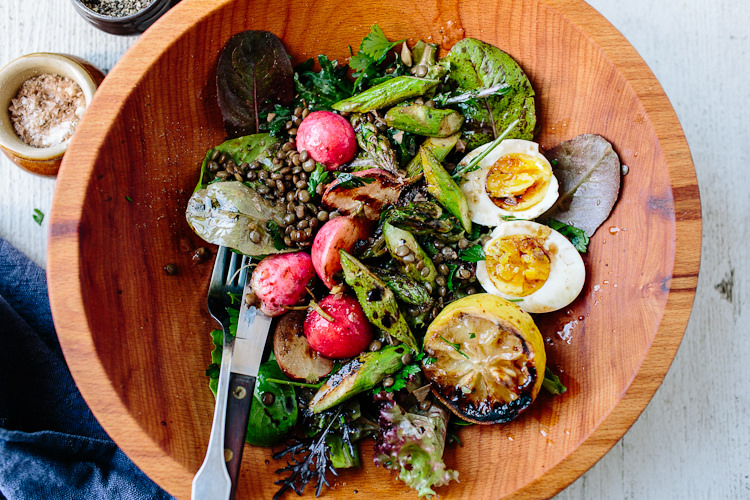 Lentil Salad with Spring Greens, Asparagus, and a Soft Egg (Serves 2)
Ingredients
For the lentils:
1 cup green or puy lentils, rinsed
Optional aromatics: 1 carrot, roughly chopped; 1 celery stalk, roughly chopped; thyme or parsley leaves; 1 bay leaf; 1 dried chili or chile flakes
For the salad:
2 or 4 eggs (depending on how many you'd like on your salad)
2 Tablespoons butter, ghee, or coconut oil
1/2 pound asparagus, sliced on the diagonal
1 bunch Easter egg radishes, rinsed and halved lengthwise
1 lemon, halved
8 cups mixed spring greens
Small handful of fresh parsley, chopped
Small handful of fresh chives, chopped
Extra virgin olive oil
Balsamic vinegar
Flaky sea salt
Freshly cracked black pepper
Directions
In a large pot, add the lentils and aromatics, and cover by about two inches with water. Bring to a boil, covered, and reduce heat to low, simmering until lentils are soft and cooked through, about 45-60 minutes. Set aside to cool in their liquid.
For the eggs, bring a small pot of water to a boil. Reduce to a simmer, add the eggs and set a timer for 7 minutes. (A little longer for a firmer yolk.) Remove the eggs and plunge into an ice bath to cool. Peel and set aside.
In the meanwhile, heat a large grill pan or sauté pan over medium heat. Add the butter, and let it melt and get frothy. Add the asparagus, radish, and lemon halves and sauté without disturbing to brown them a little. Toss and stir as needed to evenly cook.
To make the salad, combine 2 cups of cooked, drained lentils with the salad greens and fresh herbs. Add a generous glug of olive oil and vinegar and toss. Top each salad with half of the radishes and asparagus, and one half of each lemon. Finish with a generous sprinkle of flaky sea salt, freshly cracked pepper, and a squeeze of the lemon.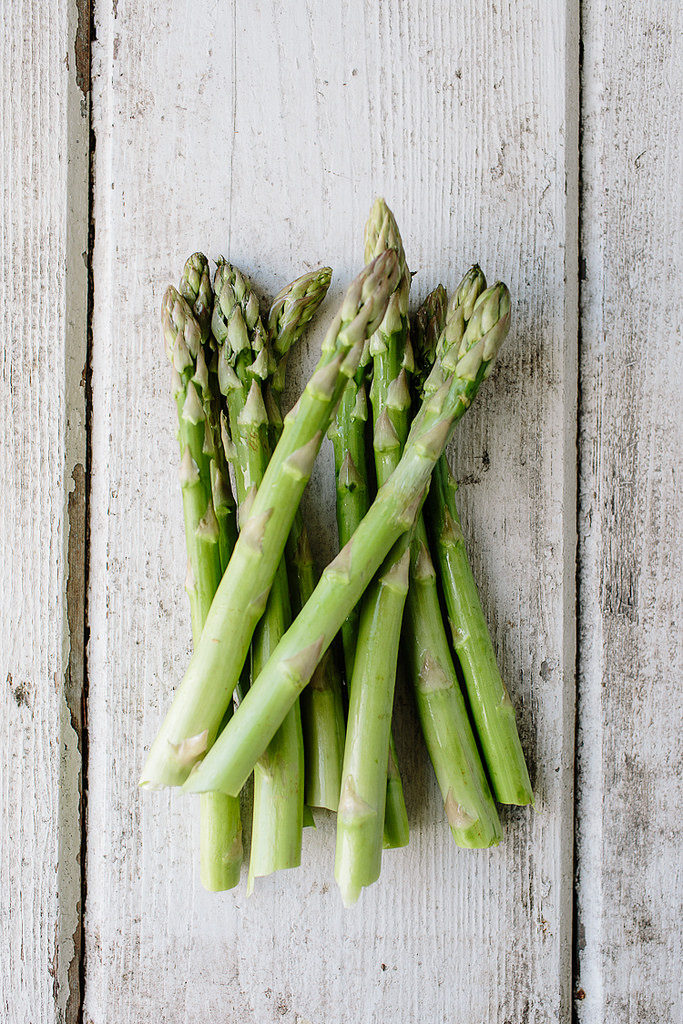 Serve this dish in a large, wooden bowl that's equally earthy and grounded. My pick: Nambé braid salad bowl with servers. Chrome handles are unexpected and chic, and the colors of the dish look especially appetizing against the bowl's wooden grain. Nambé is celebrated for its innovative design and collaborations with talented designers from all over the world. Their selection is always impressive, and never disappoints.