A great haircut is key to looking and feeling good. Let's be real: We've all left a salon less than thrilled at some point in our lives. Finding the right hairdresser takes time and patience. But once you find them, hold on tight and don't let go (cue the
Titanic
soundtrack). Which brings me to Enrico Gargano of
Aerea Salon
in NYC.
His passion for hairstyling began at a very young age, and thanks to support from his mother and family, he was able to explore and cultivate this passion and turn it into a full-fledged career. Read on for his very useful tips—including how to make a blowout last—and the motto he lives by.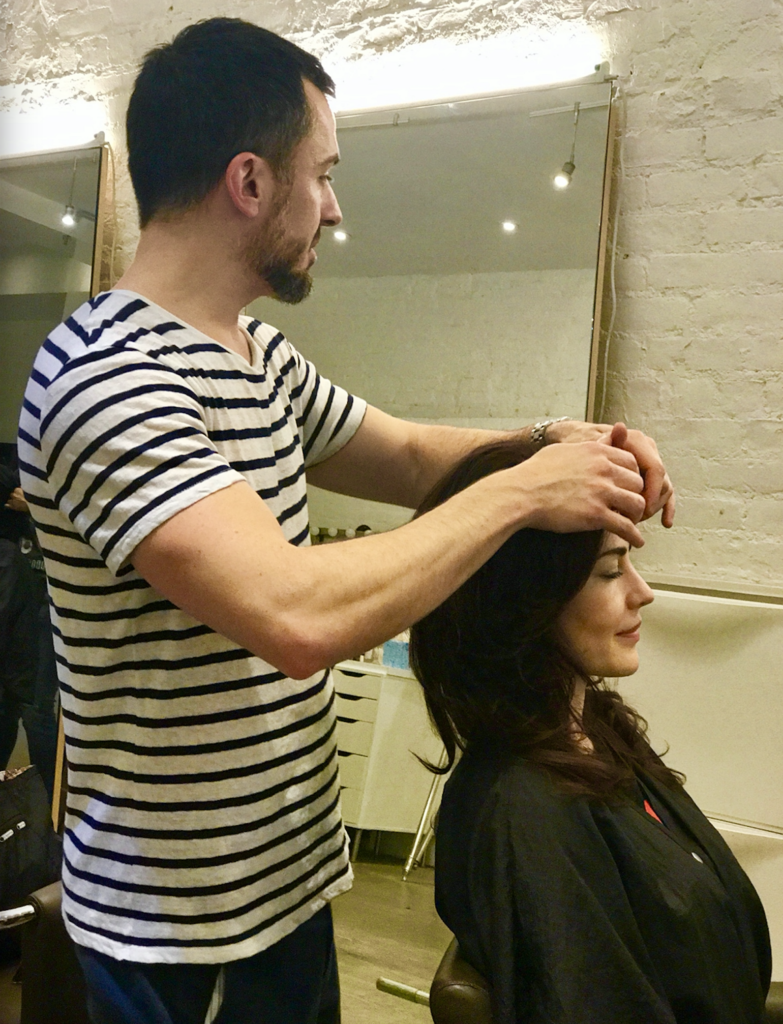 How did you get into hairstyling?
As a kid, I always paid great attention when I got my hair cut. Every summer, my parents, my sister, and I would go visit relatives in Italy where I started getting my favorite haircuts from a small-town, local barber named Pippo in Sicily. As a five year old, I thought it was magical. I did my first haircut on my sister's Hawaiian doll once I got home.  I noticed my haircuts were not even close to being as good, and I felt frustrated. Frustration creates meaning, so, at fourteen, I took my hair in my own hands by purchasing clippers and doing it myself. I was able to cut some of my friends' hair, and their parents would compliment me on my work. I always loved geometry and art in school without knowing that they are principals of technical haircuts. I was very close to my mom, who was a successful dress maker, and she always stressed the importance of finding a career doing something I love. So I told my parents that I wanted to take a year-long break after high school before college to test out cosmetology school. I never looked back. Perfect attendance, and 
in eight months' 
time, I got my hours and cosmetology license at the age of eighteen.
What makes for a great haircut? A great color?
A haircut is the base foundation of any hairstyle. It is the frame around a painting. A great haircut should complement your face shape, hair texture, lifestyle, and personal style; it should be easy to work with, and effortless.
A great color should first and foremost complement your skin, eye, and lip tones. It should also complement your clothing colors, jewelry, and accessories, all without damaging your hair.
The integrity of your hair's health makes a haircut and color work.
A great hairstylist always ____:
Asks the right questions during a consultation and finds solutions for you and your lifestyle based on how often you can make it back in. Suitability and proportions are key. For example, with long hair, if the health is maintained at home by avoiding drugstore brands (which crucify your hair), I can cut your hair in proportion to your facial and head structure to keep only four haircuts a year looking great all the way through. Yes, just four cuts a year.
Three things you should always ask your hairdresser (and three things you should never ask):
Ask your hairdresser what products they recommend for however low or high maintenance hairstyling you do daily.
Ask them how often you should come back to the salon to maintain your hairstyle, making sure whatever you agree to works with your time, finances, and schedule.
Ask them how to style your hair based on your lifestyle.
Should never ask:
Ask them to lighten your hair more than three levels lighter. What are three levels, you ask? See below:
1. Black
2. Darkest brown
3. Medium brown
4. Light brown
5. Dark blonde
6. Medium blonde
7. Light blonde
8. Lightest blonde
9. Platinum blonde
Going more than three levels lighter than your natural color causes breakage. It will also be higher maintenance, meaning your natural texture will not look good if you want something easy to maintain. We want you to look beautiful, remember?
Ask them to do a Japanese straightening if you have curly hair. You need to wait six months to redo your roots to avoid breakage. It makes your hair dead straight and flat, and your curls are too much of a contrast when they grow in. Good luck trying to not make that look very bad.
Ask them which drugstore brand shampoo they recommend.  I can get a few tablespoons of ammonia from a drugstore brand shampoo and use it to perm your hair. The PH of your hair is 4.5-5.5, which is acid balanced. The drugstore brands say PH balanced, which basically means nothing other than just sounding like acid balanced. The PH of a dru store shampoo ranges from 8-11 on the PH scale. Bleach and relaxer used in salons range the same amount by how strong they are. Do you want to use that to wash your hair every day? No way. Professional brands range from 4.5-5.5 on the scale which is good because you are cleansing with the same PH as your hair, so no stripping and damaging.
 Three tips for making a blowout last:
1. Use a leave-in conditioner from the ears down. Moisture from the product will protect your hair during the blowout, making it easier to smooth out strands, and preventing as much damage as possible to your hair from humidity (summer) or dryness in the air (winter or summer).
2. Use a finishing product after the blowout; an oil or spray shine of some sort will seal the hair.
3. Use dry shampoo. Fancy name, but I think of it as a hair-freshening product to avoid that flat, oily look at the root that makes us self conscious. The very fine powder sticks to the oil at the roots. It gives oily roots volume, and makes it not look oily anymore, with the appearance of freshly washed hair. Last but not least, it makes the scalp smell freshly washed…so, hug away!
Your top tips for choosing a face-framing haircut based on face shape and hair texture:
Say you don't have any framing and you want to see what it will look like. What I do is hold the ends of your hair (with both of us looking in the mirror) around the sides of your face at different heights such as collar bone, middle of the neck, right below the chin, chin, corner of the lip, hollow of the cheekbone, cheekbone and corner of the eye to see what looks best. Then, the degree and the amount to which we open up the face is very important and dependent upon your particular bone structure. Texture, of course, plays a big role as well, as does time of the year. You can do this at home: Play with different heights, both close and further back, on the side of your face. If you can't tell what looks best, take pictures of yourself and look at how things translate behind the lens.
Favorite travel destination:
Multiple long weekends or quick day trips someplace relaxing in the mountains or at the beach.
Favorite way to unwind after a long day:
Sitting down with my feet up with satisfaction, silence, and tranquility. 
Motto you live by:
Make everyone feel and look good.