It's week two of the One Room Challenge; time to dig into the plan.
My passion for layers and layers of texture coupled with the fact that I'm working on a Hygge hideaway for my daughter = dream project.
Last week I mentioned where the Hygge inspiration came from. Now, let's dig into the details that are helping bring this vision to life.
The focal point for the room is a tent over the bed with a gorgeous fabric by Romo. Then, my team spent a day at the D&D building sourcing layers of textured whites, creams, ivories, and linen tones from Fabricut to round out the design. (Talk about the ideal shopping day!) Then it was back to the studio to narrow down our choices.
The vibe is Scandinavian meets rustic with a dose of nature mixed in. Cannot wait for the big reveal in a few weeks!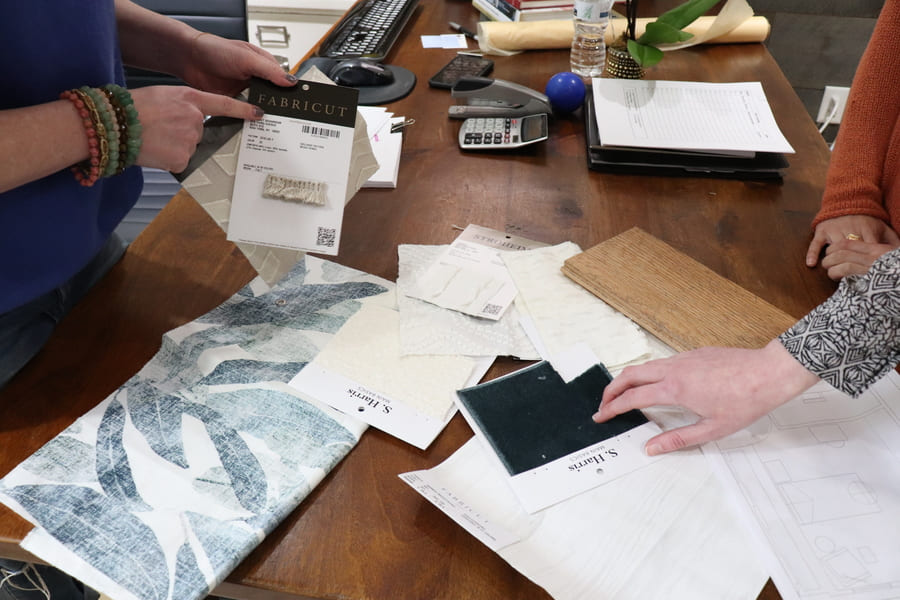 My process always starts with how you want to feel in the space.
Followed by "How are you going to use the space?"
It's no different when designing for my daughter.
I needed Tessa's input on the space to make it a true, authentic reflection of her.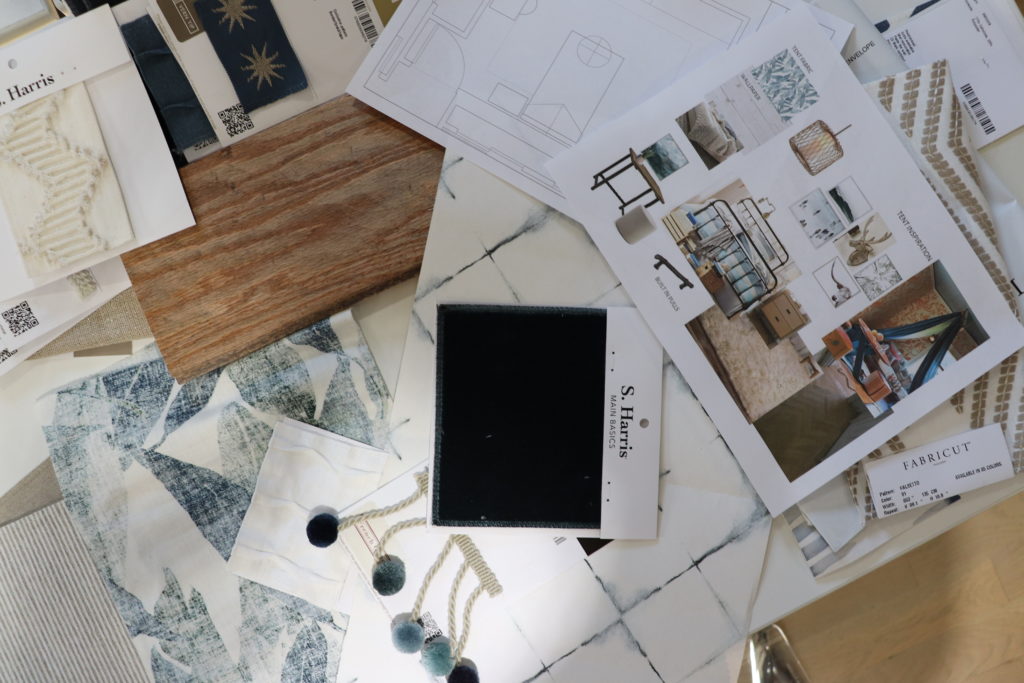 So, how did she want to feel in the space and how did she want the space to function?
We started with the feeling Tessa loved from our Hygge corner – cozy, light and bright – and rounded that out with the functions of a reading, snuggling, budding artist.
We're working to create a sense of place – her very own Hygge hideaway for dreaming and scheming…and creating.
Artists need spaces that inspire them and draw out their creativity. I'm excited to see what she dreams up in her new space.
Here's how we translated her desires into working drawings.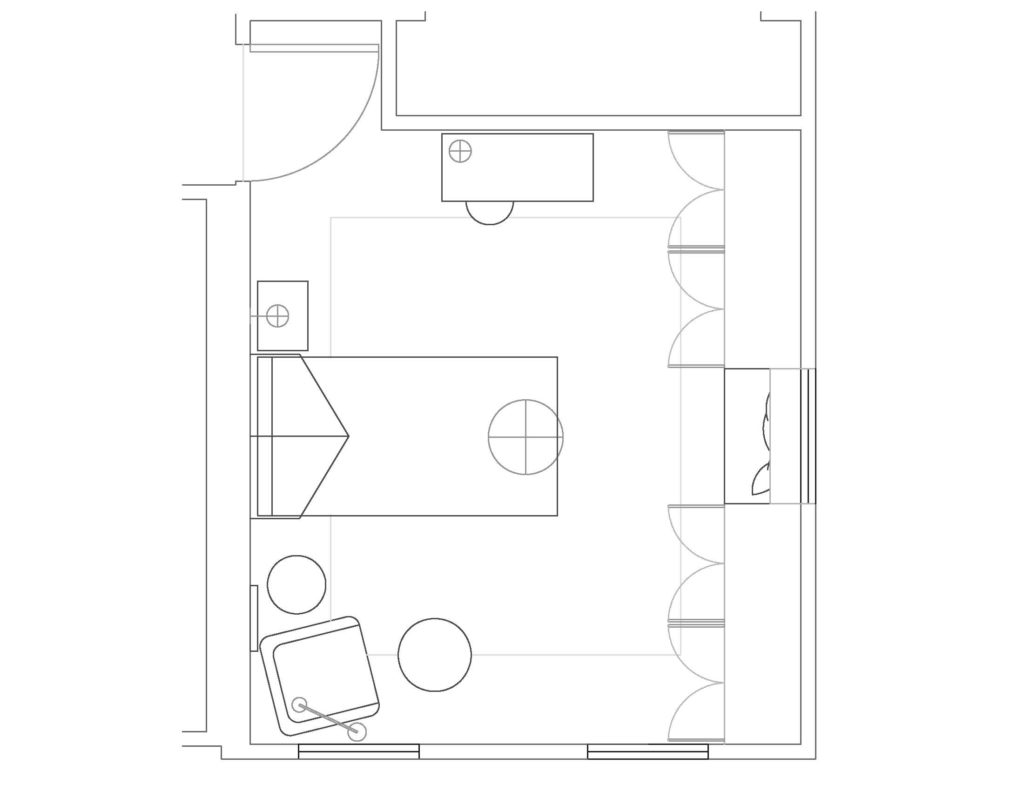 The first plan shows the furniture layout. This kids' room design features a cozy reading nook, a decked-out window seat (we're transforming what was once boring storage into a total snuggle spot), an "art and homework" station with a simple desk, and of course, the focal point: a dramatic, yet laid-back tent over the bed.
Next, an elevation of the gallery wall. We sourced eclectic and nature-inspired artwork from Minted in soft, creamy tones with accents of blue and green woven in. Bold and intriguing, yet serene and streamlined. A gorgeous full-length mirror by Renwil and a modern hat rack (Tessa loves a good hat) round out this wall.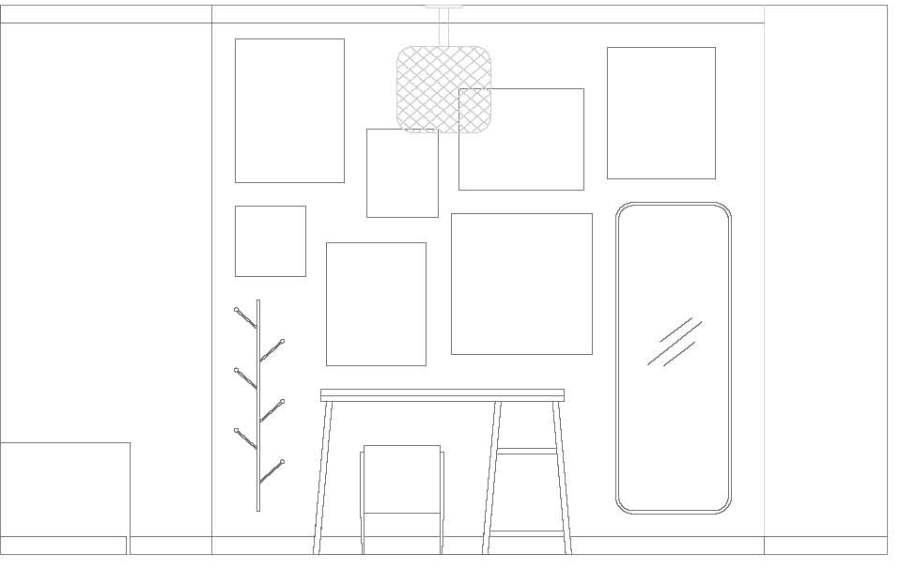 The key to creating a good gallery wall is to forego symmetry in favor of balance. Go for varying art sizes, frame finishes, and mediums.
I love a gallery wall—such a great way to share your story and give your home a real sense of place.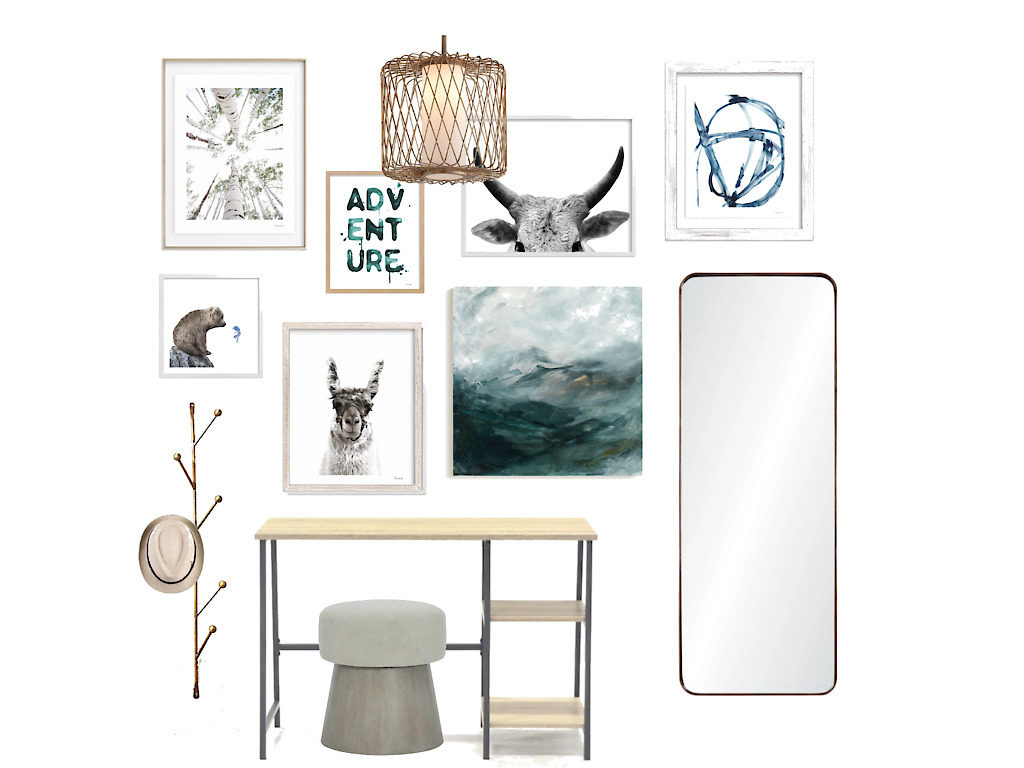 The bed wall elevation shows off the gorgeous bed canopy we're creating with my dear friend LuAnn Nigara of Window Works. The idea here is that Tessa can pull the canopy back when she's snuggled in bed reading or drape it down when she wants to nest. A nightstand and sconce round out the bedside. Great for tucking away all of those many collections.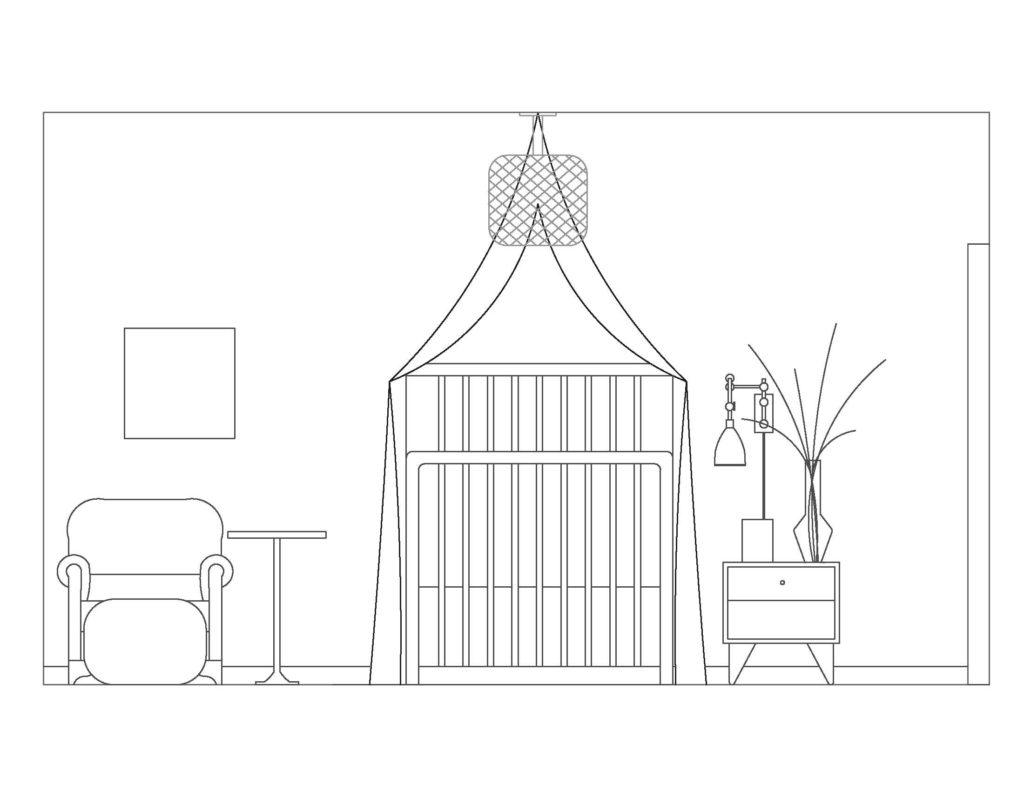 So, that's the scoop on bringing Tessa's vision to life. Next week I'll be diving into the nitty gritty behind getting the structure right (walls, floors – anything installed) in a kids' room design.
Stay tuned and check out the rest of the designers participating in the ORC…
At Home With Ashley | Casey Keasler | Dorsey Designs | The Farmhouse Project | Home Made by Carmona | House of Funk | House of Jade Interiors | House Seven Design | House That Lars Built | Inspired by Charm | Jana Bek | Jessica Brigham | Kelly Golightly | Murphy Deesign | The Pink Pagoda | Sarah Gunn | Sherry Hart Designs| Sugar & Cloth | Veronica Solomon | Vintage Revivals | Media Partner BH&G | TM by ORC