It's week 4 of the One Rom Challenge and we're getting closer and closer to the finish line.
Cue the confetti. Cannot wait to show you the full reveal.
If you're new here, welcome. Here's the recap: Week one was inspiration, week two was all about bringing the vision to life, week three was getting the structure right, and here we are at week four, the in-progress stage.
My daughter Tessa is loving what she's seeing so far. Her goal was to make the room light, bright, and airy – a real hygge hideaway.  The Fabricut Marstrand wallpaper in Frost made a huge difference to the space, as has the hand scraped oak flooring by Revel Woods.
This post is especially exciting because it features one of my all-time favorite vendors and people: LuAnn Nigara of Window Works.  Lu and I have been working together for nearly a decade and Window Works is our go-to for window treatments and all things fabric.
One of the main features of the room is a nature-themed, printed linen fabric by Romo for the tent over my daughter's bed. The idea behind the tent was to create a strong focal point in the room and a true sense of place. As soon as we envisioned the tent, I knew that the team at Window Works would be creating it.
Window Works not only fabricates all of our clients' window treatments, but also produces an array of other home pieces such as duvets and shower curtains. If it requires fabric, I'm calling LuAnn.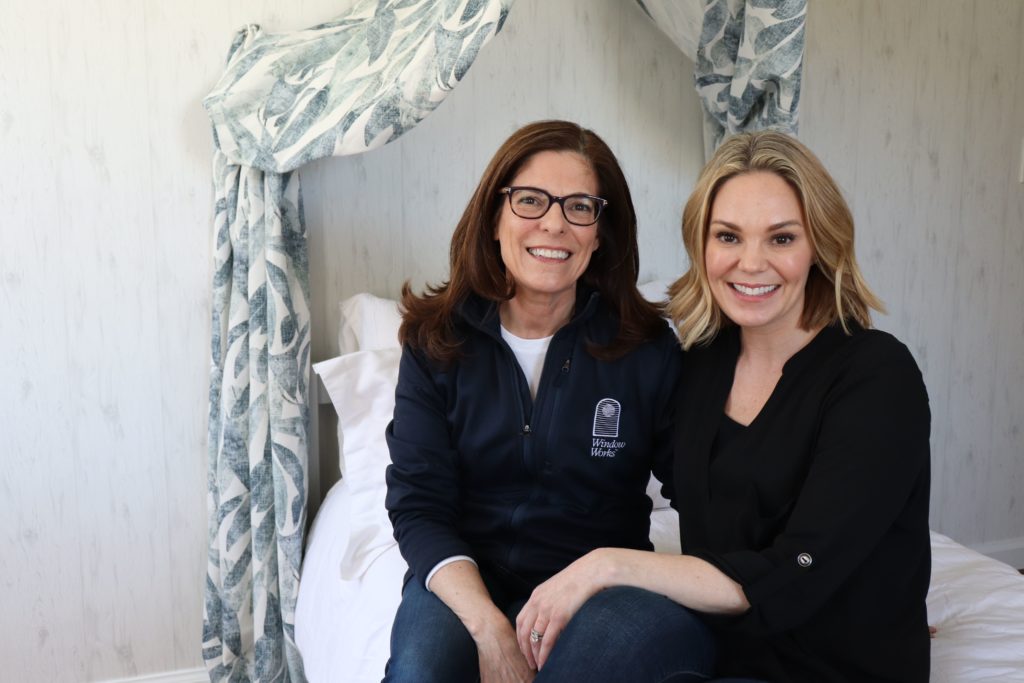 The Tent
Tessa has been thinking about a tent over her bed for quite awhile. She wanted a place she could retreat to – now she can pull the canopy back when she's reading in bed or drape it down when she wants to rest.
Last fall I hosted an episode of Design Sips at Romo's showroom. The brand was previewing their new Villa Nova children's fabric collection, inspired by various children's book illustrators. Felicity Mould and Haylee McFee of Romo UK and illustrator Christopher Corr and I sipped champagne, had a few laughs, and talked about the inspiration behind the new designs. So much color, whimsy, and spirit!
I went home that night thinking about Tessa's tent and all of the amazing possibilities.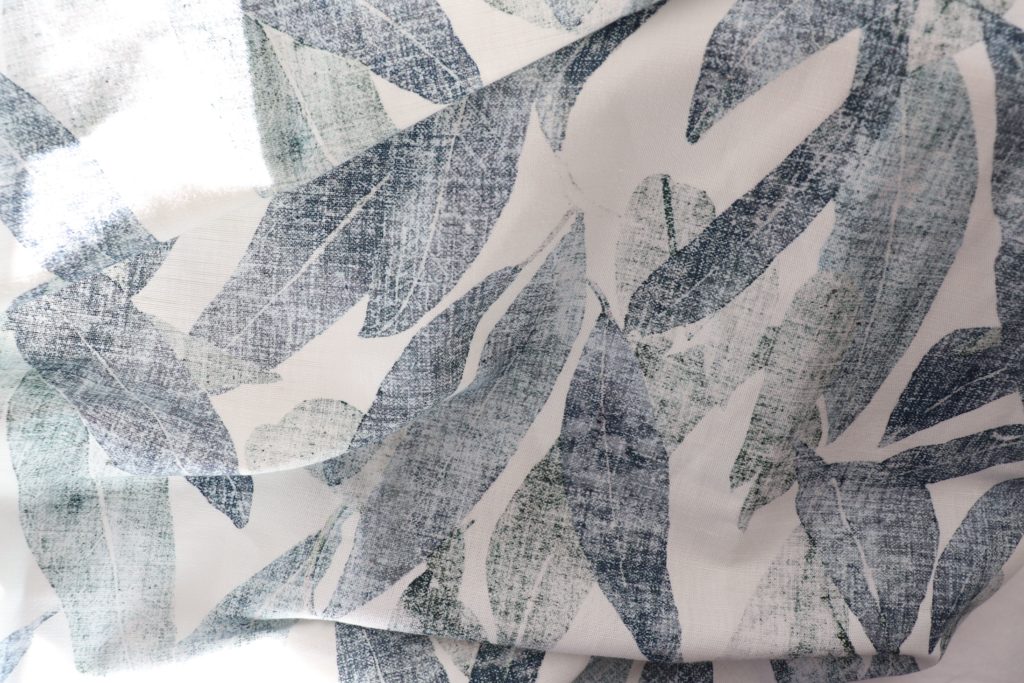 Tessa and I immediately started scrolling through Romo's website.
She kept going back to this one fabric…Arboretum fabric in Tapestry…drawn to it like she's drawn to the outdoors.
The nature-inspired fabric has a truly calming vibe to it and the soft tones work beautifully with the rest of the neutral color palette. We installed it on the ceiling with cup hooks and grommets and used jute twine for the tieback. This keeps things simple, which is the whole premise of hygge design, while adding a hint of our favorite grit and texture.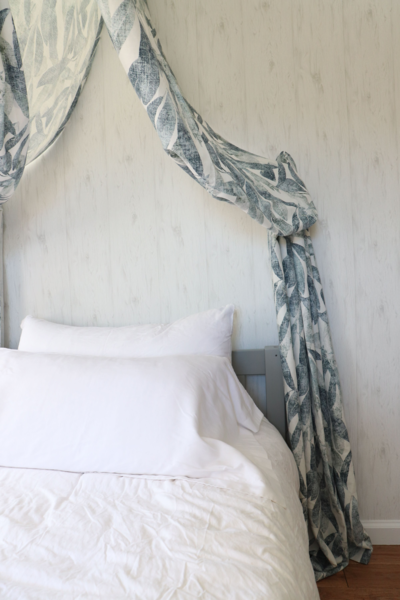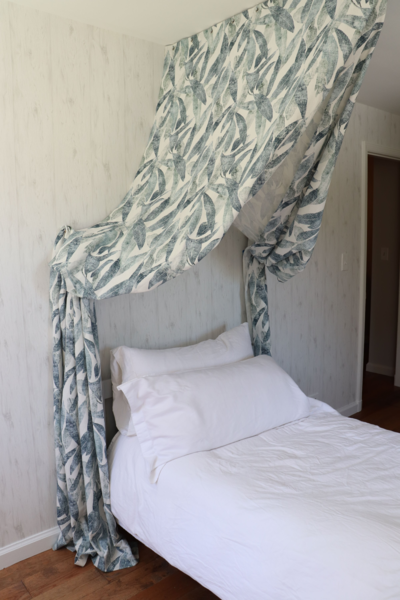 The Pillows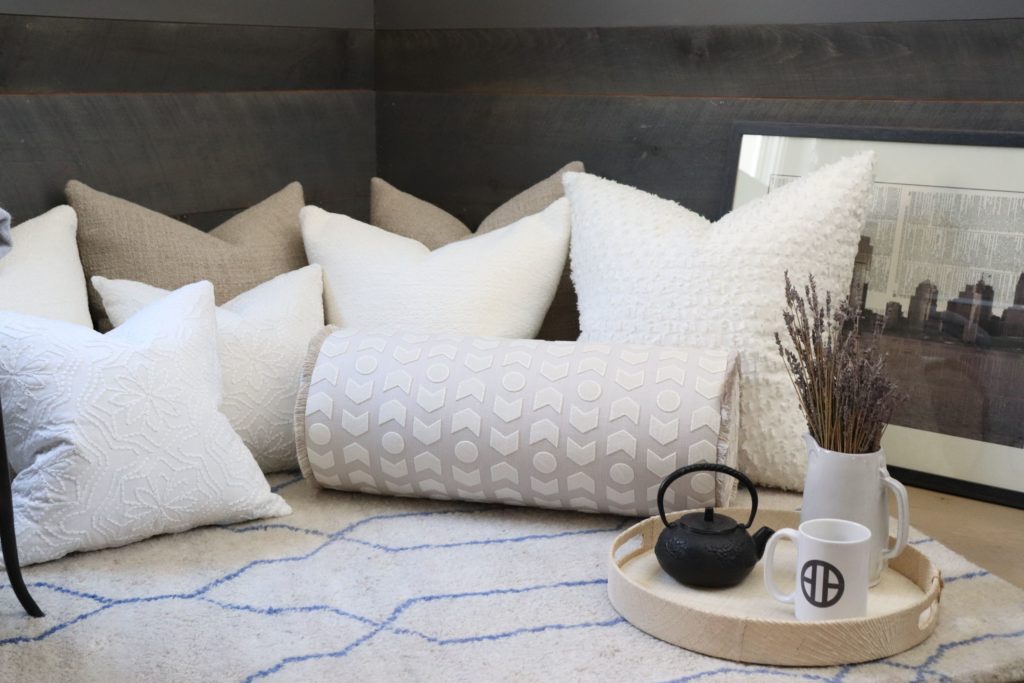 No true hygge hideaway would be complete without a group of beautiful pillows. Ideal for lounging, these pillows made by Franco Saldano of First Option Upholstery feature gorgeous Fabricut and Romo fabrics and trim. I kept the colorway crisp and clean with creams, off-whites, and linen tones, but opted for lots of texture with embroidery, applique, and fringe. This adds visual interest and depth to the space.
Franco has been my upholsterer for many years now, and knows the importance of fabulous pillows. ; ) He is incredibly talented and I continue to be amazed at his skill, precision, and attention to detail. Quality pillows in beautiful fabric make all the difference in a space. They truly elevate a room and say come, sit… stay awhile.
I am such a huge fan of Fabricut and Romo fabrics. They are high quality and stunning. For this project, my design team and I sourced all neutrals to create the light, bright, and airy vibe Tessa wanted. Her pillows feature great applied details (the bolster in Zinc Textile from Romo's Arrowhead fabric in linen with Fabricut's Dowlas fringe in platinum, and the pillow in Fabricut's Treble Lash fabric in white), embroidery (the pillows in Fabricut's Chalceony fabric in off white), and texture (the window-seat cushion in Fabricut's Fomo Velvet fabric in carbon and pillows in Fabricut's Lunar fabric in bleach). The plan is to layer several on her bed and chair, and then put a few on her custom-made window bench seat.
That's a wrap for this week. I'll catch you next Wednesday with more updates. Almost there…
Don't forget to check out the rest of the designers participating in the ORC. Their spaces are coming together beautifully.
At Home With Ashley | Casey Keasler | Dorsey Designs | The Farmhouse Project | Home Made by Carmona | House of Funk | House of Jade Interiors | House Seven Design |House That Lars Built | Inspired by Charm | Jana Bek | Jessica Brigham | Kelly Golightly | Murphy Deesign | The Pink Pagoda | Sarah Gunn | Sherry Hart Designs | Sugar & Cloth | Veronica Solomon | Vintage Revivals | Media Partner BH&G | TM by ORC