And…just like that, install day is here!

These last five weeks of The One Room Challenge have flown by. So much excitement, suspense, and fun. It's been an honor being a featured designer and I am dying to show you the FINAL reveal next week.
A quick refresher of what's gone down so far: inspiration (week one), bringing the vision to life (week two), getting the structure right (week three), and the in-progress stage (week four).My team and I take install day very seriously (we've even got an install-day kit that features felt pads and other general home maintenance products).
Installation is about getting all of the final details together in the space: accessories, art, accent lighting, and pillows.
A turnkey delivery is key to a smooth installation. Turnkey means that we deliver all of furnishings at once, using our white-glove delivery service. We manage the entire process, and are on site for the final delivery, ensuring that the space comes together the way we envisioned and planned. My daughter is one lucky client. 😉
The real secret to a successful turnkey installation? A good receiver.
Good receivers are everything.
They should be inspecting items and letting you know when things arrive damaged, and ensuring a foolproof delivery on install day. Having a strong relationship in place with your receiver is key. A good receiver will inspect each piece as it comes in. I have been working with Gina and Amador Rivera of A Designer Move for years. They are amazing receivers — detail-oriented, kind, hardworking, and excellent customer service. I am constantly recommending them to local designers and singing their praises anytime I can. Trust me when I say that a good receiver should be one of your top priorities.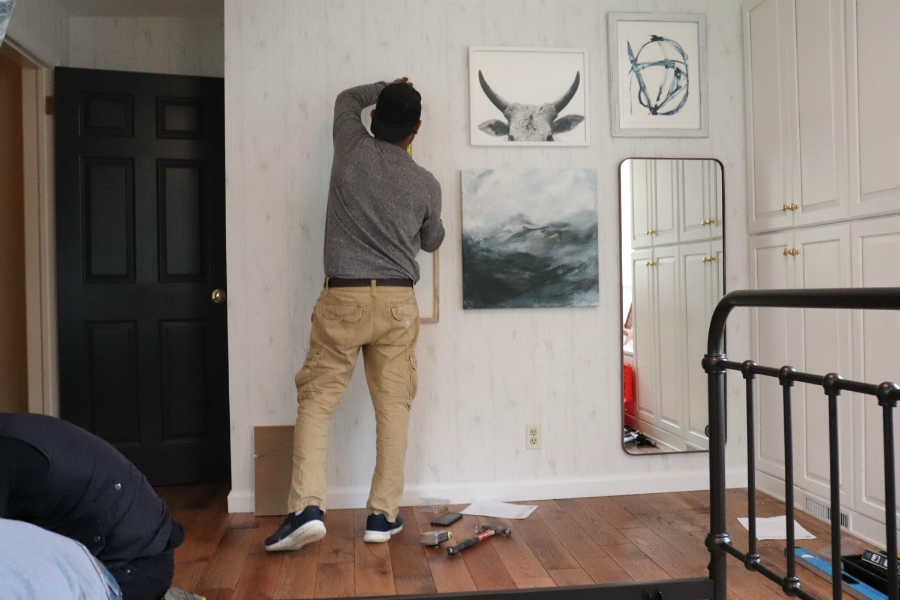 And of course, another big thank you to Taj Singh of Taj Custom Home Improvement for all of his help hanging light fixtures, art, and of course, that gorgeous Fabricut Marstrand wallpaper in Frost.
Rug

Our first delivery was a beautiful Bosphorus rug in ivory by Creative Touch. It lends a real cozy hygge vibe to the room and is so plush. I'm sure I'll find Tessa hanging out on the rug, playing guitar or daydreaming about her next art project. Creative Touch is a fantastic vendor to source rugs from. They make multiple trips abroad to locations such as India to find unique, custom, high-quality products that are not available mainstream. Shopping their collections is always such a treat.
Furniture
The intention here was to incorporate mixed materials to weave in more texture.
Coaster Home Furnishings Livingston Twin Metal Bed in dark bronze is industrial meets rustic, a great complement to the soft hygge tones and textures.
What really makes a bed sing is a top-notch mattress and quality bedding. The Agility Mattress by Therapedic is a dream. You may or may not find me snuggling Tessa in the middle of the night. Just sayin'. We chose a Therapedic TruCool Memory Foam Pillow to keep Tessa cool at night, and a crisp, white cotton Therapedic 450-Thread-Count Sheet Set for a clean look and feel. That child is seriously never going to leave her room…or bed, for that matter.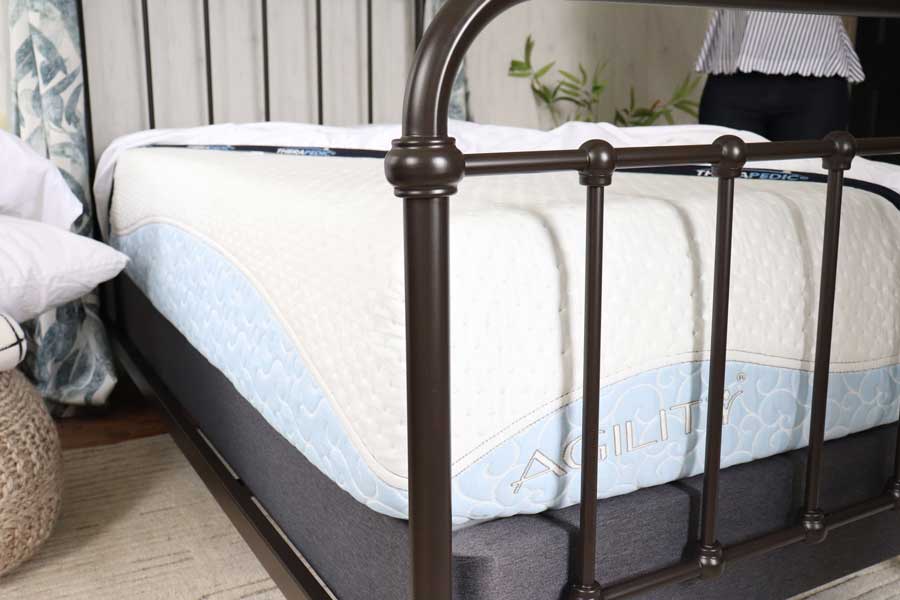 Sauder's North Avenue Desk in charter oak finish is ideal for all of Tessa's art projects. It's raw and gritty in the best way…a great tool for channeling all of that creativity.
It wouldn't be a kid's room without an awesome pouf. Ashley Furniture Signature Design Benedict Pouf in Natural will be a hot spot for lounging, dog included. The plan is for Tessa to tuck it away and pull it out as needed.
Lighting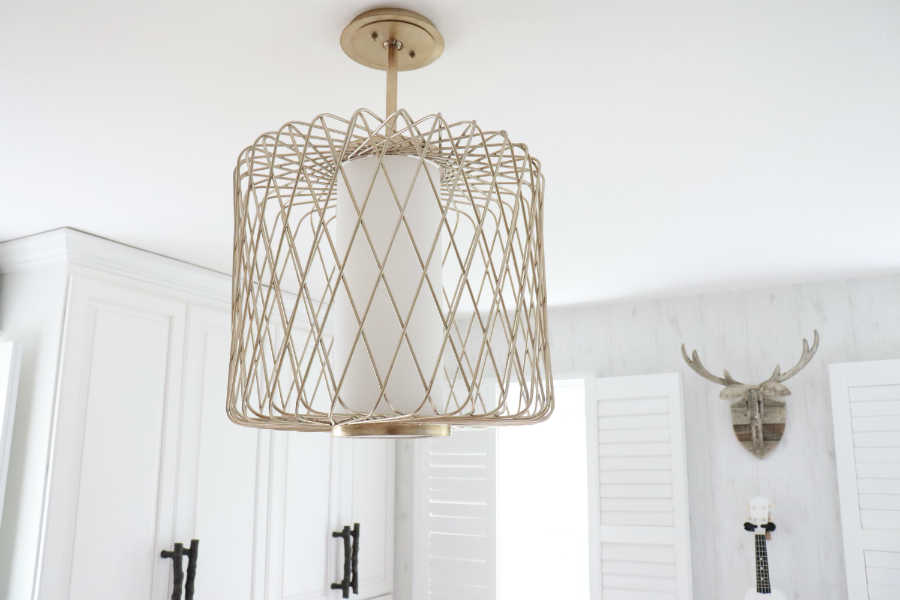 I can't stress it enough: layered lighting makes all the difference. I love Hudson Valley Lighting Group for their depth, breadth, and style. For Tessa's room, we chose timeless styles with a bit of grit and soul to them.  First, we swapped out her existing fan light for a really cool chandelier. This Troy Lighting Hideaway Chandelier in Champagne Leaf has that rustic quality we were going for while also feeling sophisticated. The hand-worked iron cage nods to the outdoors.
To create more layered lighting, we placed Hudson Valley Lighting's Roslyn Sconce in Old Bronze above her nightstand. This light is adjustable so she can move it according to her reading needs. The bronze brings texture and grit to the space.
Hudson Valley Lighting's Girard Lamp in Old Bronze has a unique, vintage vibe to it. I think it's important to mix old and new together in a space to achieve that layered quality that makes a room feel so well-rounded.
Tessa's desk also got a lighting upgrade thanks to this Lamps Plus Collette Black and Brass Charge LED Desk Lamp. We chose it for the hint of mid-century modern it brings, and I love that it's wireless.
Hardware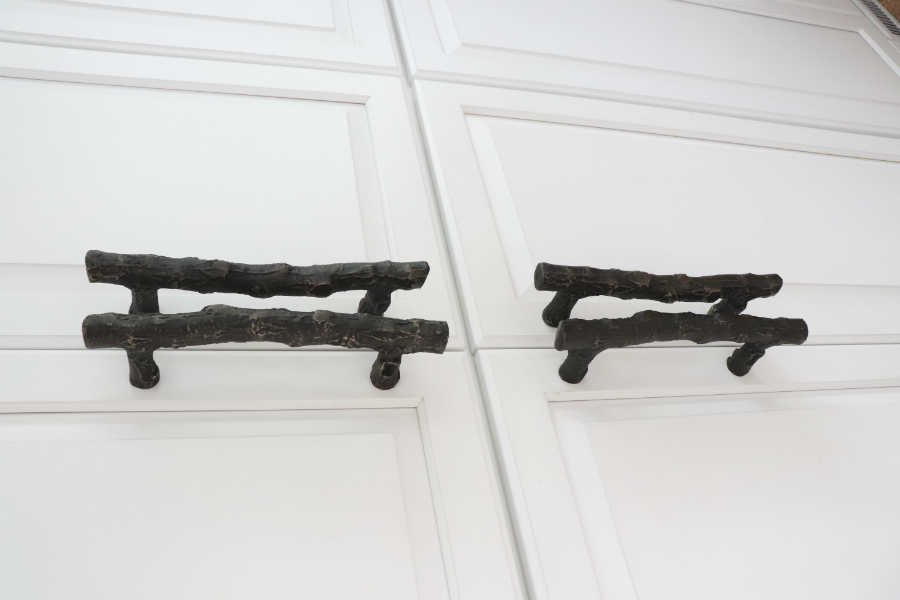 I shared a sneak peek of the incredible Emtek hardware in week three's post, but here is a shot of the hardware installed. The transformation is incredible! The Twig Door Pulls in medium bronze add so much texture to the room. I like things to not be too glossy and "new," but rather prefer a handmade quality with imperfections implicit in the design. These also patina more over time and get better with age.
Tessa's shutters got a nice upgrade with Emtek's Egg Knobs, also in medium bronze, and her door is officially the coolest in our house thanks to a rustic Door Knocker (code for: Sis, knock or else…).
Art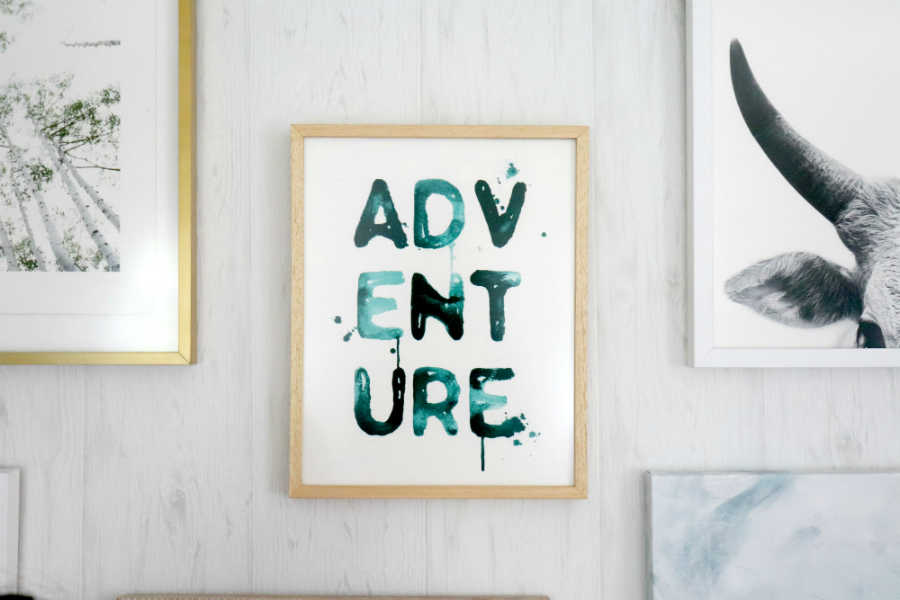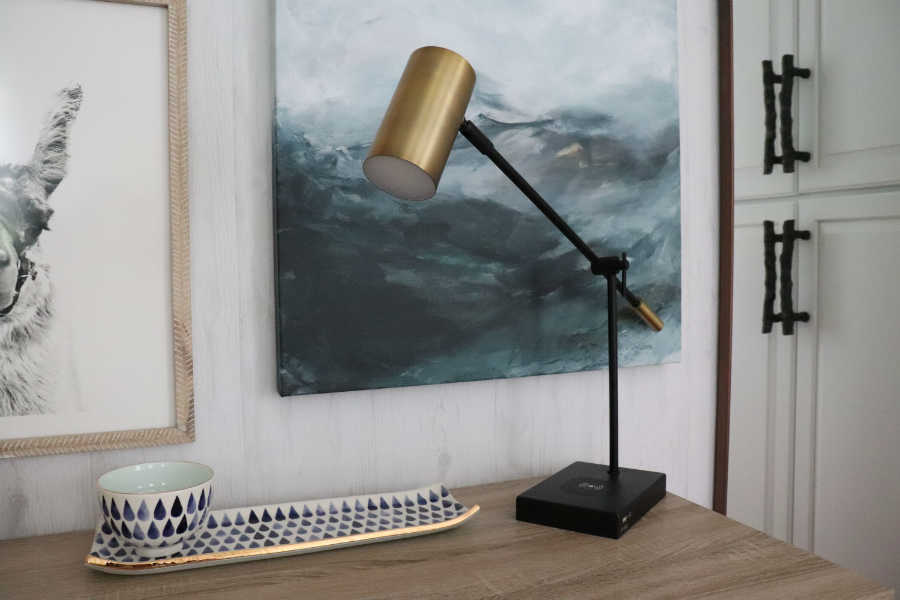 Art has a HUGE impact on a home. Art brings the emotion to a space. I can communicate a feeling or point of view like nothing else with artwork.
Art has to speak to you. Trust your gut.
Tessa was integral to selecting art that spoke to her: a mix of landscape and animal prints that bring the outdoors in, and of course, a clear call for adventure. Her gallery wall features incredible artwork by Minted: Ice Canyon art print by Mya Bessette, Adventure art print by Kelsey McNatt, Indigo Plant Cell art print by Mary Gaspar, Jane Gallagher art print by Amy Carroll, Blue Fish Wish art print by Maja Cunning, Aspens at Altitude art print by Kaleb Nimz, and Llama art print by Baumbirdy.
Renwil's Phiale Wall Mirror in a bronze finish rounds out the gallery wall, elongating the art nook while acting as a beautiful yet functional piece. Tessa can get a good look at her outfit (and hat of choice) on her way out the door every morning. No more coming into mom's room for last-minute styling. Maybe I'll get my own door knocker, come to think of it…
CB2's Barker vertical wall mounted coat rack is another example of a stylish, functional piece. Tessa is a hat-wearing kind of gal and now she'll finally have a place to keep all of hers. Bonus: It also adds balance to the gallery wall.
Back to the gallery wall. Most art I see in homes we work in is initially hung too high. It should be at eye level for the space (So if the space is a room where you stand, standing-eye level. If it's a space where you lounge, the art should be lower to be appreciated from the lounging position.) I talked about this in week two, but the key to creating a good gallery wall is to forego symmetry in favor of balance. Go for varying art sizes, frame finishes, and mediums.
The gallery wall is definitely one of the biggest highlights of the space. It truly completes the room.
Accessories
Last, but certainly not least, accessories. I always tell my clients that accessories are the final layer of design and that a space truly isn't complete without them. Don't skimp on them because they make all the difference.
Jill Rosenwald's handmade Raindrop Baguette Tray and Cafe Au Lait in Delft Blue are perfect for this budding artist. We re-imagined the servingware set so that Tessa can store pencils, paint brushes, desk supplies, and more.
A cheeky Origamy collectible ceramic piggy bank by Varaluz adds a dose of whimsy to her desk. This piece has a Gaudi quality to it – seriously sophisticated for a nine year old.
Faux florals by NDI are sprinkled throughout for a touch of greenery.  It's incredibly how florals (real or faux) instantly freshen up a space. We chose an airy Bamboo plant in a glass fared flute vase, a cool succulent in a ceramic cube vase, and a gorgeous anemone rose in a textured ceramic vase (always layering in texture to my designs). NDI has been one of my go-to brands for faux florals because of their impeccable quality and style. Their pieces are both elegant and durable, and bring any space to life.
Can't believe we're one week (!) away from revealing the final space.
I don't know who's more excited: me or Tessa. Either way, we cannot wait to share the final reveal with you.
Check back here next week and keep following the rest of the designers participating in the ORC to see their final reveals too.
At Home With Ashley | Casey Keasler | Dorsey Designs | The Farmhouse Project | Home Made by Carmona | House of Funk | House of Jade Interiors | House Seven Design |House That Lars Built | Inspired by Charm | Jana Bek | Jessica Brigham | Kelly Golightly | Murphy Deesign | The Pink Pagoda | Sarah Gunn | Sherry Hart Designs | Sugar & Cloth | Veronica Solomon | Vintage Revivals | Media Partner BH&G | TM by ORC