Ready, Set, Hygge: Step into our kids' room hideaway and stay awhile
So much creativity goes into kids' room design: It's fun, exuberant, and youthful, but also important to create a design that the child can grow into.
Designing a hygge hideaway for my daughter, Tessa, as part of The One Room Challenge has been a great adventure, and I am thrilled to finally share the big reveal!
I love a good design challenge, and these last six weeks definitely pushed me. Transforming a space from top to bottom in just over a month is no joke. But let me tell you, it can be done (a lot of strong coffee and good wine help)…don't tell my team, but I'm already dreaming and scheming about the next one…
My daughter, Tessa, is the definition of pure joy: Always smiling and giggling, bursting with creativity (she is an artist, guitar player, and lover of all sports), and full of zest and enthusiasm for everyday adventures.
The recap of our journey to date: week one was all about the inspiration, week two brought the vision to life, week three was getting the structure right, week four, the in-progress stage, and week five was all about the installation.
Finally, it all came together.  Below, how to master kids' room design, hygge style.
Even with kids' room design, we start with the emotion of the space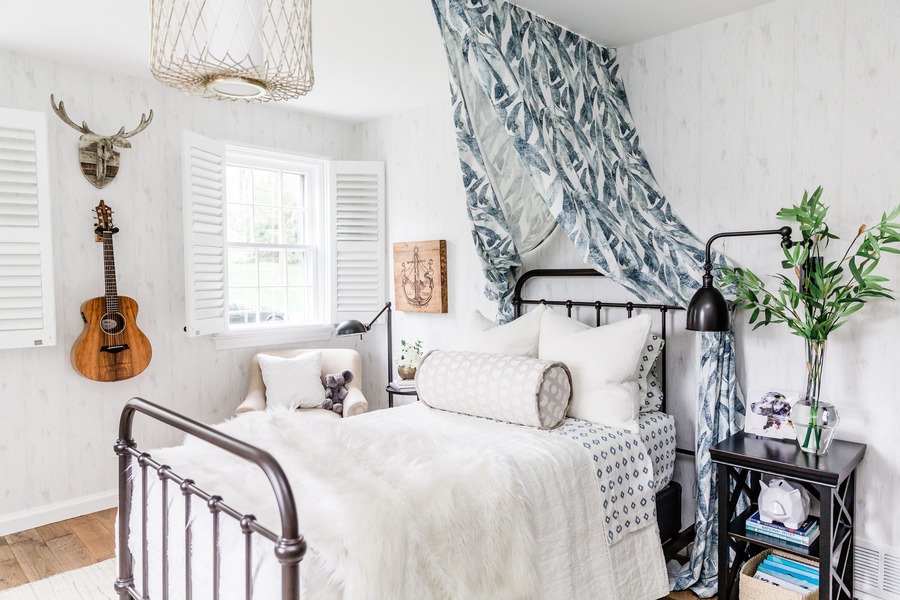 My process always starts with how you want to feel in the space. Followed by "How are you going to use the space?"
The same goes for kids' room design.
I incorporated Tessa's desires for the space — light, bright, and airy — to make it a true, authentic reflection of her.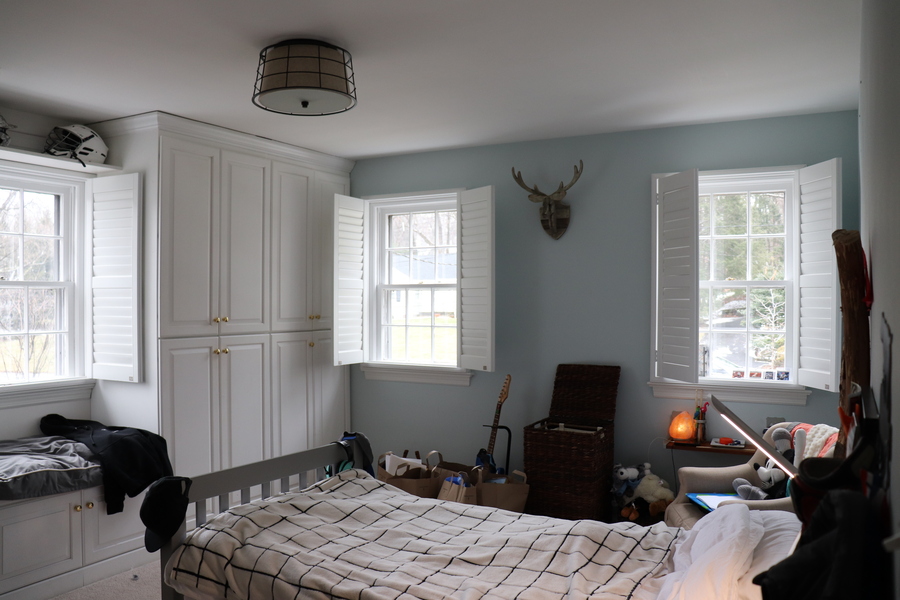 Her former setup worked, but was totally uninspiring and cluttered (her own words after a careful review). The furniture was a hodge-podge mix. The room completely lacked a sense of place, that feeling of destination – a place to daydream about returning to after a long day.
But not for long. Once we identified that she wanted to feel calm, relaxed, rejuvenated, and inspired in the space,  I was able to start designing her dream hygge hideaway. The vibe is Scandinavian meets rustic with a dose of nature mixed in. Kid friendly, but elevated and timeless.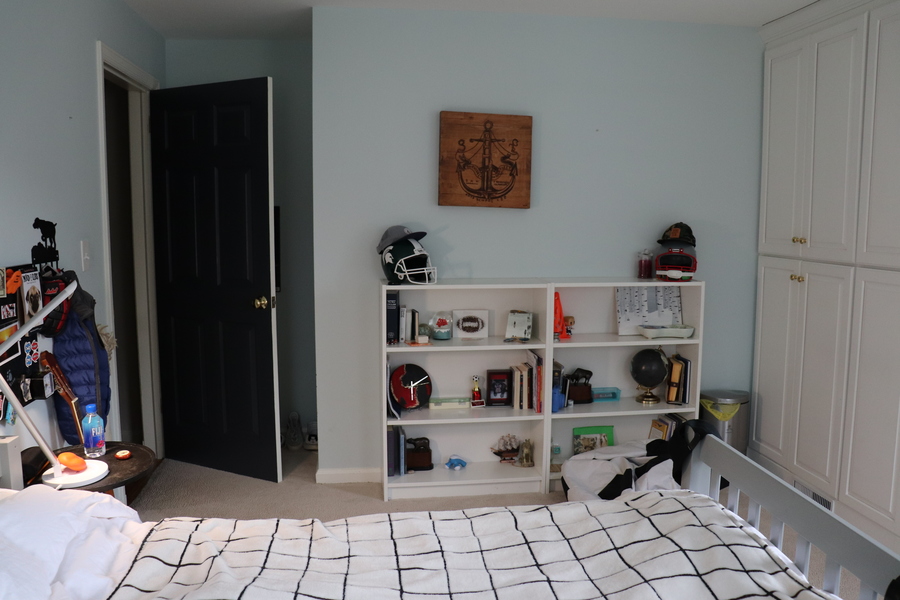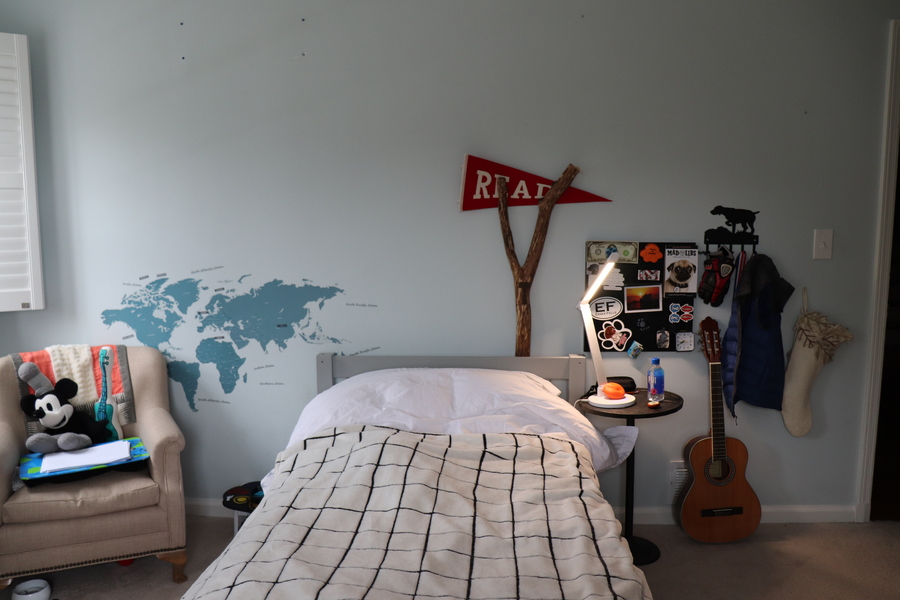 Make the plans come to life
Tessa's room layout really came to life after I determined the focal point for the room: a tent over the bed with a nature-themed, printed linen fabric by Romo. The incredible team at Window Works, led by my dear friend and longtime vendor LuAnn Nigara, was behind the execution of the design. They turned my sketches into a reality, giving Tessa a space to retreat to – she can pull the canopy back when she's reading in bed or drape it down when she wants to hide away, which, turns out – is quite often!
A detailed elevation of the gallery wall was also key to making the plans a reality. Tessa and I sourced eclectic and nature-inspired artwork from Minted in soft, creamy tones with accents of blue and green woven in. Bold and intriguing, yet serene and streamlined. We needed one more piece, and Tessa's request to include the birch tree painting by Dad was brilliant.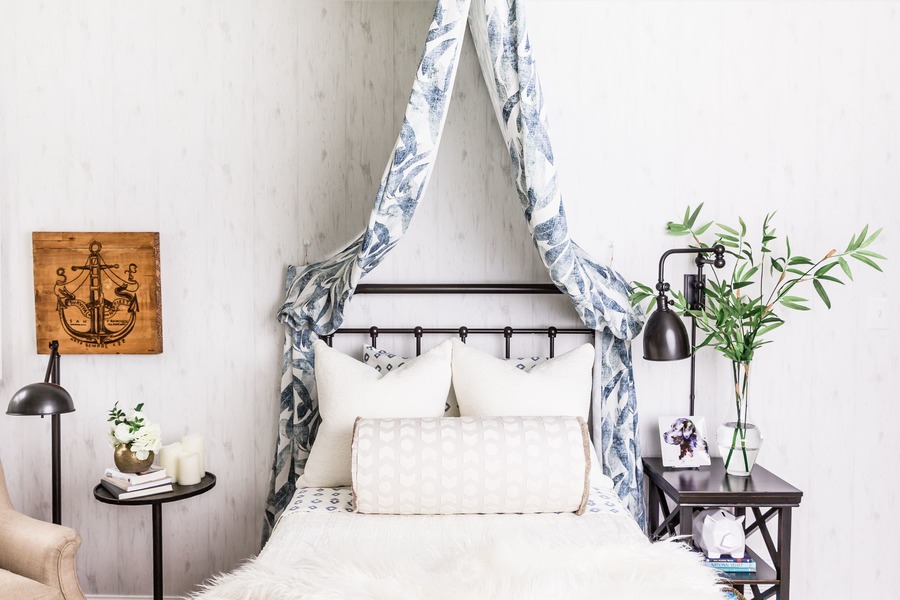 Get the structure right
When executing our design, getting the structure of the room right is top priority. That includes all installed items such as lighting, hardware, wallpaper, and flooring.
Once the foundation of a room is firmly in place, then it's time to move on to layering in the area rug, art, furnishings, decorative lighting, details and accessories.
The biggest component of getting the structure right in Tessa's room was removing her ink-stained carpet and installing a rustic, hand scraped oak flooring by Revel Woods. The wood I chose has a beautiful patina to it that can withstand daily wear and tear, which is so important for a long-lasting kids' room design.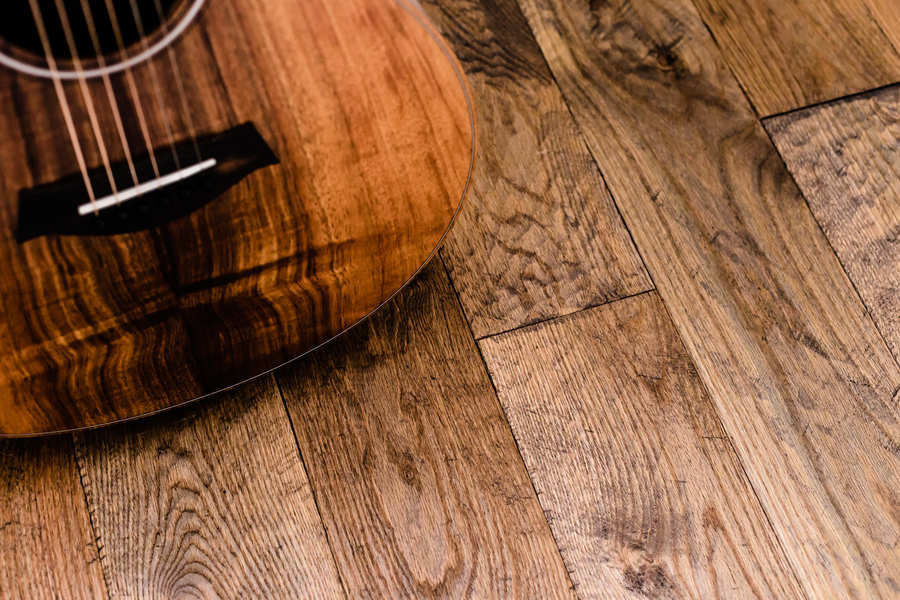 The man responsible for helping us get the structure right: Taj Singh of Taj Custom Home Improvement LLC. A longtime vendor, he installed the beautiful Fabricut Marstrand wallpaper in Frost, the Emtek Twig Door Pulls, Emtek's Egg Knobs, and Emtek's rustic Door Knocker, all in medium bronze.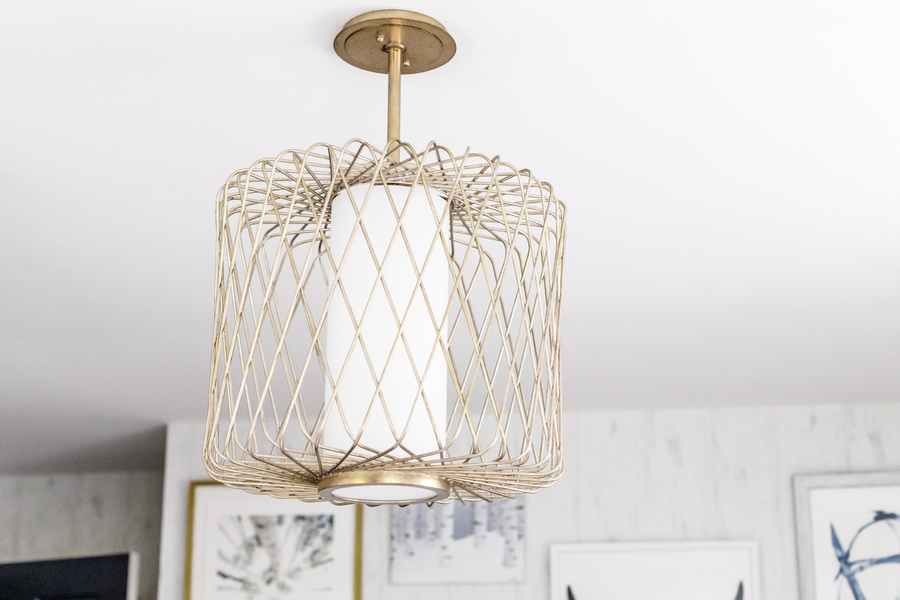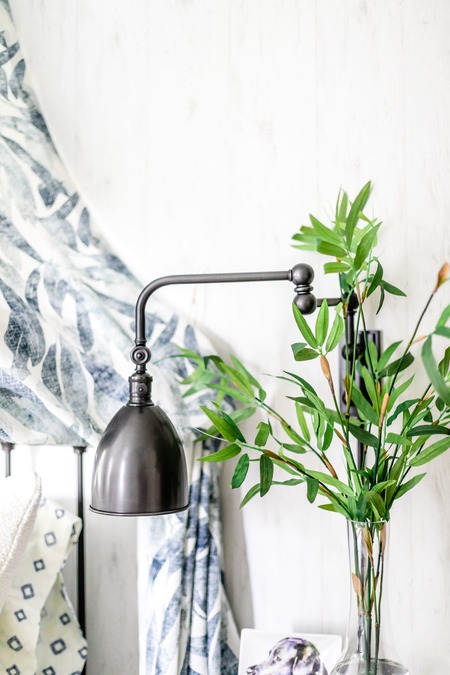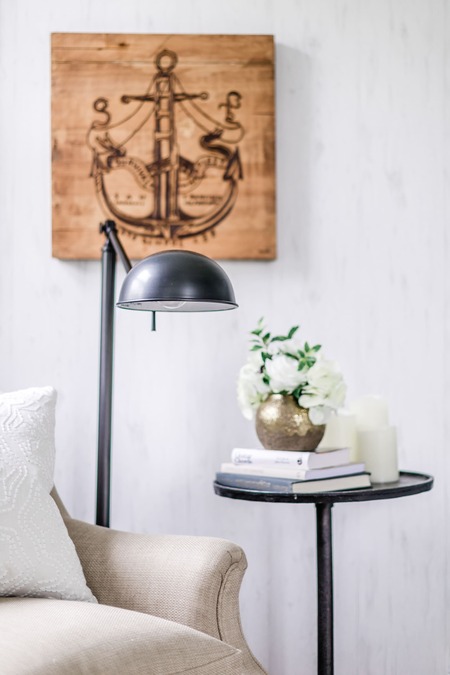 We love the Hudson Valley Lighting Group light fixtures: Troy Lighting's Hideaway Chandelier in Champagne Leaf, Hudson Valley Lighting's Roslyn Sconce in Old Bronze, and Hudson Valley Lighting's Girard Lamp in Old Bronze.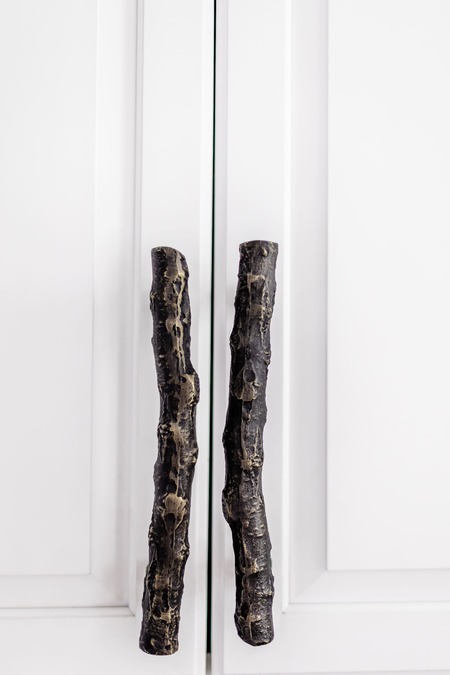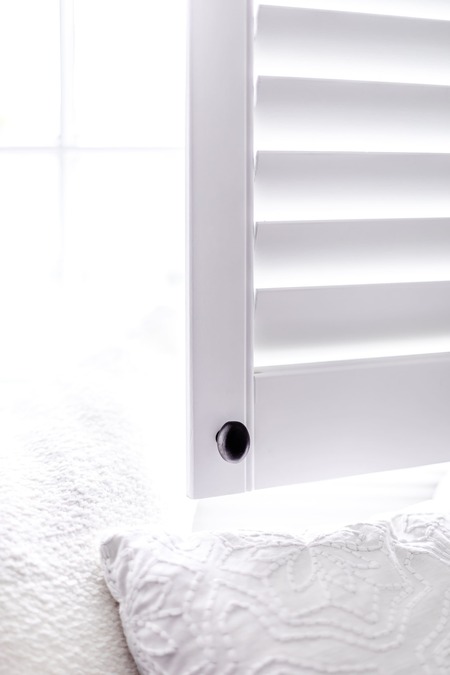 All of the lighting got an instant bulb upgrade thanks to Soraa. One of my biggest design tips is to go for layered, even lighting, always. Whether you're designing a formal living room or a whimsical kid's room, layered lighting and high-quality light bulbs make a room feel well rounded. Light bounces evenly off of all surfaces, color is showcased in its true depth, and well-layered lighting = the most-flattering lighting. I've never had a client, my daughter included, turn down flattering lighting. 😉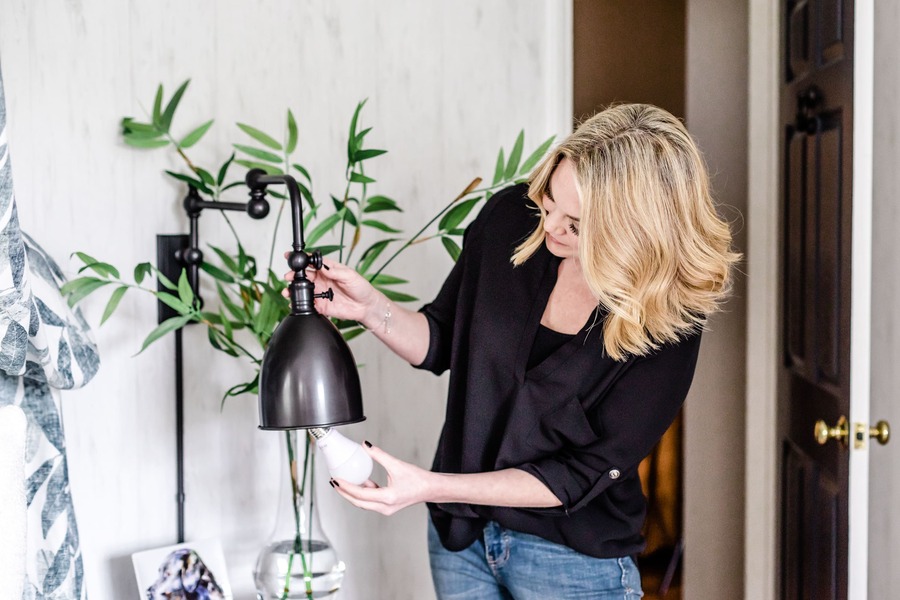 Taj's final masterpiece: hanging all of the art in our Minted gallery wall. Taj is the epitome of who you want on your A-team. Professional, kind, hardworking, super detailed, and very talented, his wallpapering and painting skills are in a class of their own. I am beyond grateful to have him on my team.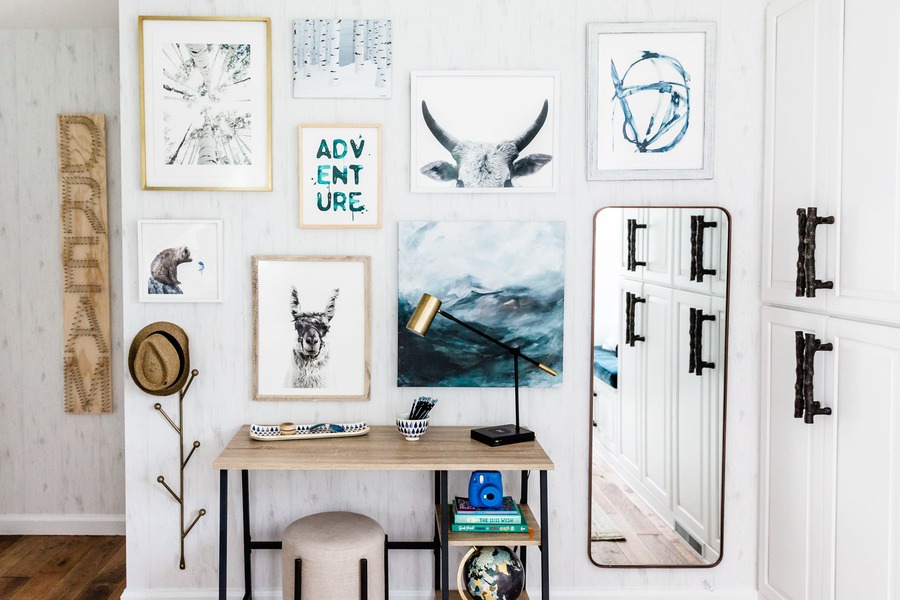 Showcase the hyyge details
Layers and layers of gorgeous pillows were key to creating that cozy hygge vibe we were going for. Huge thanks to Franco Saldano of First Option Upholstery, my longtime upholster, for creating fabulous pillows featuring Fabricut and Romo fabrics and trim. Franco's precision and attention to detail never ceases to amaze me.
The key to creating high-quality pillows that will last and last is to source high-quality fabrics and work with a talented upholster to showcase those fabrics.
For Tessa's room, we went with crisp and clean creams, off-whites, and linen tones make the space feel light and airy. Embroidery, applique, and fringe bring in lots of texture for visual interest and depth.
Her pillows include a bolster in Zinc Textile from Romo's Arrowhead fabric in linen with Fabricut's Dowlas fringe in platinum, and the pillow in Fabricut's Treble Lash fabric in white, pillows in Fabricut's Chalceony fabric in off white, and a window-seat cushion in Fabricut's Fomo Velvet fabric in carbon and pillows in Fabricut's Lunar fabric in bleach.
Whether she's reclining on her bed, chair, or new custom window seat, Tessa has plenty of spots for cozy-ing up and diving into her latest read.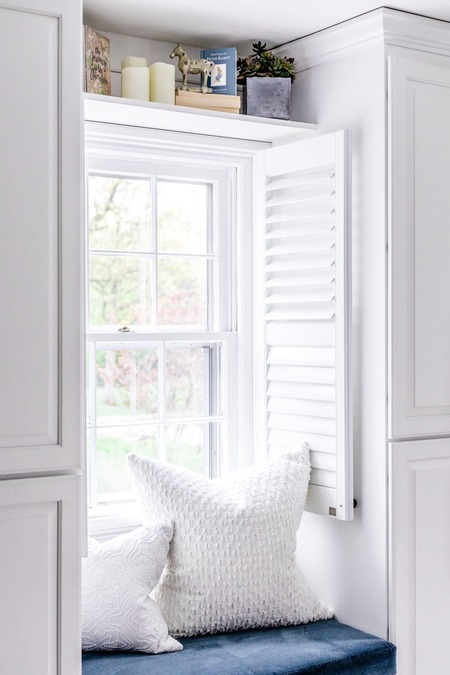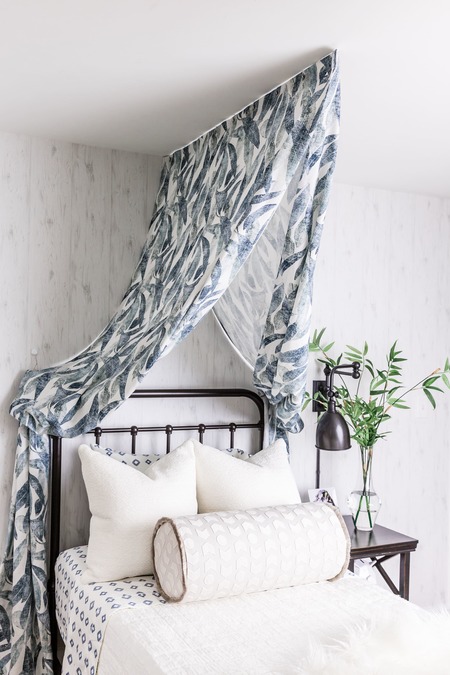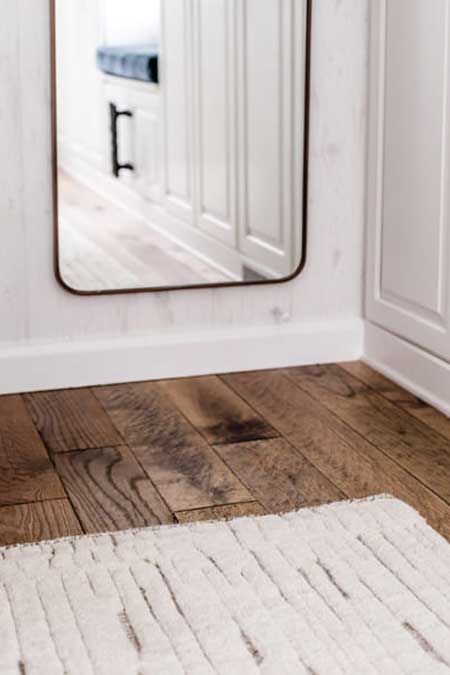 Another amazing detail: Tessa's rug. We selected a gorgeous Bosphorus rug in ivory by Creative Touch. It's so soft to the touch…so much so that when we returned from our recent spring break travels, Tessa immediately knelt down and ran her hand across it, ooh-ing in delight. I have worked with Creative Touch for years, and their selection is one of a kind. Baki Ildiz of Creative Touch travels to India, Turkey, and Pakistan to source the most unique, beautiful, and high-quality rugs. Shopping their showroom is a total treat.
The Coaster Home Furnishings Livingston Twin Metal Bed in dark bronze offers a nice contrast to the soft hygge tones and textures. Plus the frame finish ties in with all of those layers of lighting.
But it's Tessa's new mattress and bedding that take her bed up three notches. Getting a good night's sleep is essential for anyone, but especially for a growing child. That's why we selected The Agility Mattress by Therapedic. It's plush, yet firm, and 100% supportive. A Therapedic TruCool Memory Foam Pillow keeps Tessa from sweating at night, and a cotton Therapedic 450-Thread-Count Sheet Set in crisp white feels fresh and ties into the hygge scheme. There's no doubt about it — my nine-year-old has the most comfortable bed in the house.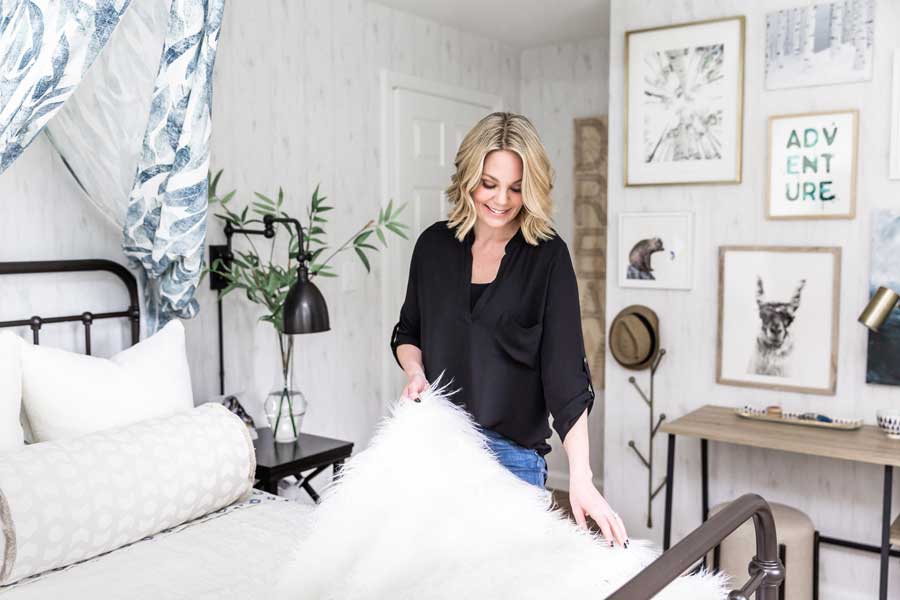 These details shine in the space thanks to our amazing receiver who inspected and delivered these items in mint condition. A Designer Move has been my go-to receiver for years. I rely on Gina and Amador Rivera to carefully inspect items and let me know when things arrive damaged. This process ensures a foolproof delivery on install day.
Layer in art and accessories to complete the space
You've heard me say it before:
Don't skip the art and accessories layer. They are crucial to achieving that finished look that makes a space sing. Tessa's room is the perfect example of a room that is fully done, top to bottom. No detail was left untouched, and every layer was carefully thought out and executed.
The result: A space that feels complete…and inviting. A true destination.
Here's how I incorporated art and accessories into this kids' room design.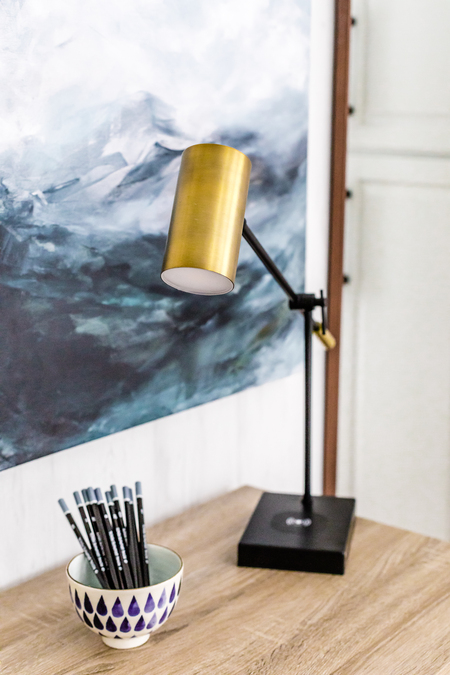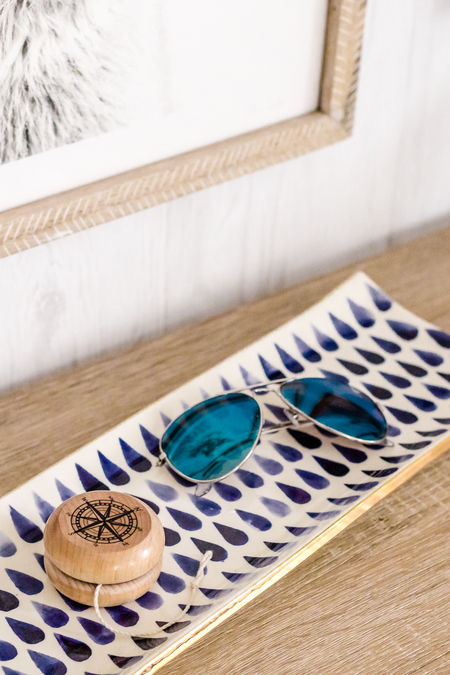 Sauder's North Avenue Desk in charter oak finish is a great, textured piece that will lend itself to Tessa's many art projects. I kept the desk accessories to a minimum — Lamps Plus Collette Black and Brass Charge LED Desk Lamp and Jill Rosenwald's handmade Raindrop Baguette Tray and Cafe Au Lait in Delft Blue – to allow her creativity to run free. One of her chief complaints before this room makeover was that everything felt cluttered. Now her desk features only the pieces she needs to make her creativity come to life.
Same goes for Tessa's nightstand. An Origami collectible ceramic piggy bank by Varaluz is cheeky yet sophisticated. Placed on top of a stack of books, it completes the nightstand while still keeping the vibe light and airy.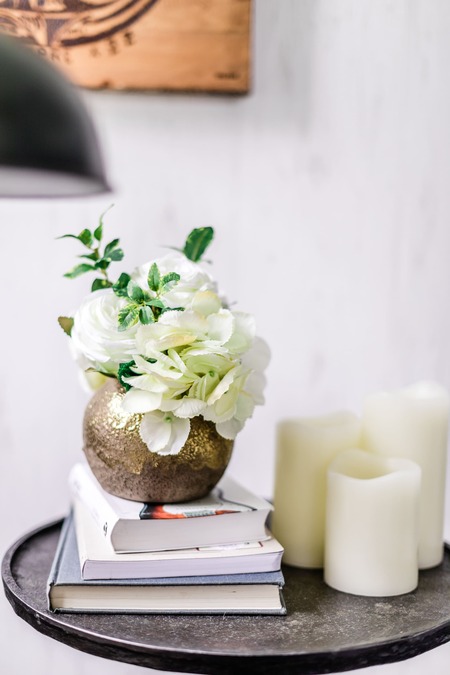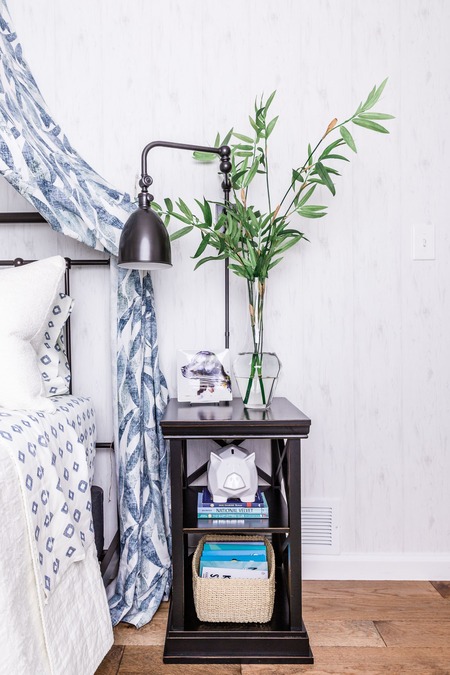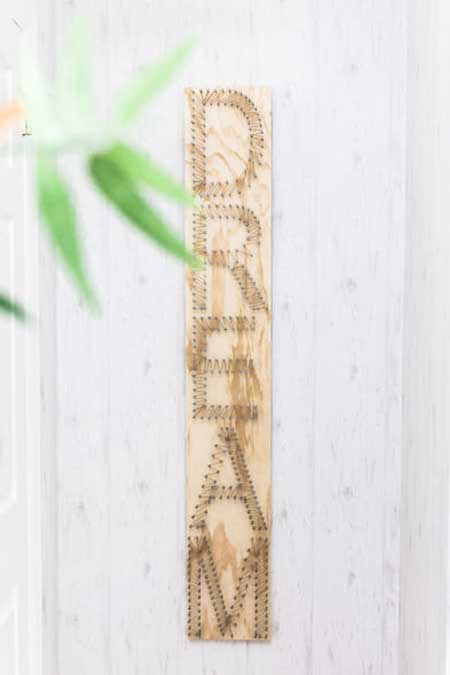 Speaking of light and airy, faux florals by NDI brought the room to life, as greenery always does. I layered an airy Bamboo plant in a glass fared flute vase, a cool succulent in a ceramic cube vase, and a stunning anemone rose in a textured ceramic vase throughout the space. NDI's quality is superb, which makes all the difference when it comes to faux florals.
And last, but not least…that incredible Minted gallery wall. Tessa chose a mix of landscape and animal prints that bring the outdoors in, and of course, a clear call for adventure. Her gallery wall features the following Minted artwork: Ice Canyon art print by Mya Bessette, Adventure art print by Kelsey McNatt, Indigo Plant Cell art print by Mary Gaspar, Jane Gallagher art print by Amy Carroll, Blue Fish Wish art print by Maja Cunning, Aspens at Altitude art print by Kaleb Nimz, and Llama art print by Baumbirdy.
To the left of the gallery wall is a DIY nail and string art project that involved the whole family. Tessa wanted to incorporate a personal touch to the space. I gave her a choice of wording and without skipping a beat, she said
I want it to say "dream."
We laid out the design in CAD. My husband cut the wood and helped the girls hammer in the nails. Then, Tessa strung it all together. Talk about teamwork makes the dream work…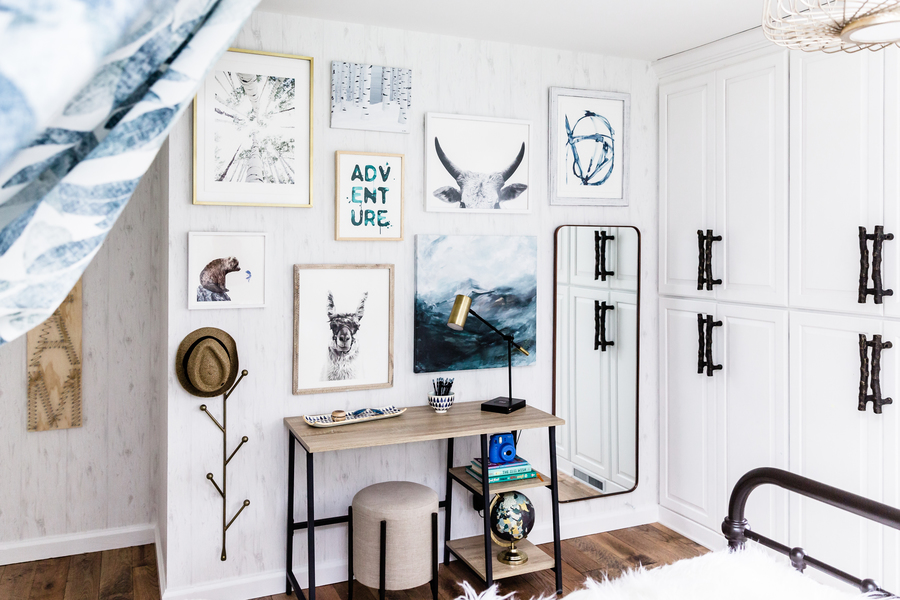 A gorgeous full-length, bronze-finish mirror by Renwil and CB2's Barker vertical wall mounted coat rack (ideal for Tessa's everyday caps and fancy boater hats) round out the scene.
The gallery wall is a true highlight of the space because it is so thought out and layered. Each art piece builds off of the next. The attention to detail (frame finishes, variations of colors, and spacing) is apparent and eye-catching. Statement-making in a subtle, neutral way…very hygge, if you ask me.
Which brings us to the end of this kids' room design adventure. What started as a busy, cluttered, ink-stained space has been transformed into a calm, light, bright, airy, and inviting hygge hideaway. The room is so much more inspiring for her art and music. She is relaxed and at ease in her space, and I can't wait to watch her grow into it.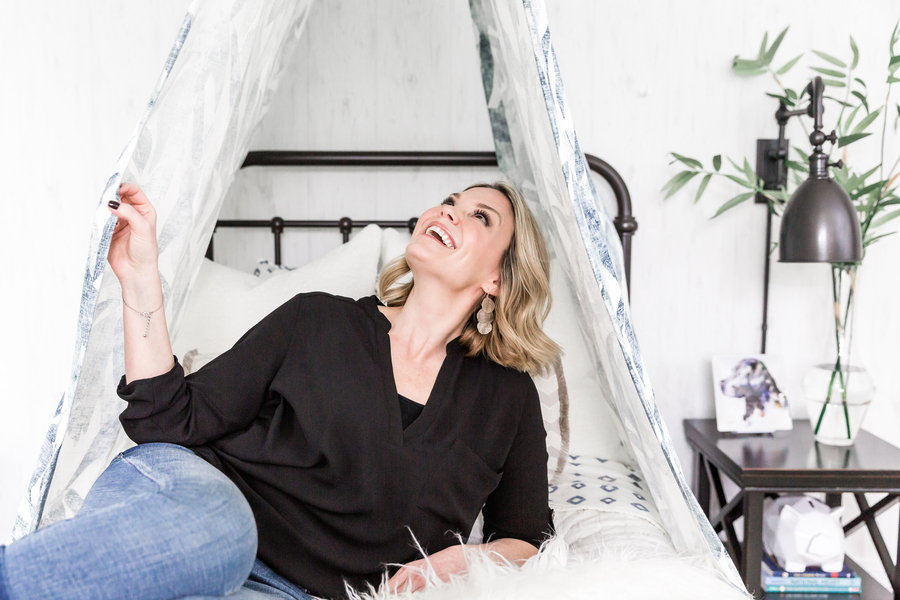 A tremendous thank you to my House of Funk team for helping me bring this space to life, to all of the incredible vendors who took the journey with us, and to my fellow One Room Challenge featured designers for their inspiring vision and execution. I may steal a nap under the tent now. Until next time…
Don't forget to check out the rest of the featured designers as they reveal their final spaces:
At Home With Ashley | Casey Keasler | Dorsey Designs | The Farmhouse Project | Home Made by Carmona | House of Funk | House of Jade Interiors | House Seven Design | House That Lars Built | Inspired by Charm | Jana Bek | Jessica Brigham | Kelly Golightly | Murphy Deesign | The Pink Pagoda | Sarah Gunn | Sherry Hart Designs | Sugar & Cloth | Veronica Solomon | Vintage Revivals | Media Partner BH&G | TM by ORC