Jodie Dawson and Kristine Petrik of Java Love started their coffee business without any expectation of the huge success it would eventually yield.
They opened their first outpost in 2011 in Bethel, NY, with a storefront on Kauneonga Lake. The space was small and their 1,200 pound roaster ate up most of it. They quickly outgrew the space and moved to a larger location in the area. By April of 2014, they had opened another local coffee shop in our neck of the woods (and their neighborhood): Upper Montclair, New Jersey. The Montclair location is industrial chic, but also incorporates rustic elements from their upstate location. The design includes reclaimed wood from an old building renovation and even wood found in the basement of their Bethel store. Their gorgeous counters are crafted from old doors recovered from the trash and a shipping container salvaged from Hurricane Sandy.
From there, they opened their third shop on Church Street in Montclair, NJ, where they stayed true to their Montclair vibe and continued using recycled materials and reclaimed wood.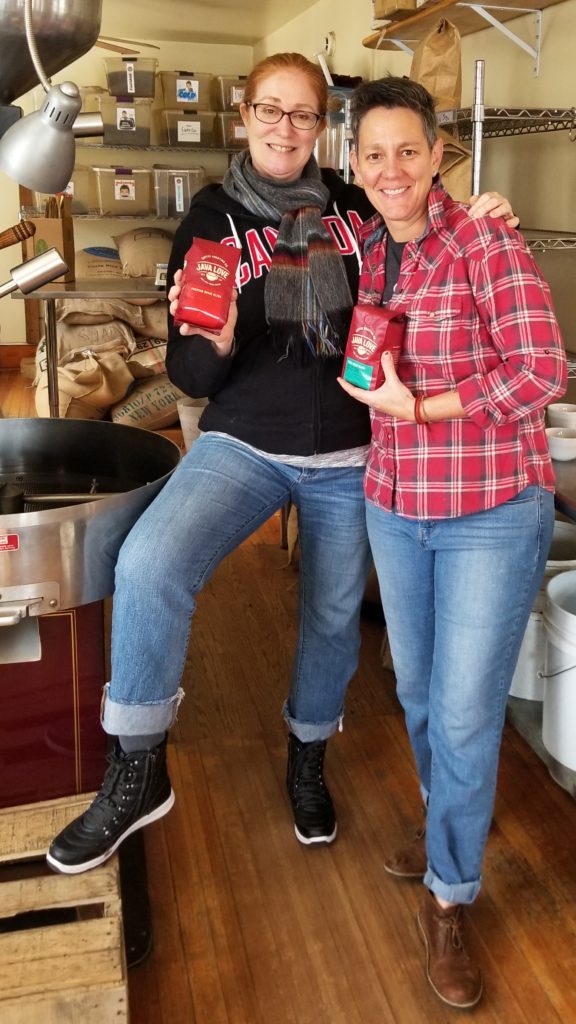 Java Love uses organic, fair trade, naturally farmed, and rain forest alliance coffee beans.
Environmentally focused, Java Love recycles up to 95% of waste and uses compostable service items. Not only are they environmentally conscious, but they are also community driven and donate a portion of their profits to local nonprofit and community outreach programs. How amazing is that?
I am in awe of their incredible environmental efforts and a big fan of their inventive drinks and fun flavors. More on the amazing duo behind the little coffee shop that could, below.
How did you get into the industry?
I stumbled face first into the industry. I like to think of myself as a "psychologist gone rogue"and an "accidental entrepreneur." My partner and I had a romantic notion of starting a small business as a side project up in the Catskills of NY to be a part of the economic development of the area. And the only place to get a cup of coffee there was at the corner gas station. So we took out a small business loan, bought some equipment, and started an organic coffee roasting company in a 400 sq. ft spot overlooking a beautiful lake. There was no real business plan or vision for success. And then people actually fell in love with the coffee.
Where did your love of coffee come from?
It certainly isn't from my childhood home where my family drank Folgers or instant coffee. Before opening Java Love, I just knew I liked good, strong Sumatran coffee, but really didn't know the massive lineage each bean had or about the different flavor profiles of each region. Learning about farming practices, the people, and the process have been the most eye opening, "blow me away" aspects of this journey. We are always taking classes and doing training and education for ourselves and our staff so that we can have a full spectrum of knowledge of our craft.
Why did you decide to open Java Love locations in Montclair?
We had our roastery in Upstate NY, but lived in Montclair. Yes, a bit backwards and a very long commute! We realized that we didn't really have a specialty coffee shop or roasting company in Montclair and wanted to bring our coffee and create community in our hometown.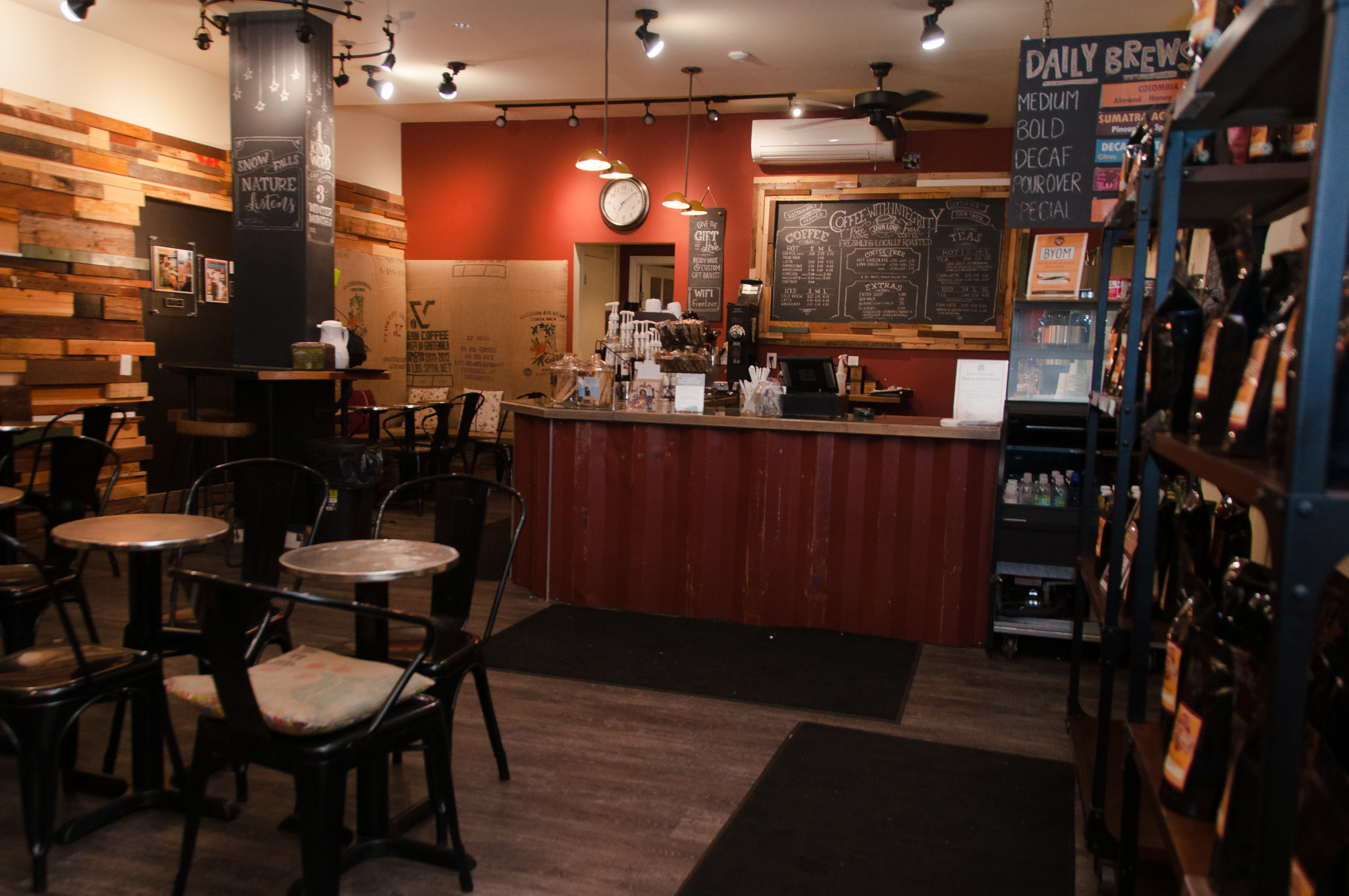 Where do you source your coffee, and why are naturally farmed and rain forest alliance varieties so integral to your brand?
We have coined our brand as "Coffee with Integrity" which sweeps through how we run the company to how we source our beans. We want to ensure that the green beans we are sourcing are grown with respect to the people and environment in their countries of origin. We know that the farmers we work with are given a fair wage, healthcare, and educational infrastructure while the beans are grown in a way that preserves natural resources and without chemicals. This type of sourcing also ensures a high quality product. People always ask what makes our coffee different and we always think that you can actually taste the love and care that goes into each step of the process, from farming to barista.
Tell us about your recycling and environmental initiatives, and why those are also a key part of your business:
We are a certified NJ Green Business and have worked hard over the years to implement various programs that focus on sustainable practices. Similar to the reasons above, we are committed to making sure we do our part to decrease our carbon footprint. Our two biggest initiatives over the past year were our reusable straw and jar programs. First, we shifted from plastic straws to compostable corn-based straws and brought in both bamboo and stainless steel straws available for purchase. And, second, because we use such a high grade coffee bag it's not recyclable, so we instituted a discount program where customers can bring in any container or buy one of ours and get it filled with a full pound for the price of a twelve oz bag. Both programs have been wildly successful and a win-win all around.
What makes small-batch roasting so unique?
We roast twenty-five lbs of green coffee beans at a time. It's truly an artisanal craft coupled with a science and a beautiful process to watch. By roasting in small batches, we maintain full control of each roast and are able to make minute-to-minute adjustments to bring out the best flavor for each bean. Most people don't know that each coffee region and single origin bean has its own distinct flavor notes, just like wine and grapes. We do a lot of educational work for our staff and ourselves to continuously keep honing our pallets and tasting skills to make sure we are bringing out the best flavor.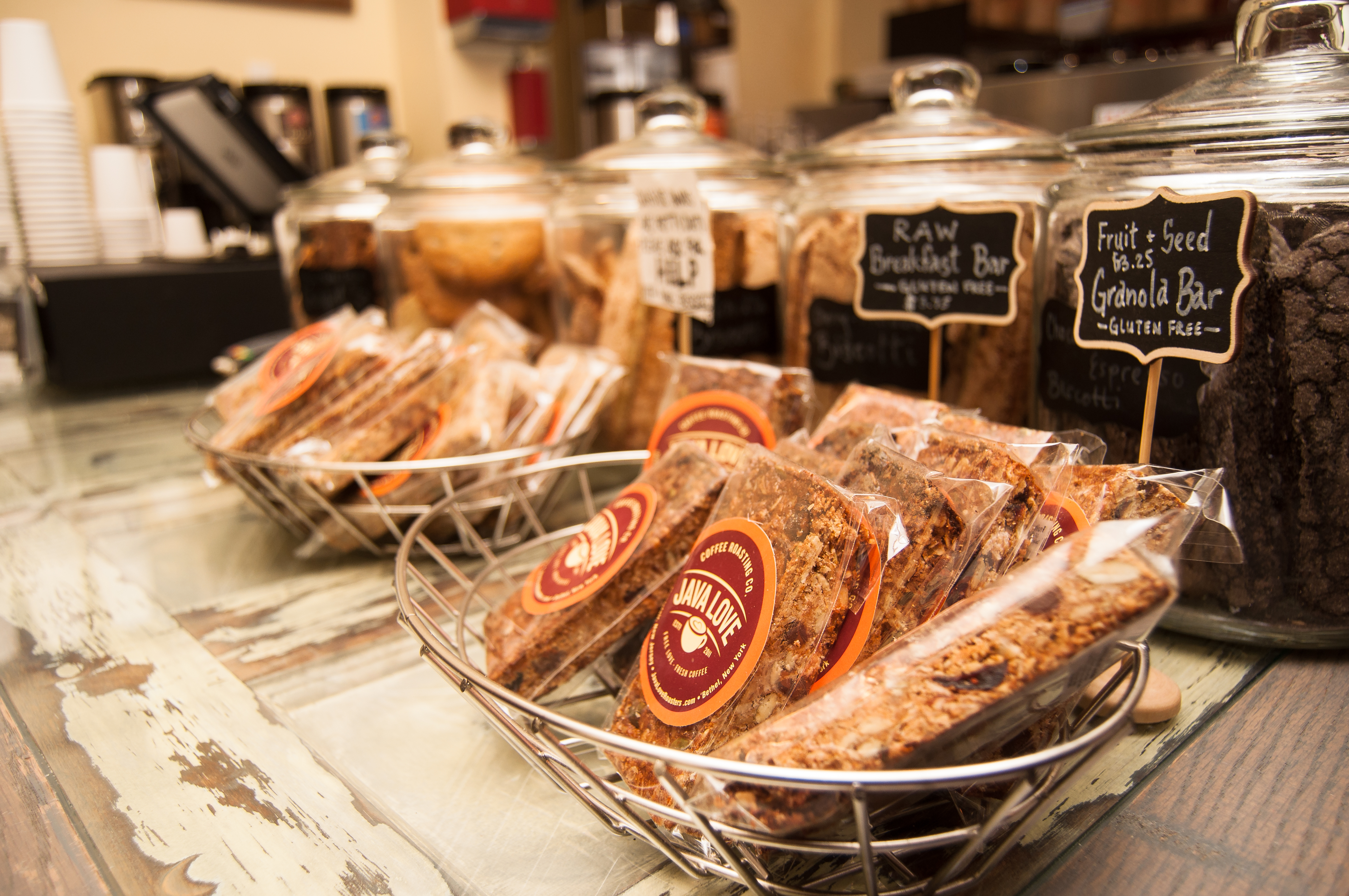 Why are female-owned businesses so important to local communities?
Being a female-owned business is a powerful experience, especially in a male-dominated industry. Coffee roasting is an extremely physical process and there is a very small percentage of roasters and roasteries that are female owned. It wasn't that long ago that we were fighting for the right to vote, so to be a female-owned business continues to push the envelope of what is possible for women in this country. It's also a very personal journey to my own empowerment as a successful business owner and entrepreneur. I can't tell you how many meetings and rooms I have been in as the only female. I was in a meeting recently where they were speaking about me in the third person. It's moments like those that get me fired up to continue showing up on behalf of myself and women, as well as for my daughters.
Why is a sense of community key to running a local business?
Community IS key to a successful business. One of the most heartwarming parts of my job is to be able to go into any of our stores and see people meeting each other, grabbing a cup of coffee, bringing their kids, and running into friends and neighbors. We get the honor of being a part of everyone's lives in a very special way, so in return we are committed to giving back to our communities in forms of donations, speaking engagements, fundraising, and volunteering. In today's culture, people are so busy and constantly cyber-connected that we value face-to-face, people-to-people, positive interactions. That's what makes a community thrive, and we love creating that and being a part of it.
Where do you find inspiration?
As an entrepreneur it's important to find and seek out inspiration because you will always have so many highs and lows. I tend to look in a number of different places for inspiration. I look at my daughters and want to be the best role model for them. I look to other women entrepreneurs who are also in the trenches and succeeding. I look to the Junior League community–some days I will just sit in one of my stores, look around, and really take in what we have created—from our hard-working team to our die-hard customer fans. I also take time to dig deep within myself to connect with my own drive, purpose, and passion for what I am up to in the world.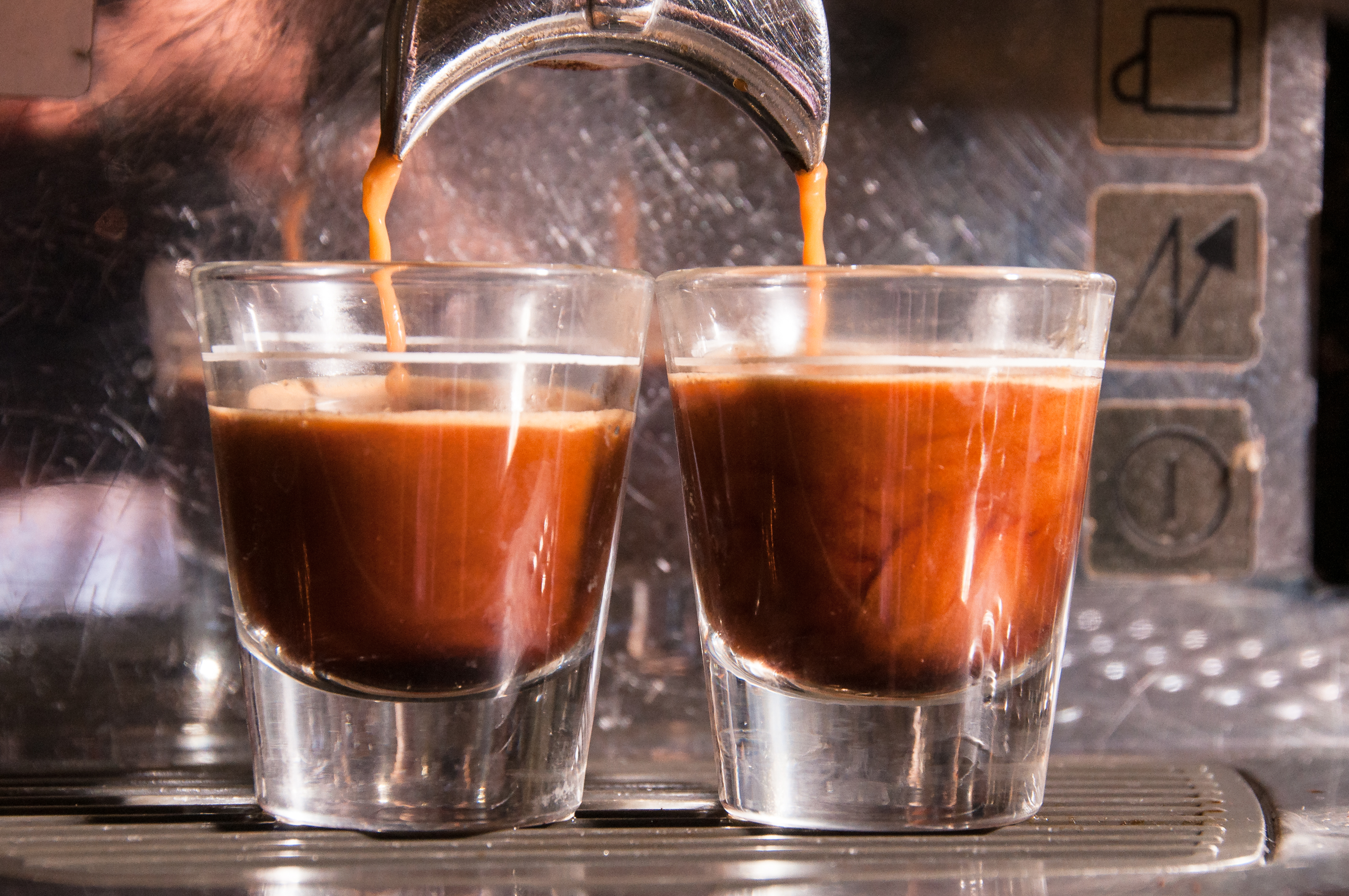 Favorite part of owning a local shop:
Definitely the community and connecting with people in a way I would never have otherwise.
Favorite coffee on the menu:
I drink so many oat cortados that the staff has now coined it the "Jode-tado."
Classic espresso + food pairing:
Perfect pair: Dunking one of our house-made chocolate chip cookies or traditional biscotti into a cup of espresso.
Favorite travel destination:
I am originally from Montreal, Canada and I love driving up there, spending time with our family and friends, and showing the kids the city and surrounding areas. They also love speaking French so we get to practice with each other and in that culture. It's really fun.
How you unwind and relax after a long day:
After a long day, I love to come home and connect with my family. We always eat dinner together at the kitchen table, and it's an important part of our day to catch up with one another.
Complete this sentence, Java Love makes me feel _____.
Java Love makes me feel surprise and delight. You never know where life's journey will take you, but as long as you are open to the unexpected you will experience things you never thought you would have been a part of.