Roman shades are one of my favorite window treatments.
They're classic and work with many design styles. I'm partial to woven woods and top down/bottom up. Don't worry, I'll explain everything. Choosing the right window treatment requires careful consideration of your needs, some brainstorming, and knowledge.
Below, my guide to Roman shades.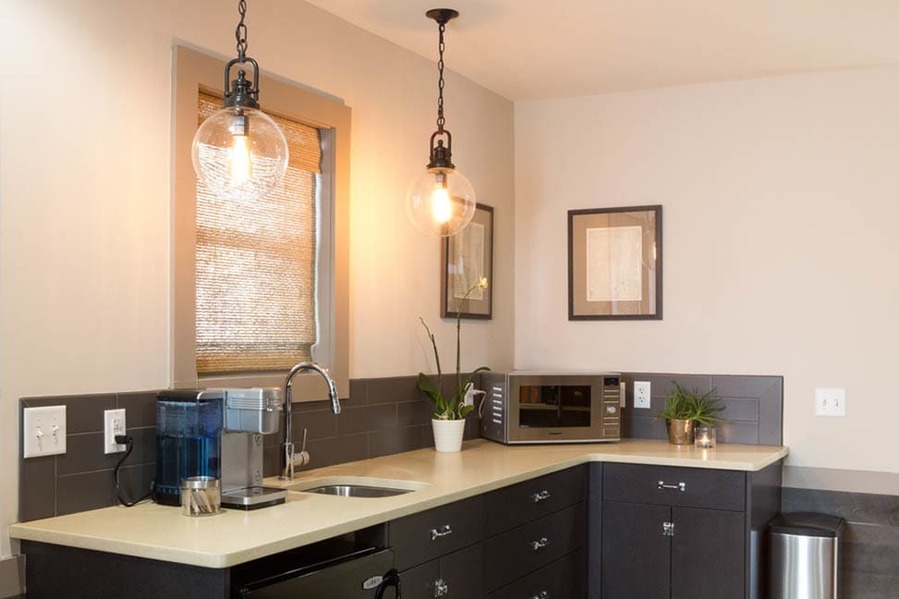 1. Start With Your Needs
Are you seeking light control? Privacy? Ambiance? Or are these decorative only? The first step is to figure out what's most important to you.
2. Decide On the Style You Want
There are lots of Roman shade styles to choose from. Check out the various options listed below, then choose the one that feels best suited to your aesthetic.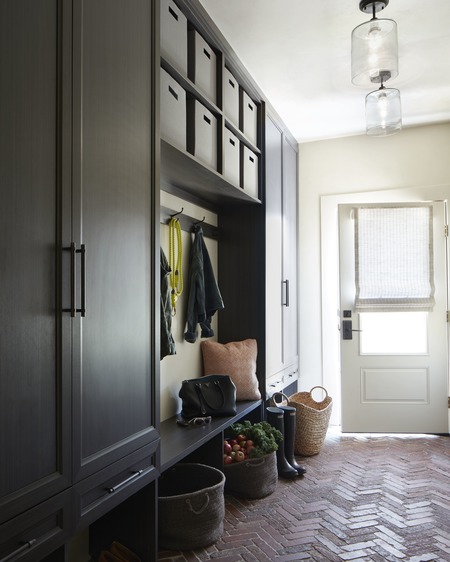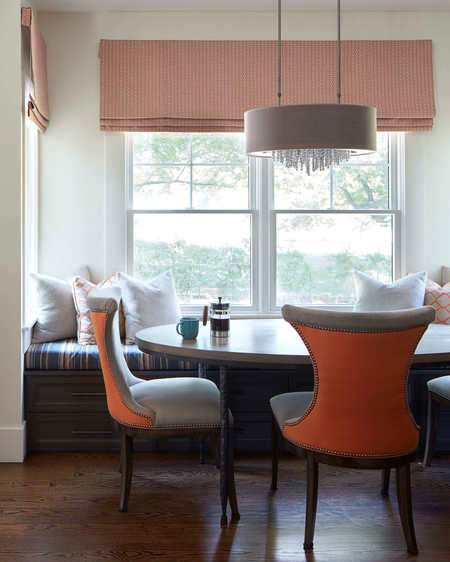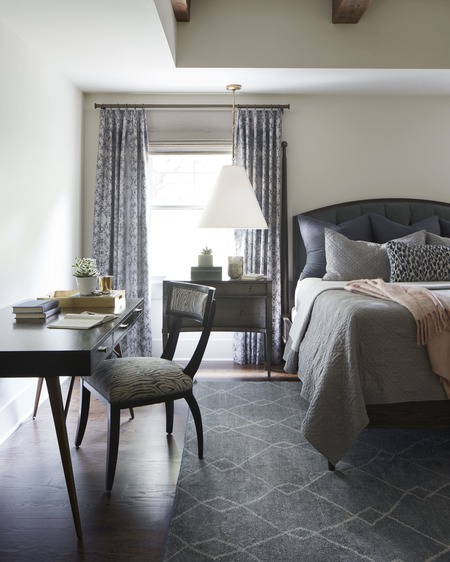 Outside mounted sheer flat roman shade (left). Outside mounted flat roman valence (middle). Outside mounted flat roman shade with dim-out lining and panels over top (right). Images via House of Funk. Photography by Mark Weinberg.
Flat
As one would expect, these lay flat and are very simple and clean in feel. This is my go-to style, since the fabric is the star of the show.
Pleated or Hobbled
Think of pleated/hobbled as the accordion of the Roman shade family. The flow of the pleats is more traditional. In all honesty, I've never opted for this style, as I prefer the cleaner lines of a flat Roman.
Tulip
This style of Roman shade is feminine. The tulip shade looks great with more traditional furnishings, and has a welcoming vibe to it. Use this in a small powder room or a cozy sitting room.
Woven Woods
Natural, yet elegant, this is one of my all-time favorite styles of Roman shades. Woven woods come in a variety of textures and colors. They fit so many design aesthetics, and look great layered into traditional rooms or on their own in cleaner environments.
Top-Down/Bottom-Up
Often, the top view is the prettiest view. This allows for maximum light while letting you control the privacy. We use these shades quite a bit. We do this because, often, we need privacy on bottom and want the natural light above. These shades are an awesome choice for bedrooms and bathrooms.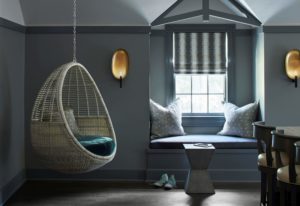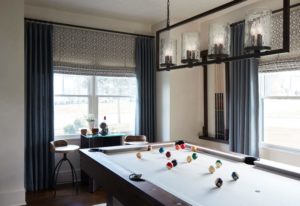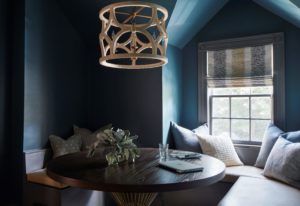 Inside mounted flat roman shade (left), outside mounted flat roman shade with panels over top (middle), inside mounted flat roman shade (right). Images via House of Funk. Photography by Mark Weinberg.
3. Select Where You Will Mount the Shades
An inside mount shows off the window trim and has a very crisp look—as long as the trim has enough depth for the shade to sit inside. An outside mount works well on a window with a shallow frame, or when you want to control the light by overlapping the trim and reducing the "light gap." We also use outside mounting to elongate the look of shorter windows by mounting them above. This is a great way to correct window-height inconsistencies around a room or hide soffits.
Take a look at my portfolio—lots of outside mounted, flat Roman shades.
Wanna' know how to make your home feel more welcoming?
I'll send you tips on how I do it.
(Bonus: Shopping list included)
Get the Guide
4. Measure
Always, always measure twice, order once. Better yet, have the person who will order and install your window treatments measure for the very best fit. Window treatments  are a big investment, so an expert measure sure makes sense to me.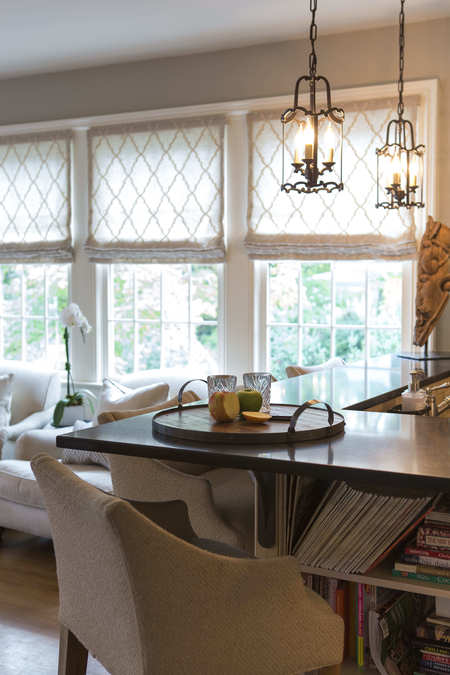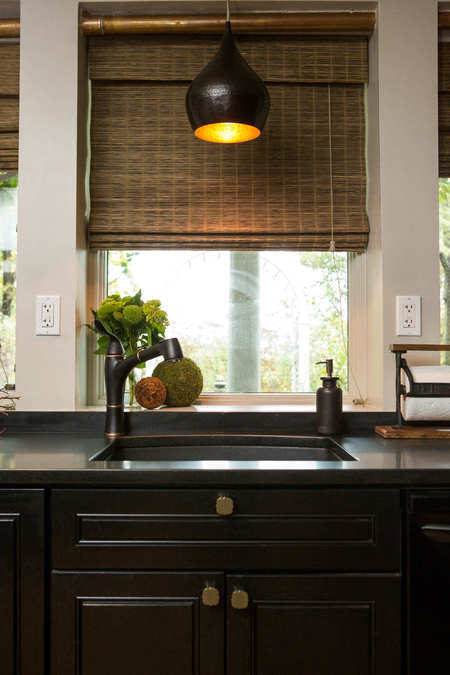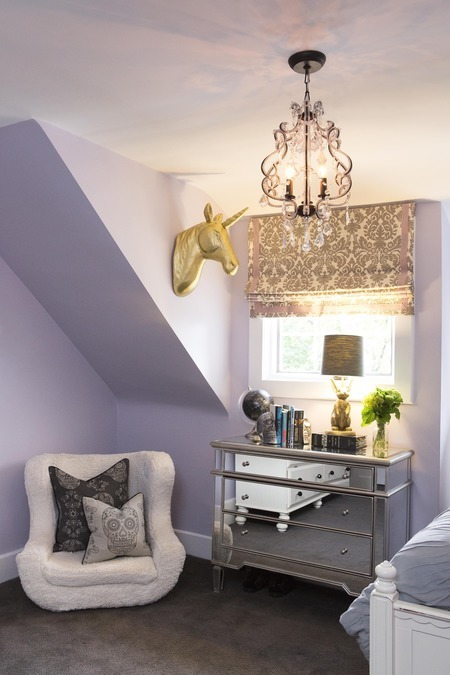 Inside mounted sheer flat roman shade (left), woven wood outside mount roman shade (middle), outside mounted flat roman with decorative tape trim (right).
5. Choose the Right Fabric For Your Shade
Choose the design elements that will stand out and those that will recede. Fabric choice is the aesthetic decision—be sure to take fabric weight into consideration. Usually, our fabric choices are more chill with the focus on the view.
6. Find the Right Lining
Get some clarity on window lining, then choose accordingly:
Privacy Lining: You'll see puppet-show outlines when it's dark out and the inside lights are on.
Dim-out Lining: My bedroom go-to significantly decreases incoming light, but doesn't provide total darkness.
Black-out lining: This is plastic-y and thick, not my favorite—but sometimes, total darkness is needed. Mind the gap! The light gaps, that is. Unless you have a soffit above and panels that go wall-to-wall and top-to-bottom, light, like water, will seep in.
Where could you use Roman shades?
Wanna' know how to make your home feel more welcoming?
I'll send you tips on how I do it.
(Bonus: Shopping list included)
Get the Guide