Between Cafe Giotto down the street from us and our office's new espresso maker, I've been on a major coffee fix lately. Anyone else? It's still snowing here on the East Coast, but I see signs of spring popping up left and right. We're only a few weeks away from High Point Market, and I can't wait for a few design-filled days with my team. But, back to my office must-haves. Here's what I'm currently loving.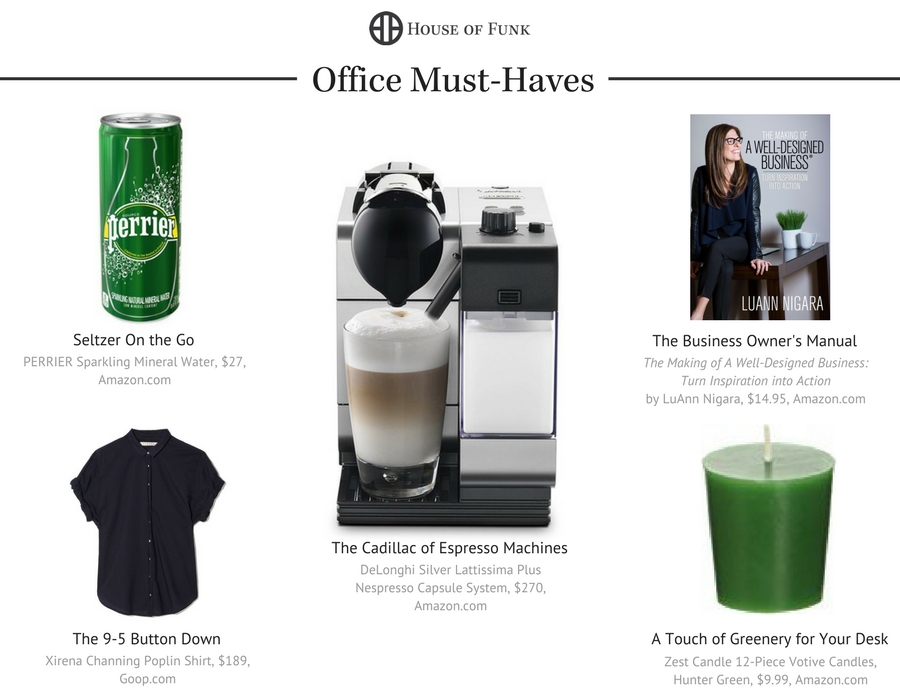 Xirena Channing Poplin Shirt
Effortless and easygoing, yet sophisticated. My kind of shirt. It will look great with jeans or relaxed pants, ideal for days when I'm running from the office to an after-school activity.
Shop yours here: Xirena Channing Poplin Shirt
DeLonghi Lattissima Plus Nespresso System
The Cadillac of espresso makers. I have one at home and loved it so much I ordered one for my office. Too bad I can't keep one in my car…
Shop yours here: DeLonghi Silver Lattissima Plus Nespresso Capsule System
The Making of A Well – Designed Business: Turn Inspiration into Action
So proud of my girl, LuAnn Nigara of a Well-Designed Business! She recently published her first book and it is "crazy-pants" good. Lu and I have been working together for over a decade and her drive, tenacity, wit, and wisdom never fail to amaze me. I can't recommend this book enough.
Shop yours here: The Making of A Well-Designed Business: Turn Inspiration into Action
Perrier Sparkling Water
The portable, slim-can version of my favorite sparkling water is a definite office must-have. I keep a case stashed behind my desk for easy access.
Shop yours here: PERRIER Sparkling Natural Mineral Water, 8.45-ounce Slim Cans 10 Count
Zest Votive Candle
I'm all about layers of light, and votives are an easy way to get the look. I keep several at the office and at home. Green feels fresh for spring, and the color represents calling in abundance.
Shop yours here: Zest Candle 12-Piece Votive Candles, Hunter Green
Disclosure: Some of the links above are affiliate links, meaning that, at no additional cost to you, I will earn a commission if you click through and purchase.