As a fashion expert and "makeover guru" for magazines like Glamour, Vogue, Elle, and Marie Claire, Suze Yalof Schwartz was no stranger to hectic workdays and the all-consuming stress that often accompanied them. During a particularly nerve-racking period in her life, Schwartz turned to meditation to plug into the more peaceful side of things. After delving into the centuries-old practice, she realized that it wasn't as accessible or easy to practice as she would have liked. And, thus, a genius idea was born: Schwartz decided to give the simple practice of meditation a full makeover, opening up Unplug Meditation in Los Angeles, California, and writing a book on the subject—Unplug: A Simple Guide to Meditation for Busy Skeptic and Modern Soul Seekers.
A seasoned "dream chaser" as she likes to call herself, Schwartz works to improve her clients' daily mindfulness, encouraging everyone she meets to adapt the practice of meditation. Unplug has received a slew of press since opening in 2014, and continues to generate major industry buzz. Read more on Unplug's mission and why deep breaths are crucial to everyday living, below.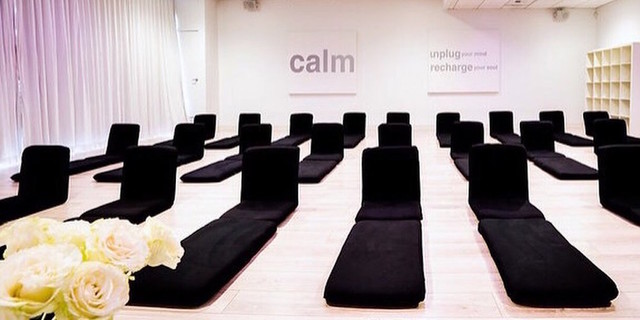 How did Unplug Meditation studio come to fruition, and how did the idea for the book come about?
Once, when I was super stressed out, my mother-in-law (who is a therapist) taught me a three-minute breathing and visualization technique that instantly shifted me from stressed to calm. It was so simple and powerful, and I wanted more! She suggested I learn how to meditate. That was November 2012. When I Google searched for a place to learn, I realized that there was no easy way. All of the options were either a major time commitment or too expensive. I am a mother of three, so I was looking for a quick fix. Think the Drybar (a hair blow-out salon) of meditation: walk in feeling icky, walk out feeling great, in less than 30 minutes. It turned out that not only was there no place to easily learn to meditate in Los Angeles, but there wasn't even a single drop-in studio exclusively for meditation in the world. Meditation needed a makeover, and, coming from the fashion world, I knew I was the one to do it. Hello, Unplug!
Every day, people express the same questions and concerns about learning how to meditate (e.g. "I can't sit still," or"I don't have time"), so I decided to write the book I wish I had when I started out–a simple, practical, accessible guide to meditation.
What is the most rewarding thing about being your own boss? The most challenging?
The most rewarding thing is that when I come up with an idea, I can execute it without anyone's approval…that is such a gift. The most challenging thing is not having enough time to personally connect with every single person (clients, staff, etc.). It's frustrating because I want to be there for everyone, but I can't.
How has running your own business changed your outlook on life?
It has taught me to never judge a book by its cover, and to open my mind to connecting with types of people whom I've never connected with before. For example, the first day I opened Unplug, a man walked in with tattoos from his ankles to his neck. Judgmentally, I thought "who is this guy?" but then I allowed myself to be open, and he turned out to be my favorite client!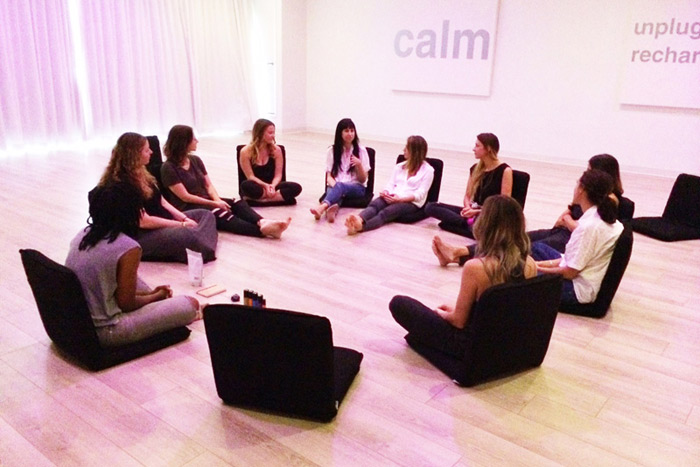 Best part of the job:
Hiring people that I want to hang out with, and being able to create everything in my mind.
Most surprising part of the job:
How many legalities there are, and all of the nitty-gritty paperwork.
Why is meditation so important to living a happy, centered life?
Everyone needs to unplug to recharge. Meditation is like a shower you take for your brain. It's a total game changer for everyone; no one is exempt from the benefits.
Your favorite relaxation exercise:
An aromatherapy meditation from my new book, Unplug: A Simple Guide to Meditation for Busy Skeptics and Modern Soul Seekers (page 170): Drop some essential oil into your palms (I love orange, lavender, and peppermint), close your eyes, lift your hands to your nose and inhale the scent. Then drop your hands, let go, and breathe. Every time you notice thoughts come, lift your hands to smell, then relax again.
How you unwind and relax after a long day:
I wish I could say that I do (I have 3 rambunctious boys). I usually go into the backyard to pick an orange and reset that way.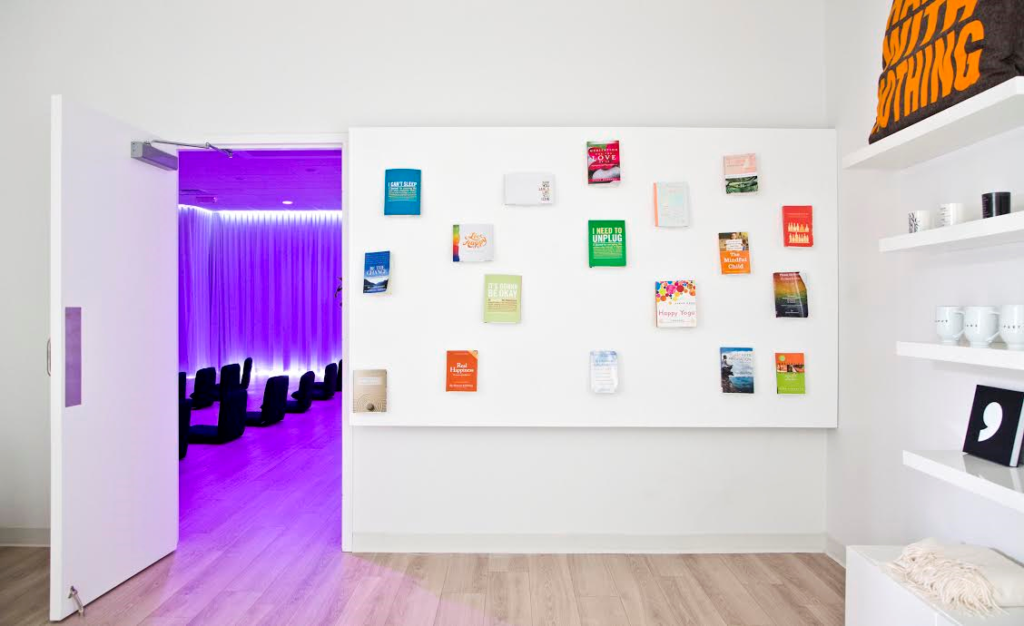 Advice you'd give to other female entrepreneurs looking to start their own companies:
If you believe in it, do it, and don't worry about whether or not you know how to. Trust that you will learn everything you need to know along the way.
Motto you live by:
Yes, I can.