Jennifer Araneo is not only a dear friend, she's also an incredible owner and founder of Mind Body Hoboken.

Reiki session with a client.
Through meditation, reiki and even a line of candles, Jennifer heals people in a variety of ways. She has been meditating and practicing guided imagery for over 20 years.
What is the most rewarding thing about being your own boss?
Creating my own schedule allows me to better manage my work-life balance.
The most challenging?
Everything is on me. I am the one to make sure the clients are scheduled, the products are shipped, the bills are paid. Answering to myself and living up to my own expectations is a challenge.
How has running your own businesses changed your outlook on life?
I have whole new respect for business owners! A few years ago when I opened my own office, I sat in it empty for two months while I waited for furniture and internet connection.

Jenn Araneo, Photographed by Laura Samuelsen.
Best part of the job:
There are two aspects of my business, I work with clients to manage stress and I sell spiritual products. The best part of the work I do with clients is watching them leave my office feeling lighter and smiling. They have worked through something that has been weighing on them and to watch the transformation is incredible, I love those moments. I also recommend products so clients can continue their self care at home, whether it is meditating or working with crystals. I created Freya Divine Wellness to offer my clients the additional support they need to create a calm place at home. The candles range from working with 7 different chakras to candles to hold your intention during meditation.
Most surprising part of the job:
I was quite surprised to find that I have a niche of men in the financial industry. When I ask why they decided to try reiki, the responses ranged anywhere from "it clears my mind" to "my wife told me I needed it."
Advice you'd give to other female entrepreneurs looking to start their own companies:
We all have different motivations in life. Understanding how you are motivated will help you to create your company. If you're visual, picture yourself 5 years from now in your business and see what it looks like – this can always change but it'll give you an idea of the possibilities.
Why do you suggest that people meditate?
Meditation allows you to have clarity and better focus. It helps you to calm the noise between your ears and listen to what really motivates you and makes you happy. Sometimes we get so caught up in doing things, we forget our purpose.
Your morning routine always consists of:
I meditate every morning by lighting candles and saying mantras. I've been doing this consistently for 8 years so now even my 3 children know not to disturb me. My daughters recently started a meditation practice, they have a special spot in their room where they say a prayer – it's very cute.
Your #1 self-care tip:
Good sleep. The brain is the only organ that can detox while you're sleeping. While you're sleeping your brain is eliminating waste, if you're not sleeping you're not eliminating-which creates brain fog in the morning. I'm in networking groups and everyone is trying to be more focused and productive and they talk about how they stay up late to work on things and wake up early to finish projects. If they want to be more productive and focused, they would actually need to get a good night's sleep.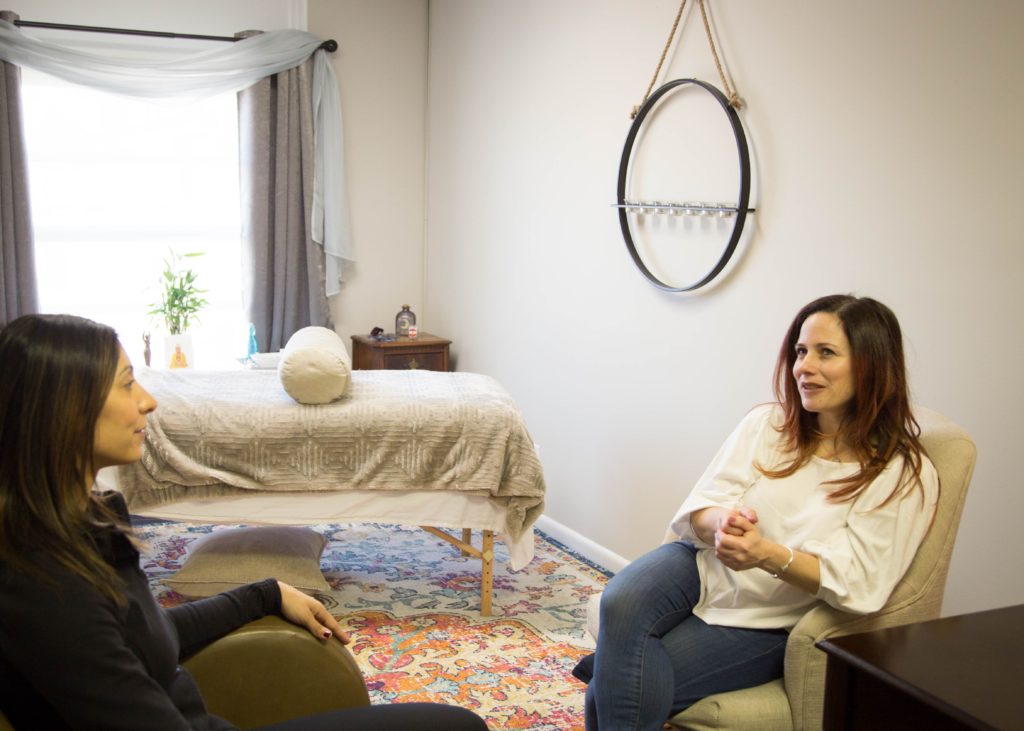 Jenn consulting with a client before her session.
How you unwind and relax after a long day:
After a long day, I need to sleep. Sometimes I'll listen to a guided meditation or watch a show but I know sleep is the best thing for me. I'll get into bed and in my mind set the intention to shut off the 'to do list', then I'll imagine I'm in a garden at night with the moon shining on a pond. The body doesn't know time or space so if I think I'm in the garden my body will respond as if it's there.
Motto you live by:
The body achieves what the mind believes. I found that quote 25 years ago and have researched, practiced and tested out different techniques to prove that it is true. It is the basis for what and how I work with my clients.
Jennifer graduated with a B.A. from Villanova University in 1999, with a Minor in Japanese. While in college she traveled to Tokyo, Japan to study Japanese language and history. While in Japan, she had the opportunity to climb Mount Fuji which was the one of the highlights of her experience. Jennifer was a coxswain for the Women's Rowing Team for four years.
Jennifer is certified in Hypnosis and NLP Master Practitioner by iNLP Center and recently trained with Dr. Brian Weiss, MD in Past Life Regression Therapy, author of Many Lives, Many Masters, Only Love is Real and Through Time into Healing to name a few. She studied Neuro-Hypnotic Repatterning with world reknown experts Dr. Richard Bandler (co-creator of Neuro Linguistic Programming), John and Kathleen LaValle of Pure NLP.
Jennifer is a Reiki 3 Master and studied under Joanna Yuan Crespo at the NY Open Center.
This is where she was able to develop and practice her skills using guided meditation for athletic performance.
Follow Jennifer over on Instagram:
@freyadivine – she offers Monday night goddess meditations
@mindbodyhoboken – she offers guided meditations to help with sleep on Thursdays
_____