Gold / scopophilia* is one of Montclair's best-kept secrets.
The art gallery is tucked away in Upper Montclair near a gorgeous courtyard that makes the overall experience special. Owner Jennifer Wroblewski welcomes guests into her space with a smile (and a glass of wine), instantly setting the mood. Jennifer's curating abilities showcase her art expertise…she has a great eye for interesting details, color, and texture. My team is counting down the days until her next exhibition.
Jennifer Wroblewski, a California native, was formerly an artist, professor, and curator with a grounding interest in drawing as object and performance. She is the recipient of many fellowships and awards, including a NYFA fellowship in printmaking/book arts/drawing, an Aldrich Museum Radius fellowship, and the A.I.R. Gallery fellowship. Her work and projects have been discussed in the New York Times, The Brooklyn Rail, and The Star-Ledger, and The Hartford Courant, as well as in many books and online publications. Jennifer graduated from the University of Pennsylvania and later earned an MFA from the New York Academy of Art. In 2018, she opened the doors to Gold / scopophilia*.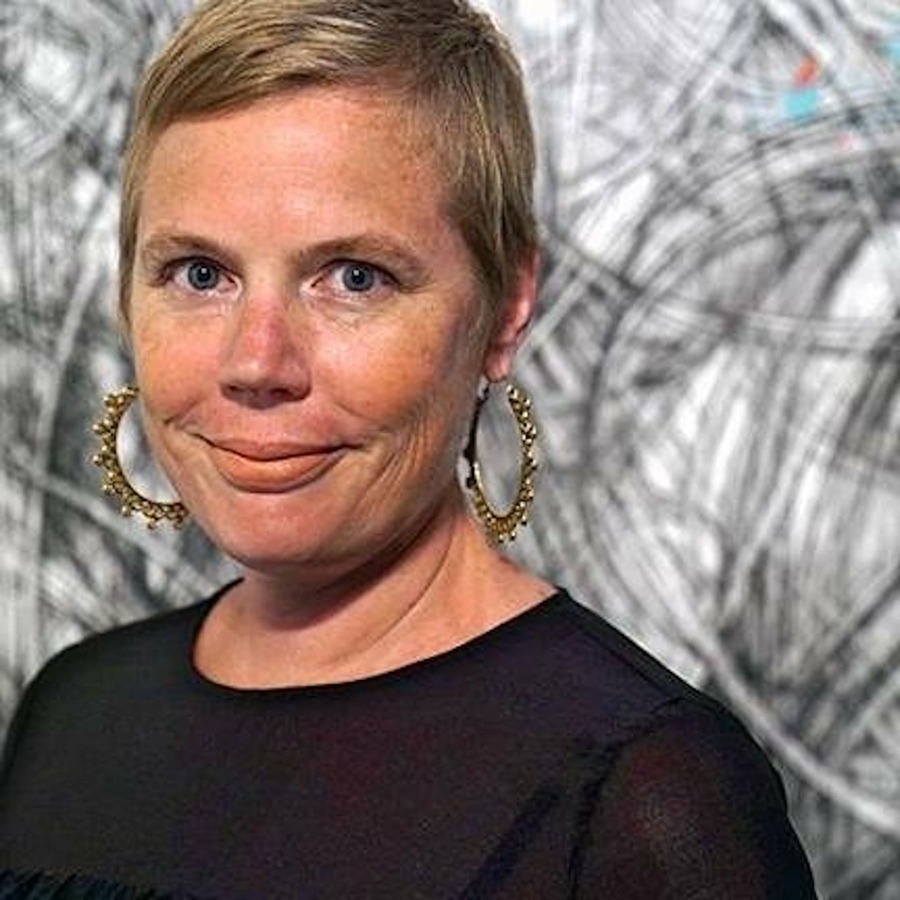 How did you get into the art Industry?
I worked in the fine arts department of the University of Pennsylvania after I graduated in 1994. During that time, I participated in a couple of small shows in Philadelphia where I felt welcomed by the art community, and I've been at it ever since.
Tell us the story behind your gallery's name:
In Latin, scopophilia translates to "deriving pleasure from looking." The word has a bit of a racy connotation to do with voyeurism. A lot of galleries are named for their owners, but my last name is a mouthful, so I tried to come up with something interesting. Gold is just a great word, a great concept in terms of material, symbol, and cultural idea. It's a little aspirational. There is something elevated and luxurious about collecting art.
How do you ensure that you are always sourcing "remarkable works at a remarkable value"?
This promise is the engine of the gallery, and the part about which I am most confident. The New York art world is small; anyone in it can name five artists who are significantly undervalued. By that I mean artists who have made exceptional work over time, and have interesting and extensive resumes with reviews by important critics, but who, for some reason, have stalled at a particular price point. This work has the potential to become much more expensive, and very quickly. We could talk all day about how and why this happens. How the market works.
I would not be surprised to see any of the artists I work with become unaffordable overnight because they have been bought by a prominent collector, or put in an important exhibition. For example, the artist whose work is in the space now, Kirsten Hassenfeld, has shown work in MoMA/Ps1, the Brooklyn Museum, the Jewish Museum. Her work has been reviewed in ArtForum, the New York Times, ArtNews, the Village Voice, Time Out, and The Brooklyn Rail. She has tons of prominent grants and fellowship awards. Her work is hanging in my gallery today but could literally be anywhere this time next year. This is true of every artist I work with.
The price of contemporary art can increase by factors overnight; when that happens there is a deep bench of undervalued artists, which by the way I think is awful, but it's the reality of life in the U.S.A. in 2019. I feel quite strongly that anyone with a Tesla in the driveway, or a marble slab in the kitchen, or a beautifully designed garden can also participate in the contemporary art market, and I am here to make that connection. In addition to the work on the gallery walls, I run an advisory. I can help you make sense of how your taste and space and budget connect with available work either here in storage in Montclair or out in the world, in artists' studios or through other galleries.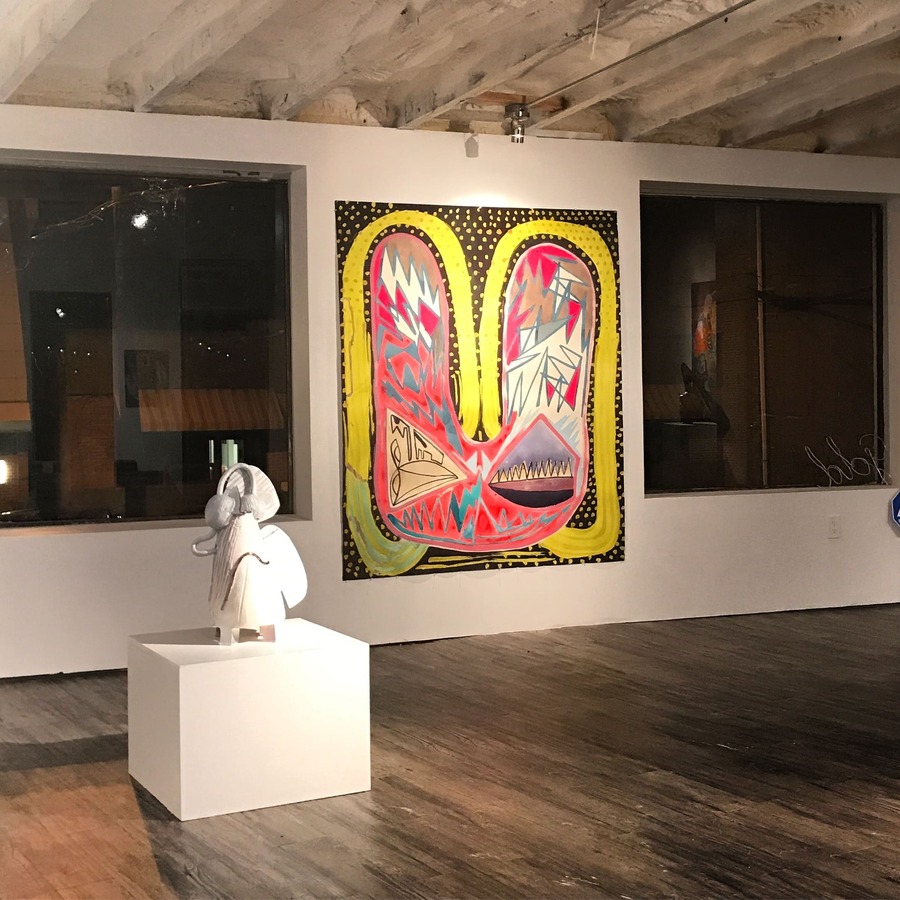 Where do you find inspiration?
Everywhere! If I'm not in the presence of art or artists for the gallery, I am often on my phone. Kids now are literally inventing new aesthetic, or modes of visual communication, through Tik-Tok and Instagram. I may not "get" it, but it's easy to tell that it's meaningful. I want to see everything and try to figure out everything. It's all related – music, theater, literature, dance, visual art, high and low culture, and now all this great new media that young people have grown up on. I'm the opposite of the "get off my lawn" old timer. I'm like, "Hey, will you come over and show me the most interesting thing you saw on your phone today?" I'm also just endlessly inspired by artists. It is such a difficult life. The artworks we love have resonance and power on the wall because the maker has devoted his or her life to a different set of rules and ideas than the rest of us. It is not easy to resist and push back against the dominant culture, and artists have to, every day. A little bit of transcendence or freedom is what we get from real art. It's super powerful, and it boosts and changes the energy of the space. It's incredibly aspirational to have real art at home. It changes your life.
What is the most rewarding thing about being your own boss? The most challenging?
I feel useful in this role. I'm helping the artists, but I'm also filling a void in Montclair, where I've been raising my kids for the past ten years. I get how we live here, and who we are as a community. People are interested and engaged, but we're also busy and over-scheduled. With the gallery I am able to bring my version of the best stuff going on in contemporary art here, and you can stop in for a few minutes with your kid on the way home from soccer practice or on your way out to dinner. It can be a low-key experience. You can always wander into the gallery just to have a look. There is never any pressure to buy. This is true of Gold / scopophilia* and every other contemporary art gallery.
I agree with the rest of the Women Who Own It: The challenge is that I'm always thinking about the gallery. In my case, that's not a bad thing.

How has running your own businesses changed your outlook on life?
I guess it has just re-confirmed that life is unpredictable, and to stay open and engaged in hopes of not missing opportunities as they present themselves. In the case of the gallery, this meant that when my favorite retail space in Montclair, the yarn store at the back of the Mews, suddenly became available, it set into motion a process of fact-finding and research that resulted in opening the gallery.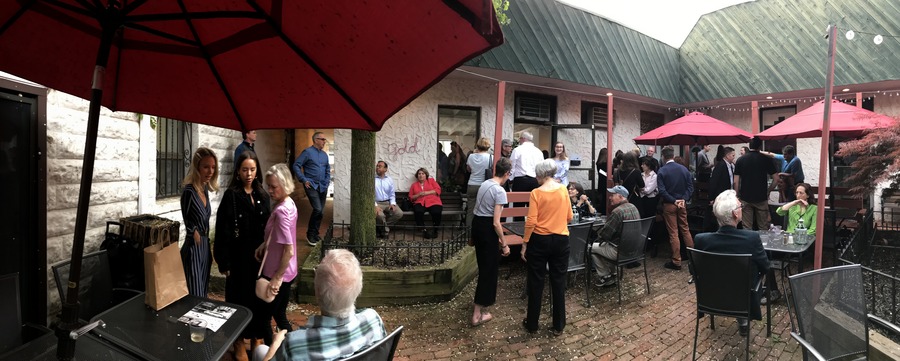 Best part of the job:
It's a dream come true to be so completely engaged with contemporary art without having to commute. I can walk to the gallery, and so can my kids.
Most surprising part of the job:
The people I'm meeting in Montclair as a result of opening! Before the gallery, I only knew people who had kids the same age as mine.
How do you unwind and relax after a long day:
Dewar's on the rocks and Jeopardy! with my kids.
Advice you'd give to other female entrepreneurs looking to start their own companies:
I should not be giving advice! But if I had to, I would tell other women to trust that their passion and knowledge will translate. It is a big risk to open a commercial enterprise, and there are no guarantees. I think the gallery is succeeding because I am probably the most excited person in the room at any given time. I want to live with everything I hang in the gallery.
Motto you live by:
"It takes all kinds to make a world."