Two Broadway stars destined for each other and a cozy colonial…
When Donald Webber and Rebecca Covington  Webber first reached out about working together, I did a double take. Perhaps you've heard of of a little show called Hamilton…
Since it's premiere in 2013, Hamilton has been wowing audiences week after week. Donald was part of the initial ensemble, understudy to Lin-Manuel Miranda, playing the role of Alexander Hamilton. Wife Rebecca Covington Webber joined the cast prior to the Hamilton tour kicking off in Puerto Rico.
The couple closed out 2018 in San Juan, Puerto Rico as part of the show's hurricane relief efforts post Hurricane Maria. Now, Donald and Rebecca are on the third U.S. national tour of the production, gracing audiences with their talent and charisma.
These two incredible Broadway stars couldn't have been lovelier to work with, starting from day one. Donald shared a story of finding us on Instagram, immediately jiving with our aesthetic.
"It was important that we find a home that was really us," says Donald, "We're big energy people, and there was something about the energy of everything on House of Funk's page…we said, this is it."
A few short calls later and they were rolling with our online interior design service.
Their goals were clear from the get-go: Make it feel like a "nest" for newlyweds, create a calm place to decompress between their packed schedule of performances and tours, and have the space reflect their personal style and interests.
One of my biggest goals: To reconfigure the layout of the room to create a foyer in an open floor plan.
See how I did just that, below.
Wanna' know how to make your home feel more welcoming?
I'll send you tips on how I do it.
(Bonus: Shopping list included)
Get the Guide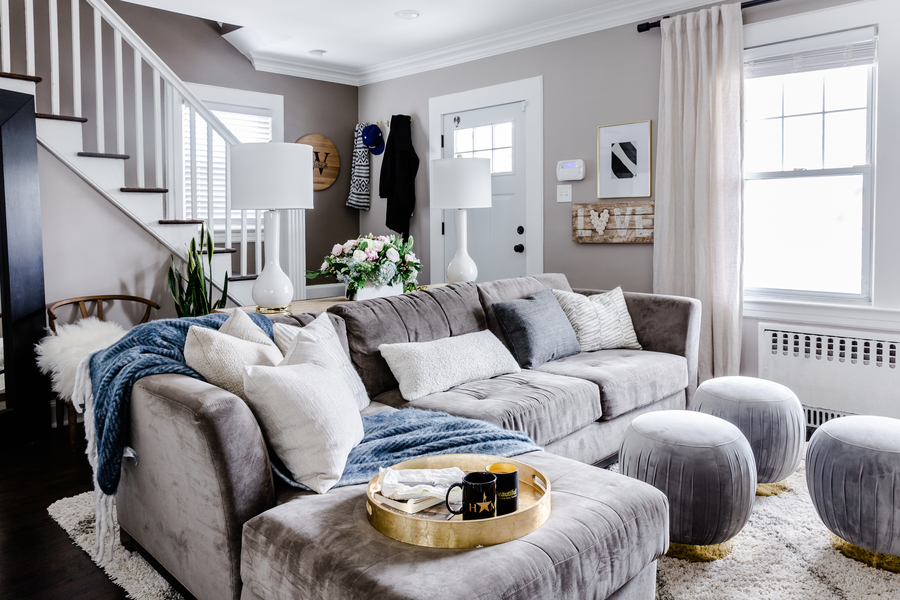 Interior design in a cozy colonial
My process always start with how my clients want to feel in their completed space, and it was evident that this couple wanted to feel the love. Right away, that word conjured up layers of soft, plush textures, creamy neutrals, and cozy pieces made for lounging.
Their other requests: a room they would be proud of, a room that feels relaxed, thoughtful, purposeful, inspired, and warm.
Rebecca and Donald want people to get an automatic energy and vibe when they walk into their foyer and living room. They were looking to elevate the space, to deliver that WOW factor.
Needless to say, I couldn't wait to dig in.
The layout
The home is a great side-hall Colonial with a little front porch, but the way the door is positioned, you come in and sort of fall right into the living room/family room/foyer. You're right in their cozy space.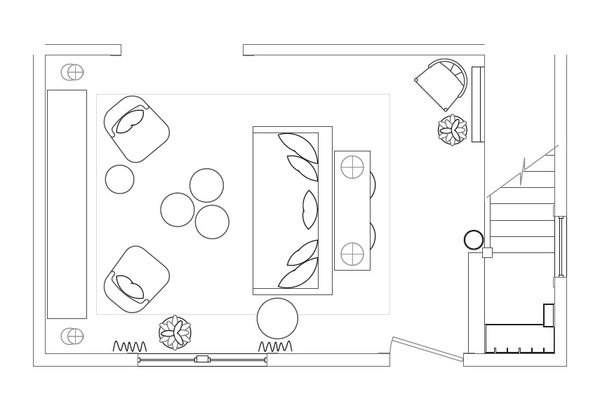 Because they work crazy hours, the Webbers come home late, need to unwind, and end up falling asleep on the sofa. It is an extremely private space. But a structural renovation was out of the question…
So I fudged the look with a reconfigured layout. 😉
I wanted to create a sense of entry so we flipped the room and added a console, turned the stairwell landing into a teeny-tiny foyer and relocated anything that has to do with their personal stuff to the back door. Voila, a foyer in an open floor plan.
A clean color scheme
Their walls were already painted and I knew they wanted to keep their existing, sofa, so I ran with the neutral palette, adding in pops of metallic and blues to bring personality to the space.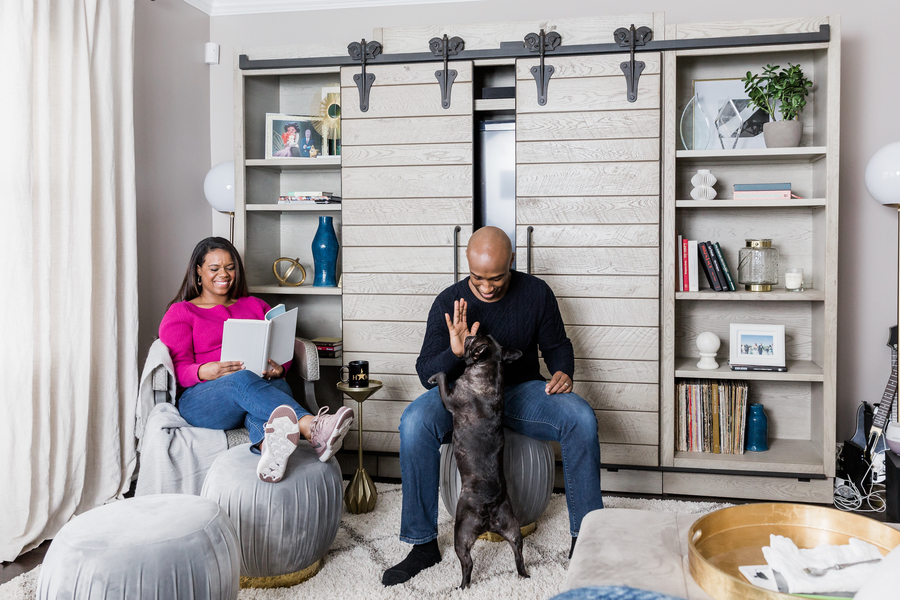 The idea with online design is that the client has the initial investment in the design and that gives them a road map that allows them to execute it over time.
I layered shades of gray and creamy neutrals into the space, mixing in brass accessories for a dose of warmth.
Furnishings that make the love go round
Pleated grey ottomans from CB2 are whimsical, but totally practical…the ideal place for kicking up your feet at the end of a long day. The media console from Arhaus was a big-ticket item, and is a great way to keep electronics out of sight when company comes over. We left plenty of room on the TV unit shelves for the couple to display books and pictures, while giving them unique accessories to elevate the display space.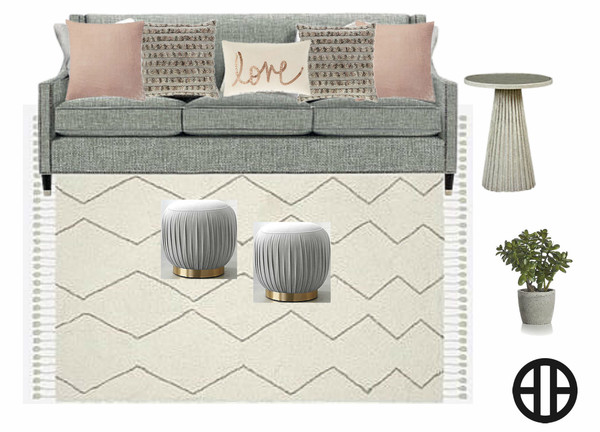 A brass "love" accessory from West Elm keeps the warm, cozy vibes going throughout the space – a nice, daily reminder for the couple.
Says Rebecca of their living room: "The living room is more of a family room, watch TV room, relaxing room, and where we fall asleep many nights — it's a multipurpose room. We want to create a space where people feel that they're loved. Sandra made our living room feel extraordinary. Her online design service was a dream — so easy, so accessible, and so fun. She listened to everything we desired and exceeded our expectations!"
Image via House of Funk | Photography by Lisa Kollberg
A roomy armchair in the living room offers ample space for cozying up together and relaxing. I flanked it with a great little side table for setting down a drink, book, device, or, in this couple's case…a script.
The foyer gets a dose of color thanks to fresh greenery. The snake plant is an instant natural air purifier. Ella the bulldog is a fan, curling up near it for a nap when the sunlight hits that spot just so…
A wishbone chair paired with a shaggy throw = mid-Century modern boho. A graphic full-length mirror looks excellent near the crisp collection of black and white prints. Speaking of those prints…
A gallery wall that tells their story
The Webbers were instantly sold on the gallery wall we proposed.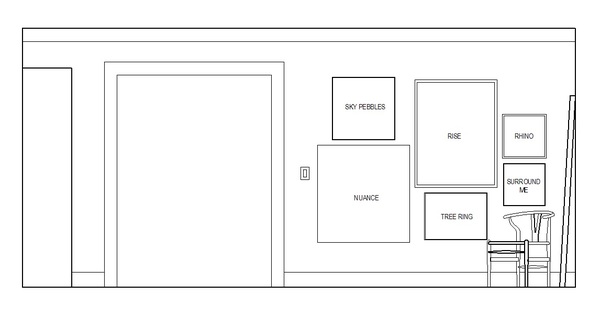 By swapping in more personalized images of the two of them and things that spoke directly to the things they love, they were able to weave in more of their story. An authentic home should reflect the homeowner's personality and aesthetic, as well as tell the story of who they are and what the space represents for them.
We love that it can say so much about who we are and things that we love!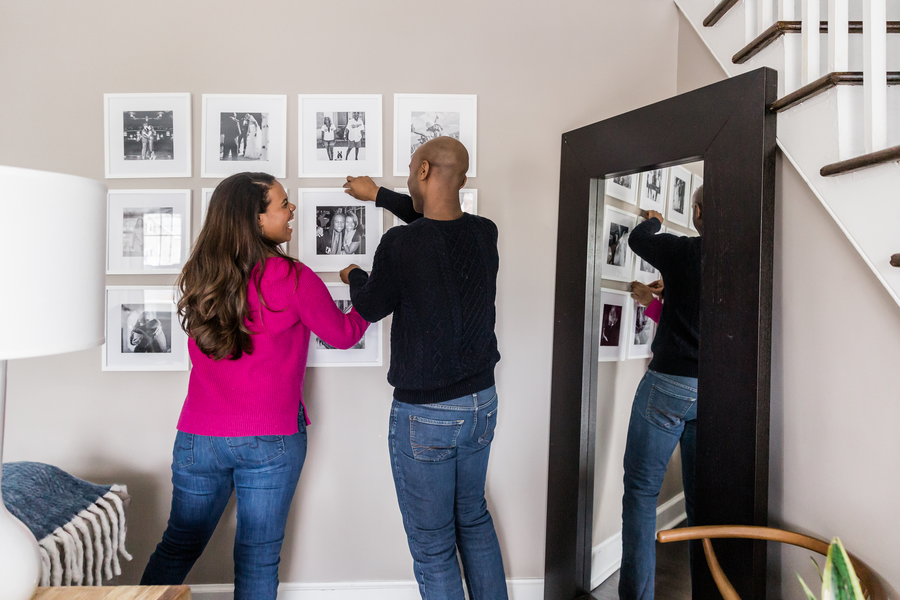 "We learned a lot about working as a team," says Rebecca of installing the gallery wall together. As new homeowners, the online interior design service taught us that we can do more than we thought we could. We took a lot of pride in taking it step by step on our own."
The Design Pack
Our online design pack includes a floor plan, elevations, inspiration images, and a customized shopping list. Examples of the design pack are shown below, all of which were compiled into a convenient and easy shopping list, from which the Webbers directly purchased products.
Detailed directions enable the client to execute great design on their own, at the pace that works for them.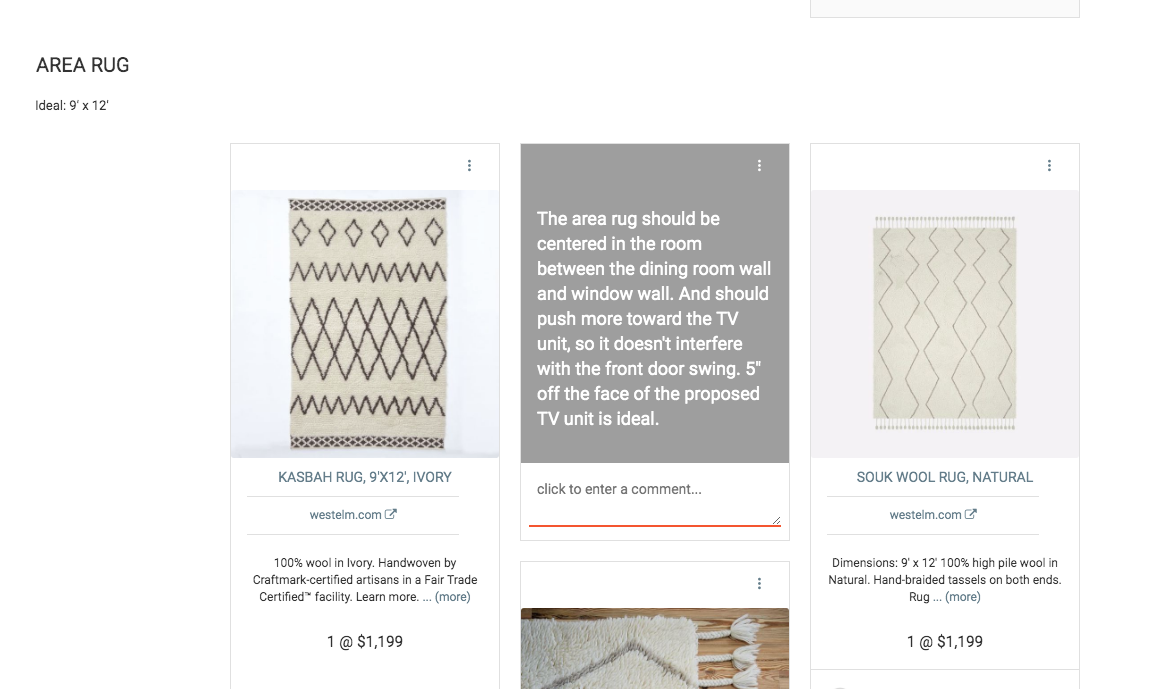 We don't skimp on our online design service, taking it all the way down to the hooks in the little basket. We deliver everything via Wecora and the client can click right through and buy those items or take them as inspiration and shop. We give them exact links and show their scale in CAD and show the resources they can use.
For this Broadway couple, we wanted to blend their city-meets-burbs aesthetic all while encompassing their incredible energy and bold love for one another.
Says Rebecca of the overall experience:
We were so supported every step of the way. House of Funk made our home feel like us.
Wanna' know how to make your home feel more welcoming?
I'll send you tips on how I do it.
(Bonus: Shopping list included)
Get the Guide