I have a favorite client to thank for my eco-friendly awareness.
Being asked to gut-renovate a 1780s farmhouse to create a kitchen, eat-in kitchen, powder room, laundry room, sunroom, and renovate two small rooms into one cohesive family room in an eco-friendly way is no small task. Yet, so worth the effort.
The brief from the client was clear: Be as eco-conscious as possible.
This project got me doing a deep dive into eco-awareness. How do our design choices affect the environment? It also inspired me to incorporate eco-friendly interior design whenever possible.
During a meeting a few years back, I shared selections I'd chosen for the home (rug samples, fabric samples, furnishings, the works) with my clients. Again and again, they asked "Are there more sustainable options?" These clients were amazing and pushed us on every thing that we brought into their home to be more eco-friendly and to have a smaller carbon footprint. Could this be more efficient? Could that be having a second life? Could this be recycled? Could that be a better material that is more eco-friendly and efficient? Can we donate or make sure our old furnishings are being recycled?
After doing some research, it was second nature to pull together eco-friendly interior design selections. The project became even more beautiful with its smaller carbon footprint.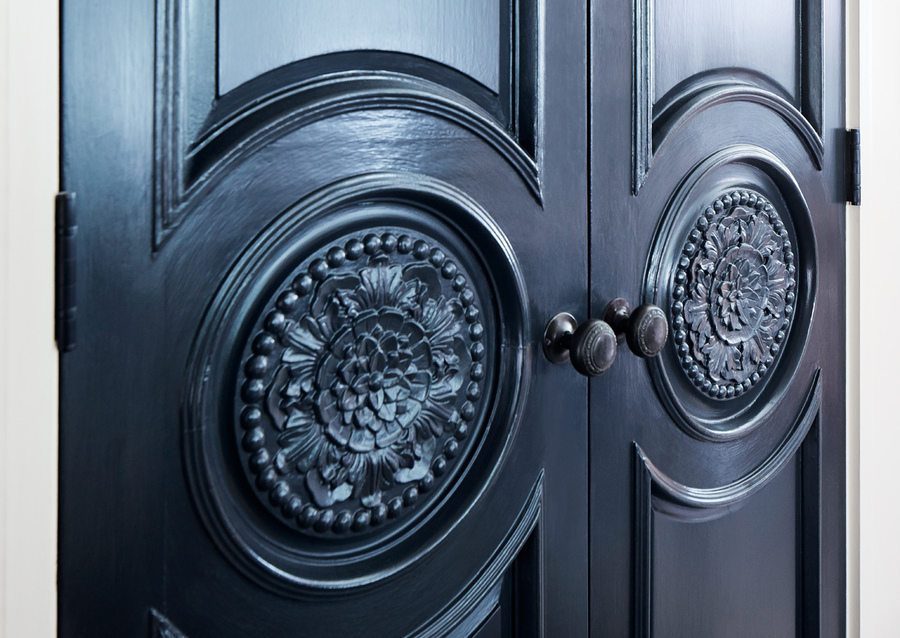 We stood shoulder to shoulder, client gripping a steaming cup of coffee. The scene was dark, filthy, and cold. What the hell had happened? It was supposed to be routine.
The contractor called earlier that day. We gutted the kitchen, as planned. The problem came when we removed the tile, then the floor underneath, and the layer beneath that, when suddenly; dirt. And, an open water well. No foundation.
We figured it out. Back in the day, in the 1780s, kitchens were not connected to the living quarters as a fire precaution. At some point, a breezeway had been constructed to brave the elements. That had become a proper room, you can see how the layers and years had concealed the utter lack of foundation.
Turns out the wood framing at the base of the breezeway was made from solid tree trunks, which, over 200 years later, had petrified and was as solid as stone. Thank goodness – as by this time there was a fully functioning 2nd floor above…
Luckily this client was on board to restore this beautiful farmhouse in an eco-friendly way…and kept their cool while we retrofitted their home with the structure standards of today. The clients and I worked together to incorporate beautiful eco-friendly design choices throughout the home.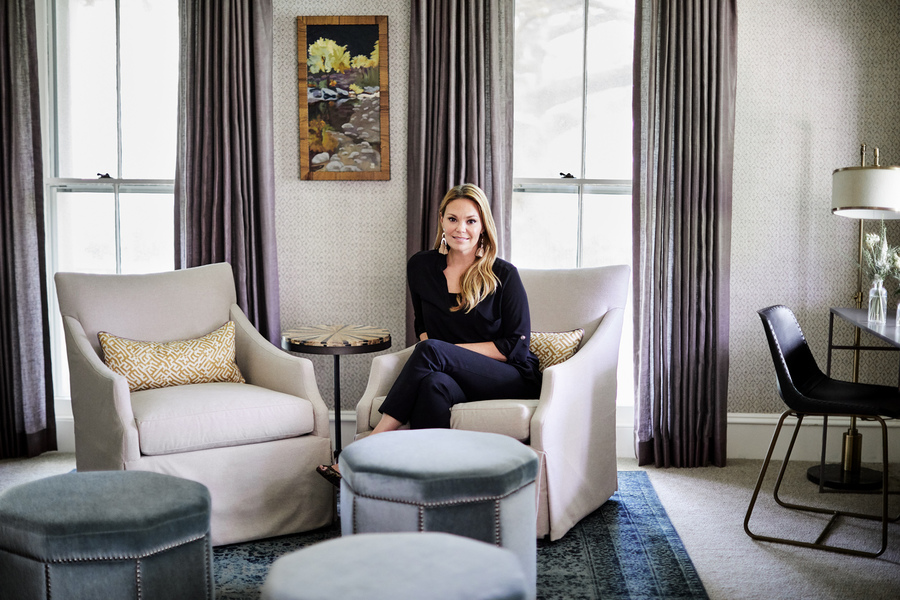 A vintage potting table adds tons of character to the sunroom additionRecycling the old and making it new is much more eco-friendly than sourcing new materials. Working with local vendors ensured that everything was as green as possible. Using antiques and recycled materials is a beautiful way to incorporate pieces that have age, soul, and grit.
At first, sourcing vintage and/or recycled materials felt difficult. However, once we committed to the challenge, it became an amazing opportunity to let the project ebb and flow depending on what we found at the local architectural salvage yards and antique markets.
We added a sunroom, continued the wrap-around porch, and incorporated access to the amazing kitchen garden. The food composter was built into the kitchen – no need for disposal – everything gets reused in the garden after compost.
The laundry room doors and hardware are both vintage. They were found in architectural salvage yards; proof that you don't need new materials to make a major statement.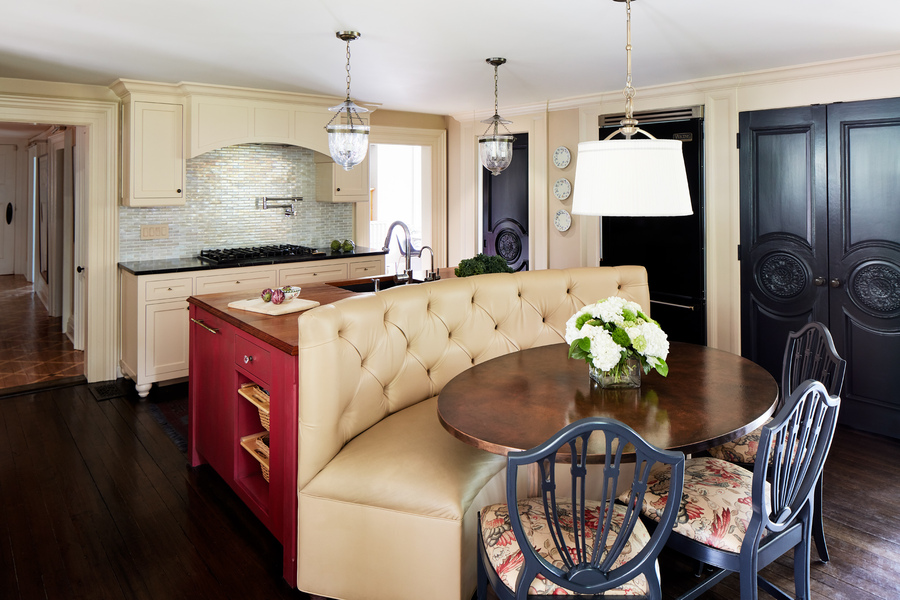 During this project, the kitchen became one of the most green rooms in the entire home.
The heating grates throughout were found at an architectural salvage yard. The bell jar pendants above the kitchen island are antiques. A raspberry island with a teak counter backs up to a camel faux-leather booth, custom-made oval table and vintage chairs. Crystal knobs on the kitchen island are vintage. Soapstone on the surrounding countertops is a green choice because the material was sourced locally on the East Coast and in its natural state.
It's not easy getting stone out of the earth, so when sourcing materials, find ones that are sourced close to you as that leaves a smaller carbon footprint. All kitchen flooring is made from reclaimed wood, and is heated – a wonderful feeling and an efficient way to heat a room.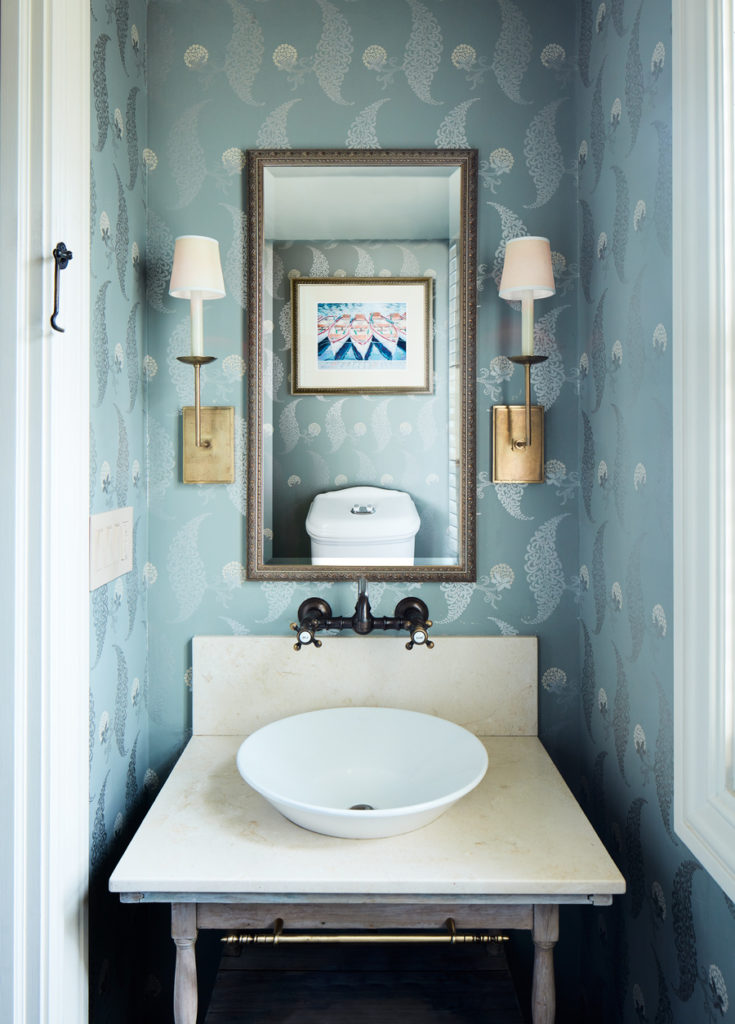 In the powder room, Stone Plus used a stone remnant as the counter for the vintage wash stand. The wallpaper is Farrow and Ball, and made with water-based paint and paper sourced from Forest Stewardship Council (FSC®) accredited suppliers.
This project inspired me to further hone my skills in eco-friendly interior design, and I am now an Accredited Professional with the Sustainable Furnishings Council.
The GREENleader course I took for accreditation provided a ton of detailed information on the environmental issues affecting our choices and the wide range of product solutions, most of which don't cost any more than ordinary ones. It's simply a matter of knowing the right places to look and the right questions to ask.
The course is an industry-first, developed in conjunction with the Sustainable Furnishings Council and approved by ranking staff of Rainforest Alliance, World Wildlife Fund, and one of the co-founders of USGBC/LEED. The program was written by a LEED AP and is designed to pick up where LEED leaves off, focusing specifically on the furnishings themselves.
I continue to design with a greater understanding of our environmental impact – naturally making choices that ensure a beautiful project and a small carbon footprint.
This project features all vintage furniture, eco-friendly Viking appliances, natural and unprocessed fabrics, wallpapers and materials used throughout, LED or vintage lights, radiant-heat efficient heating systems tied to the existing radiant heat system for efficient, consistent heat, eco sustainable plumbing throughout, windows of the highest eco rating available, solar roller shades in the sunroom to contain or reduce heat in the room, and low-VOC paint used throughout.
My Top 6 Tips on How to Go Green at Home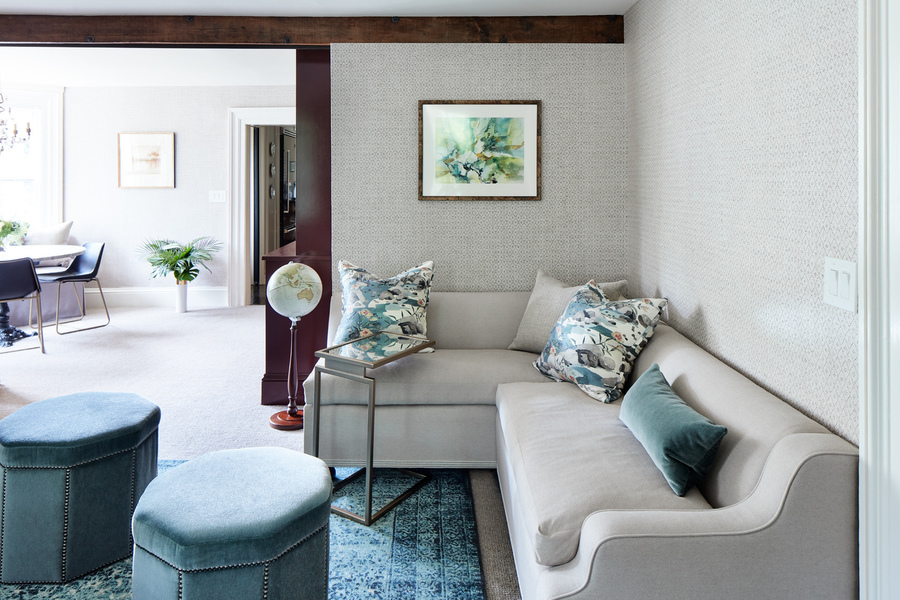 Tip #1: Go for natural air purifiers such as indoor plants
Not only will real greenery literally freshen up your space, but that pop of color looks gorgeous in any room. When buying indoor plants, think outside of the usual fiddle-leaf fig (though I love them) or fern options. Aloe Vera is great in the kitchen as it can clear formaldehyde and benzene, which are often byproducts of chemical-based cleaners or paint. Do you bring home a heavy amount of dry cleaning?  Keep a Gerbera Daisy in your room as it helps remove trichloroethylene, which might be coming home with your clothes (note: daisies require a lot of direct sunlight so skip this plant if your room is dark and cozy). The Peace Lily is flowering triple threat. It doesn't require sunlight, is easy to care for, and is known to remove all three of the most common VOCs:  formaldehyde, benzene, and trichloroethylene.
Tip #2: Use UV film on windows
Clear window film helps keep your home cool during hot summer months and retain heat during the winter. It also saves your furniture, rugs, and floors from sun damage! An energy efficient solution that saves your bottom line? Yes, please! You'll still want window treatments for privacy and to set the tone of the space, but UV films are a great place to start.
Tip #3: Opt for low-VOC carpets, rugs, and paints
With the myriad of eco-friendly products available today, there's no reason to choose ones that off-put gas. Paint stores always carry low- or no-VOC options and you'll want to ventilate any area that's being worked on for a few hours. When selecting rugs and carpets, seek out more green materials like sisal, wool, or organic cotton.
Tip #4: Swap in compact fluorescent bulbs and LEDs
LED lights are more efficient than traditional lighting, have a longer life span, and don't have any toxic elements. They're one of the easiest and most affordable design swaps you can do to go green at home.

Tip #5: Clean with natural products
Ridding your home of unwanted chemicals is easier than it sounds. The internet is full of DIY home cleaners, including some of our favorites, many of which don't take long to make and last for months.
Tip #6: Reuse antiques
Antique pieces are rich with soul, grit, and age. Plus, accessories and furniture with a past always have a story, and that's one of my favorite ways to tell a home's current narrative. The age-old concept of mixing old with new is a fun way to go green at home. First Dibs and Chairish are excellent sites for vintage décor, furniture, and art. Pro tip: Move quickly because items sell out fast.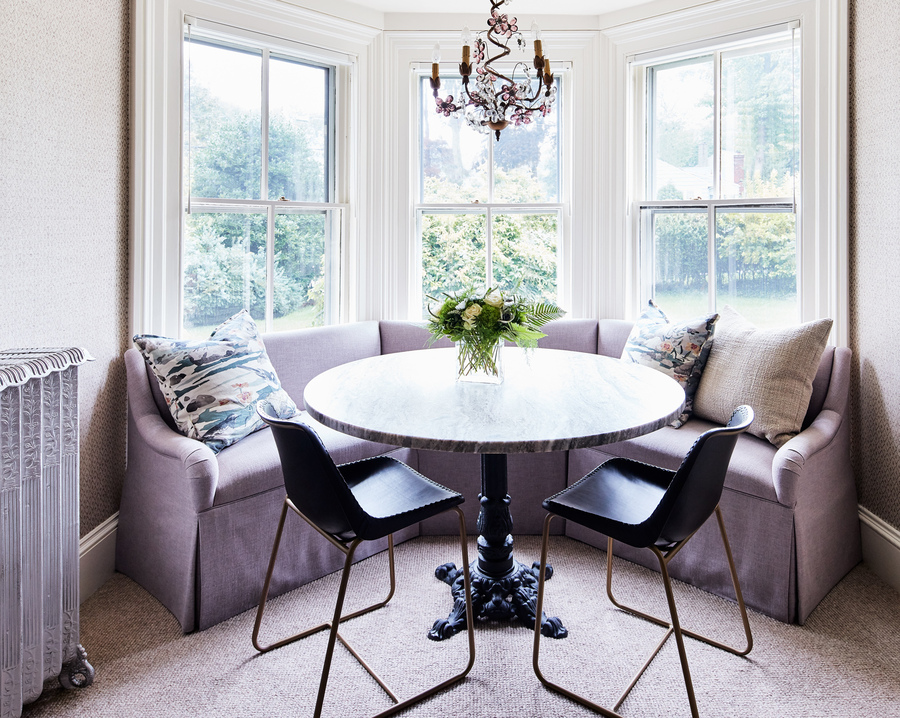 What's your favorite way to go green at home?