Mecca Integrated Medical Center is a true medical one-stop shop.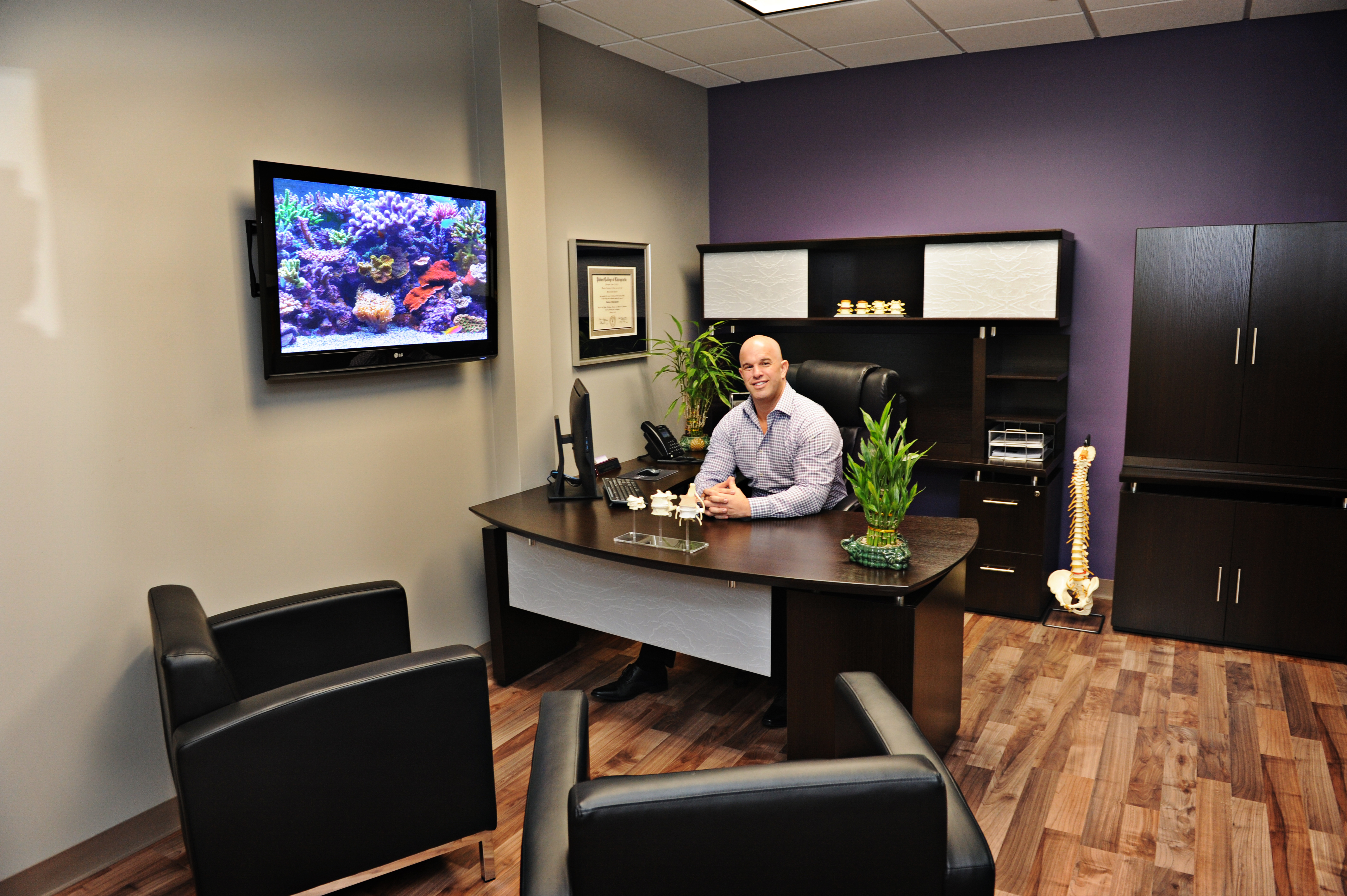 You know I love a business model that helps you "get your life right," a HOF mantra. Mecca helps me get my life right, and truly straightens me out. 🙂 Pun totally intended.
Founded by Dr. Mike Sapienza and wife Dr. Dena Lacara (who runs the spa, as well as Continum Care at Mecca, a concierge MD service for patients), Mecca utilizes state-of-the-art techniques and technology in the fields of internal medicine, neurology, physical therapy, acupuncture, and chiropractic. It's a multi-disciplinary medical office that helps patients from all across the country attain a better quality of life. As one of those patients, I can attest firsthand to how incredible the level of service and care is.
A little background on Dr. Sapienza: He graduated from Arizona State University with a Bachelor of Science in exercise science with an emphasis in exercise and wellness. He later received his Doctorate of Chiropractic from the Palmer College of Chiropractic in 2005. Fun fact: Dr. Sapienza is also a graduate of The Advanced Corporate Wellness Training Program where he has received specialized training in the detection and correction of health issues arising from workplace conditions.
His thoughts on health and wellness, below.
How did you get into the health and wellness industry?
I have a family history of an inflammatory disease called Ankylosing Spondilitis (AS). AS causes one's spine to fuse from the low back (Sacro-Illiac Joints) up to the neck and can be very painful. My father is in the advanced stages of AS where his entire spine is fused from his low back up to his neck. When the first signs of AS were detected in my spine (around sophomore year of high school), regular chiropractic care not only stopped the progression of the disease, but reversed the initial fusing of my spine. After seeing this reversal demonstrated on a follow up X-ray, I knew I wanted to be a chiropractor.
What is the story behind opening Mecca Integrated Medical?
I had an idea that I wanted to create an integrated medical center that would be a "one-stop shop" for many of your health and wellness needs, including chiropractic, physical therapy, primary care medicine, and a medical spa. I even had the name picked out – Mecca: A center that attracts people for a specific activity or interest. To make this idea work, Mecca needed a Medical Director to provide and oversee additional services that were out of my scope of chiropractic. My sister introduced me to her physician, Dr. Dena Lacara, thinking we might be a good fit for each other. I remember our first business meeting was scheduled for a lunch and we hit it off so well, we wound up staying for five hours and ordered dinner as well. Not only did we decide to go ahead with this idea, but we also fell in love and have been married now for almost ten years and have two beautiful children.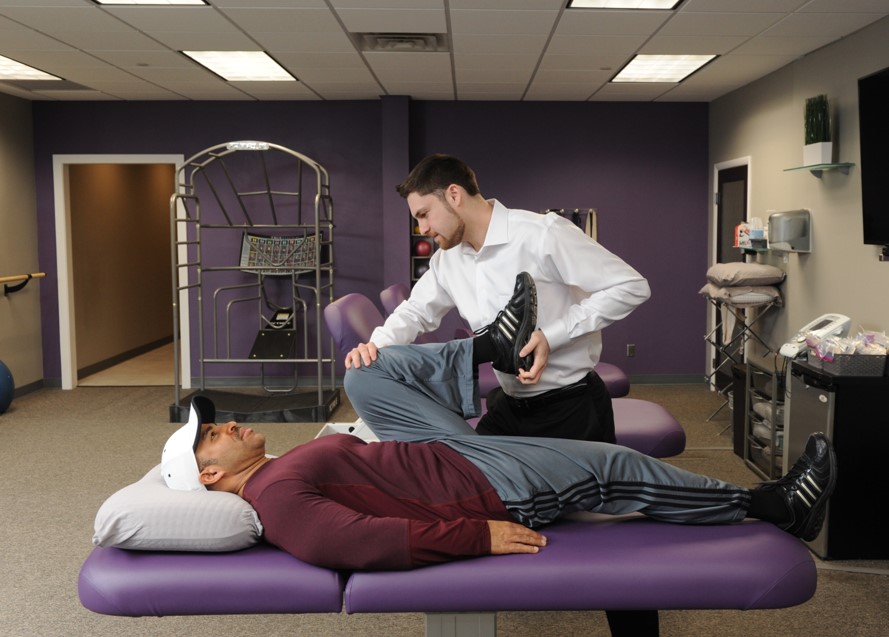 How do you incorporate traditional medical with chiropractic, physical therapy, and aesthetic medicine into your client's wellness regimen?
Every discipline has a role here. When you have different providers whose education has molded a different philosophy on optimizing health, things can get intense. Our healthcare professionals are committed to working comprehensively with other disciplines for the most effective patient outcome. The reason why Mecca was created is to provide our clients and patients with professional guidance and care to look, feel, and function at their absolute best so that they may lead happier, healthier, more productive lives. Traditional medical practices are utilized in our concierge medicine department, our medi-spa for injectables such as Botox and filler injections, as well as in our rehab department for procedures such as diagnostic testing or trigger point injections. These practices compliment the other wellness-based disciplines and add further validity to the patient treatment protocol and outcome measures.
Talk about what patients can expect to receive in terms of care at Mecca in regards to keeping with your mission statement as comprehensive, state of the art, multi-disciplinary approach.
This is what makes Mecca special. I don't know of any other medical office that offers a more comprehensive treatment approach. When a patient enters our office, they can expect to be seen by a multitude of providers with varying professional background, including: chiropractic, physical therapy, acupuncture, neurology, and internal medicine. Each discipline brings something to the table in terms of getting the patient well and ridding them of their pain or complaint. In a given treatment day, they may receive several therapies. For example, a patient suffering from a disc herniation may receive spinal decompression for their discs, a spinal adjustment for improved posture and alignment, several manual techniques and guided exercise routines by our physical therapists, and a relaxing acupuncture session to reduce inflammation and improve range of motion. During the initial visit, our patients are given a tour of the office to see everything we have to offer. They are brought down the spa corridor to see the aesthetic and massage rooms as well as Dr. Lacara's patient treatment rooms, they see our acupuncture bays, and then are finally brought in to our PT area where they are introduced to the providers and the various technologies we offer to get them to their goal.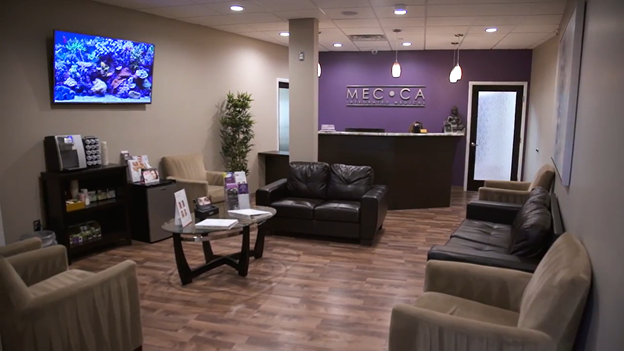 Three tips to improve daily health and well-being:
1. Consistent daily exercise is important to decrease stress as well as most inflammatory diseases including cardiovascular disease and arthritis. I recommend 3-5 days per week for 20-30 minutes per day. It doesn't have to be "all out" either. A simple brisk walk will still provide benefit.
2. Water intake should be half of your body weight in ounces per day. Example: a person weighing 200 pounds should be drinking 100 ounces of water per day. This will help increase energy, maintain weight, rid the body of toxins, improve complexion, and overall well-being.
3. Meditate 2-3 times per week. It only takes 10-15 minutes or so, and is a great way to reset yourself mentally. A great app that I use with my kids and can be used for those of us who need a little guidance is called Calm.
Do you see more wellness practices becoming integrated centers like Mecca? Talk to us about that trend in health and wellness?
Absolutely. We are in a time when demand for optimal patient care and convenience are that the forefront of expectation. People are demanding a better healthcare system with more options that challenge the strict allopathic model. I see many wellness professionals taking this opportunity to work with medical doctors and other health care professionals to bring more natural options to the table.
Where do you find inspiration?
Anywhere we can get it. We believe everyone has a right to look, feel, and function at their absolute best so that they may get the most of what life has to offer. Anything we see or hear about that aligns with our purpose is discussed during our weekly meetings to determine if it is a good fit for our office. We are constantly adding new technologies and services for our patients benefit and will continue to do so to provide the level of service expected at Mecca. Our services and professionals on staff have grown continuously each year. This mirrors our desire to grow, evolve, and continue to provide top-notch, state-of-the-art services.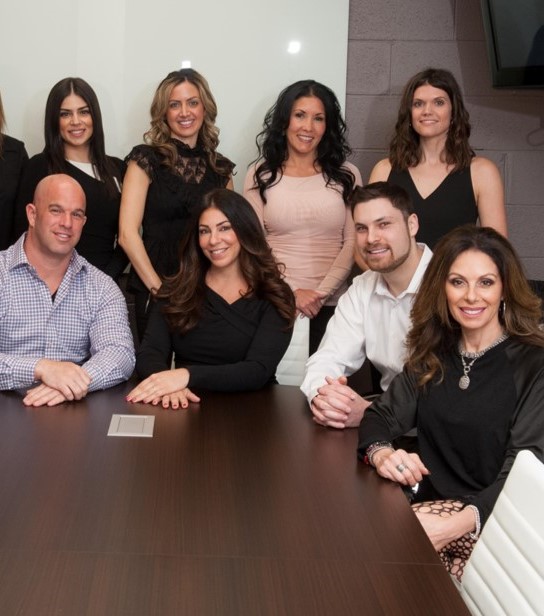 Favorite travel destination?
That's a toss-up between Aruba and Turks and Caicos.
How do you unwind and relax after a long day?
A good cigar goes a long way in terms of allowing me to escape the day's stressful moments (in moderation, of course). For those extra long days, I might pair my smoke with a scotch or a Manhattan, but that doesn't happen very often.
Why is a sense of community so important to running a local business?
The fact is, people have choices. Offering a superior product sometimes just isn't enough. It's important to create an environment where the client or patient feels like they belong, and where they get the sense that we are excited to have them in our office. For example, it's not uncommon for our front end staff to greet every patient by name and offer them a piece of fruit or a cup of coffee, or for our office to send you an email or text on your birthday, or even for our providers to offer to grab their patient a cup of water between exercises. In many cases, the patient is given the provider's personal cell phone number in case they have any questions or concerns throughout their journey in our office. We know we are creating a special sense of community when we hear our patients tell us they look forward to coming or that this is the best part of their day. We try to create wow-factor experiences whenever possible to create that sense of community.
What do you love about being a local business?
Dena and I were talking about this last week. We love to serve our community. There is no better feeling for us than when someone asks us what we do and when we say we work at Mecca, we see their eyes light up and tell us how much they love it there. We put a lot of blood and sweat into this office, and when someone tells you how great it makes them feel or happy they are when they visit Mecca, it really hits home and feels great to know you've created such an atmosphere.