Luxurious and relaxing:
Guest-room design is an art in balancing sophistication and comfort.
The bedroom is so much more than a place to rest your head at the end of a long day. It is a space set apart which should activate the senses and refresh the soul.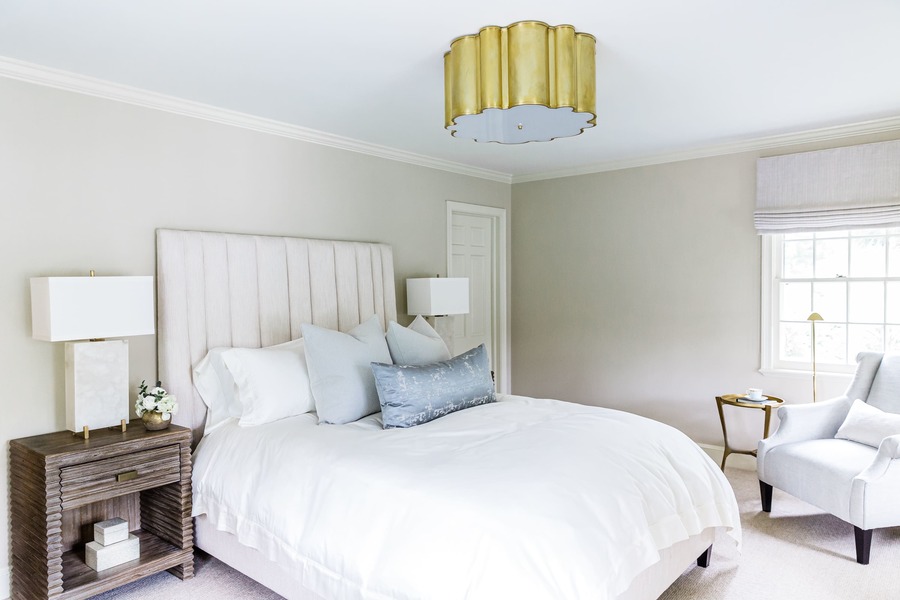 Through the use of light, a neutral palette, and layers of texture, I transformed three guest rooms into ethereal oases in Montclair, New Jersey.
I always start projects with how clients want to feel in the space. The clients wanted these rooms to feel soothing and welcoming. The clients' two boys had grown and left the coop, taking all of their furniture with them. The result: two vacant guest rooms and one existing guest room in need of an update.
The project was borne out of necessity, with the clients looking for a neutral palette that would be equally appealing to their sons and to guests. These rooms unfolded as relaxing and welcoming spaces that would draw their sons home and beckon their friends and families back for visits.
Every detail was carefully thought out, creating layer upon layer of relaxation. The ultimate in guest-room design.
Speaking of relaxation…The ideal bedroom is a retreat from the hustle and bustle of the day. A rejuvenating oasis to tuck into, a fresh space to wake up to.
Oversize bedrooms are useless without thoughtful space planning. My solution is to create a cozy sleeping space and a wonderful surrounding environment: Luxurious window treatments one can pull for privacy or open to take in the view and a seating area suited to cozying up with a good book, cup of tea, or glass of wine.
The West Guest Bedroom features a nook that includes a plush armchair by Bernhardt in a soft hue, an aged brass side table by Made Goods, and an adjustable brass floor lamp by Circa – ideal for a late-night reading session.
Linen window treatments by Window Works with Romo fabric offer light control without diminishing the natural light that streams into this room.
The window treatments have two layers, one for privacy with tons of natural light, and one for room darkening – so that all guests can adjust to their preferences.
Flanking the queen bed, are beautifully textured side tables by Mr. Brown Home. John Richard alabaster and brass lamps are a nice juxtaposition of materials, giving the room an elegant vibe.
A brass and frosted acrylic flush mount ceiling light by Visual Comfort is a statement piece in the room.
One of my top guest-room design tips is to stock your home with high-quality linens that look and feel luxurious.
Plush linens = comfort. Guests will notice and so will you—it's the little details that you see and use daily that make a difference in how you feel about your home!
I made sure that every one of the guest bedrooms was stocked with gorgeous linens that the homeowners and their guests would enjoy.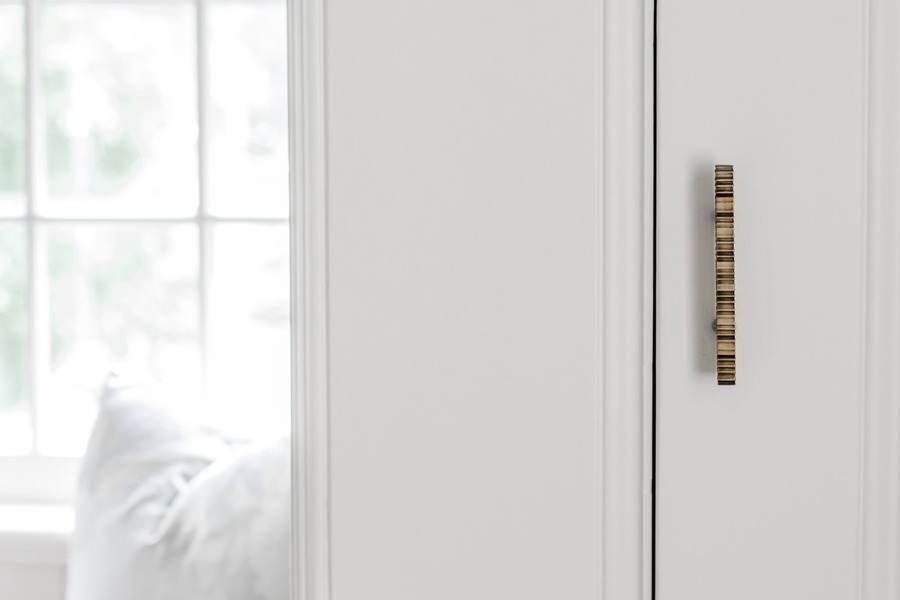 I added a touch of soul and grit to the space via antique brass hardware. It's a nice complement to simple, white cabinetry.
To create another cozy lounging area, I worked with my upholsterer to design a custom window seat, complete with beautiful accent pillows. I kept the colorway crisp and clean with creams, off-whites, and linen tones. Quality pillows in beautiful fabric make all the difference in a space. They truly elevate a room and say come, sit… stay awhile.
A painting in a floating silver frame by Wendover Art Group is soothing yet striking. Over-scaled art lends drama and color to the room. I love to scale art up and push limits — go big or go home. Art has to speak to you. Trust your gut.
One of the most alluring pieces in the West Guest Bedroom is this Made Goods dresser in mother of pear and gray resin. The detailing is captivating. With a piece this intricate, skip fussy accessories and go minimal. Let the piece shine.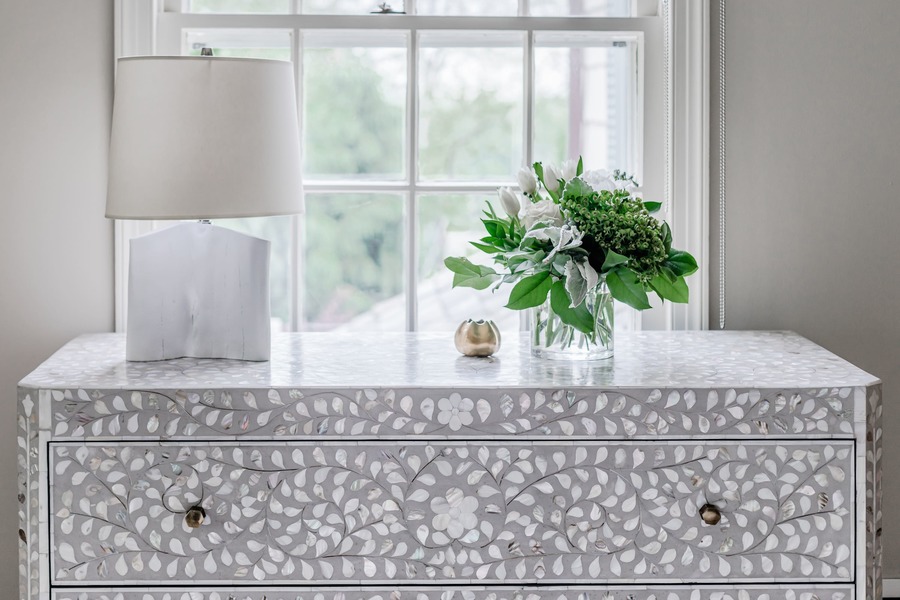 Next door, the Northeast Guest Bedroom features a mix of materials, textures, and accessories that imbue the space with modern glam. The room is tranquil and sumptuous, while a large buffalo photograph and faux-fur blanket inject an earthy quality into the space.
A low dresser by Made Goods offers ample room for guests' clothing, letting them know they can unpack, unwind, and relax.
Rustic sand-toned wood and antiqued nickel nightstands by Bernhardt are light and airy, yet grounded. Circa's brass and white glass lamps are smart and stylish, particularly when paired with quirky accessories.
A Bernhardt armchair in an oatmeal basketweave fabric begs to be curled up in. The room doesn't lack for comfy throws and pillows, making it a prime getaway for guests.
Last, the Southeast Guest Bedroom has deep, rich tones that feel elegant and moody. It's a subtle contrast to the more ethereal guest room down the hall.
Made Goods nightstands in a dark faux horn finish are sleek and sexy. I chose these Circa nightstand lamps for their curved body and fluidity – a nice contrast to the structured, upholstered bed.
Design is all about the mix. Creating interest and balance with light and dark, clean lines and rich finishes, feminine and masculine. I like my interiors to have grit, age, and soul.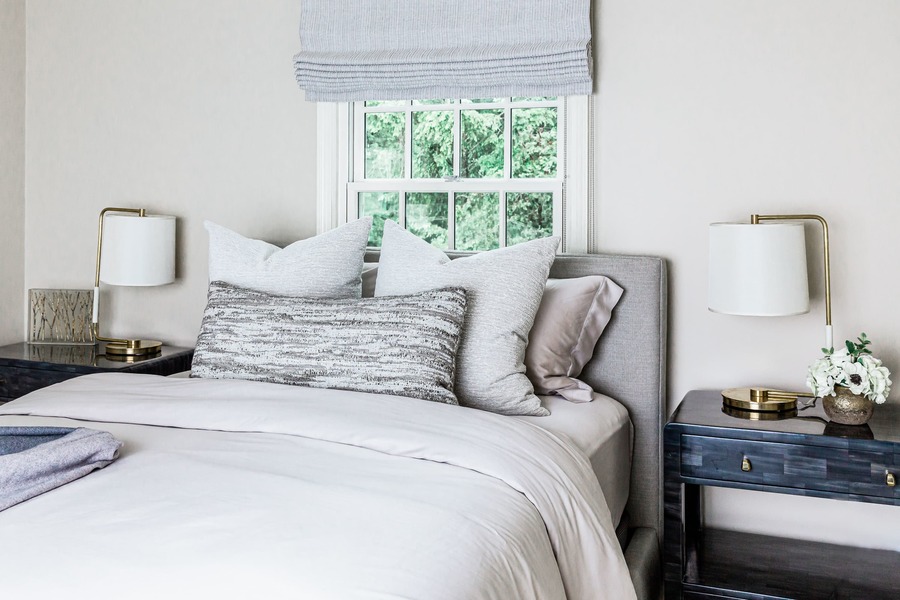 You know what has soul? This deep bronze side table by Arteriors. It's got so much character, and truly transforms the seating nook.
Not to go unnoticed is the moody landscape art behind the Bernhardt armchair. The rich hues and over-sized scale of the art add drama and depth.
A Brownstone Furniture dresser in a nutmeg-stained teak finish is balanced with a crystal table lamp and more glowing accessories.
This project showcases the spirit of thoughtful guest-room design. A "cozy" intent is one where people feel comfortable, at ease, and happy. They feel warmth and security. I strive to create those kinds of spaces with all of my designs. It's the principle that you can create a feeling in a space with intention that I love. 
Our work transformed these guest rooms into luxurious and relaxing retreats for family and visitors to enjoy, time and time again. We maximized every inch of space and elevated the aesthetic across the board. Now that's the definition of a dreamy retreat.