Rule of thumb:
Center the fixture above the bed.
Even if your bed is not in the center of the room, center your fixture 18″ above the bottom of the bed so that the light is over your feet when you're sleeping. This will keep the light out of the way of you walking along the bottom of the bed, and since you aren't walking under it, you can get a taller fixture… (chandeliers are so sexy in the bedroom – on a dimmer, people!)

Keep this in mind next time you add lighting to a bedroom and you'll love the look.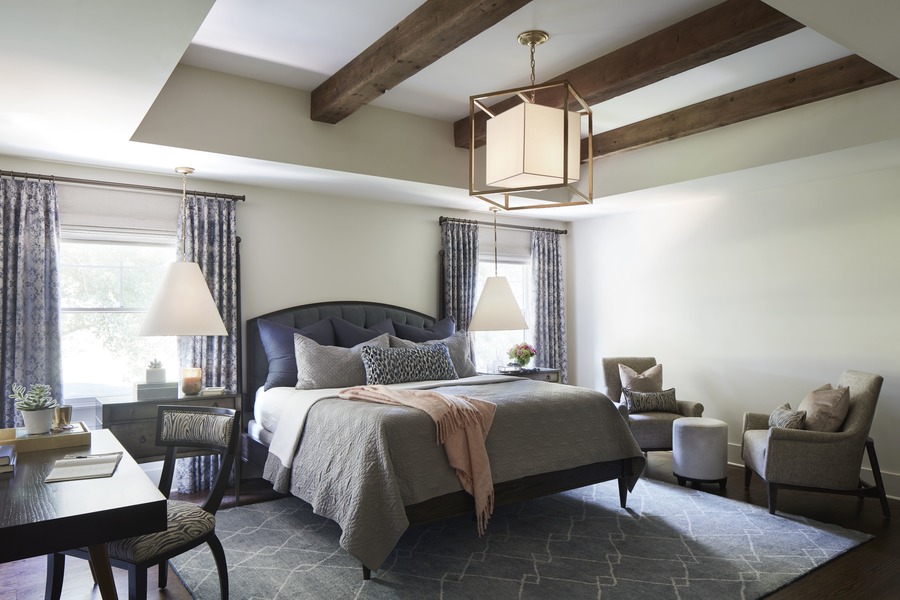 The ideal master bedroom is a true haven—a retreat from the hustle and bustle of day-to-day living.
Above, the clients wanted a space that was calming, sophisticated, and elegant. To create this look, I selected a Vanguard bed and side tables with Pollack's "fusion-splash" drapery panels and pendants by Circa Lighting. I created a seating area where the husband and wife could settle into Vanguard chairs to read or chat about their day. A Mr. Brown desk and Bernhardt chair make for a great space to jot a note or get organized before facing the day. The room is anchored by a plush rug and statement-making Visual Comfort pendant light. This sanctuary truly represents our clients' taste and style:
All of Sandra's help and ideas have created our dream home. We could not have done it without her.
This home was once a converted barn, so when updating the master bedroom, we were working with the structure of a 19th-century building. It wasn't created by today's building standards, so many things needed to be reinforced. I reconfigured the master bedroom to be more modern in layout, while keeping the overall look and feel of the space rustic.
The clients wanted the room to be about soft sophistication—a subtly glamorous space to get away to…
We added lights in the bedside niches, as well as above the bookcase. Layers of light add function and ambiance to each room we create.
Both of these projects showcase where to place a light in a bedroom for optimal flow and best aesthetic.