Create a plan & be confident!
You know that I hate a blank sheet of paper, especially if I am creating content. I don't start my social media or newsletters from zero, and you don't have to either.
You're creative – it's in your bones. Creating content is just a matter of applying your creativity in a different way. But somehow it still ends up feeling overwhelming. So, put a plan in place, so that you can batch it and then focus on what you do best; design.
I'm a firm believer in setting up a system for anything that we repeat. It's now our "rinse & repeat" content. At the end of each year, we review, revise and then repeat our monthly themes for the coming year.
When you batch your content creation, you free yourself up to be playful and in the moment on social. Then, if something catches your eye to share to your story or you feel like going live (OK, I get that very few humans feel like going live) you can – or not. It's a no-pressure-to-produce-content situation.
If social media, copy-writing or technology in general overwhelms you, then hire an expert. Let them do what they do best, while you stay in your zone of genius. I love to write, but don't have the time anymore. Now, our content creation is a group effort. Before scheduling the content, I top edit everything – which allows me to add stories and anecdotes to ensure that my authentic voice is represented.
Your ideal clients need to know who you are, so get out there and introduce yourself.
Check out our latest Design Sips, Get Strategic with Your Content, for a deeper dive.
In This Episode…
I'm sharing my best marketing tips for a joyful and efficient business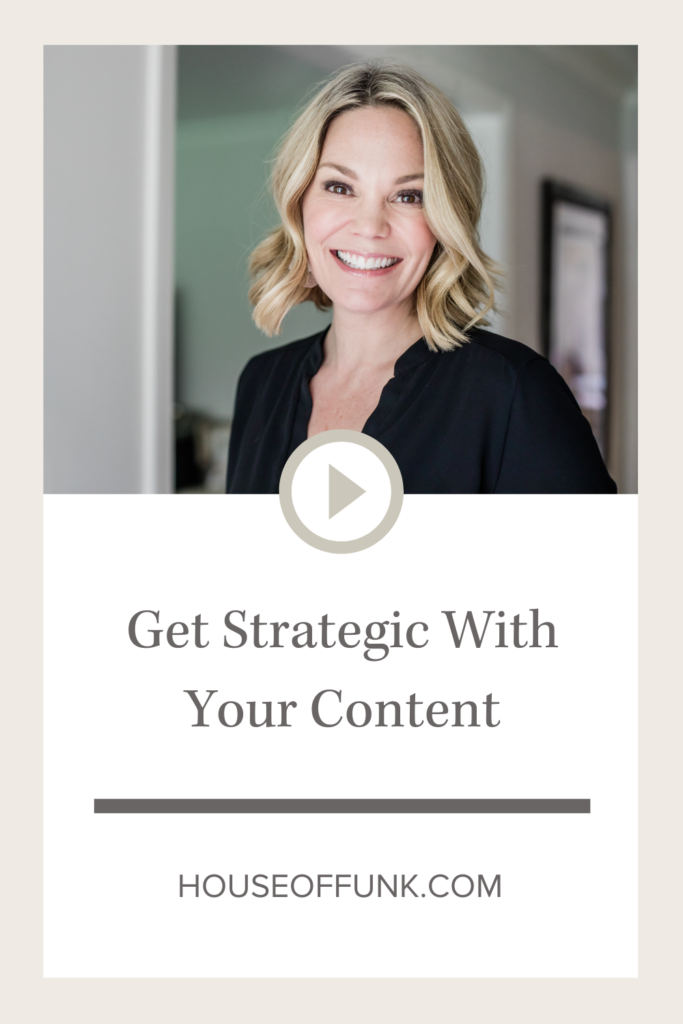 We Talk About:
The framework that I use to keep our content consistent
How to take your content to the next level
Common roadblocks and how to push right past them
Check Out Other Design Sips Episodes:
Thanks for Listening!
What's your biggest takeaway from this episode, "Get Strategic With Your Content"? Comment below!
I'll see you this Wednesday for a brand new LIVE episode of Design Sips – Optimize Your Website and Blog – 3:30 PM EST on Instagram or Facebook.