Layers upon layers of texture, color, and materials are integral to our design philosophy, and the same goes for florist Anna Coy of Blooms in Hand.
She is drawn to line, shape, color, form, value, space, and texture in her arrangements, saying:
When all of those elements come together in one vase, it's magic.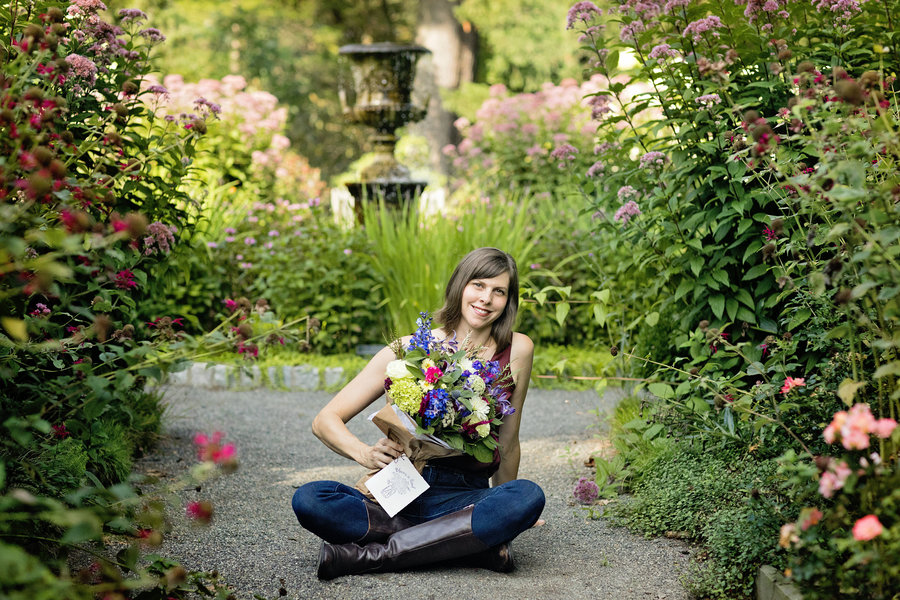 I can comment firsthand on the magic behind Coy's florals (check out her arrangements from our recent photo shoots). She is a gifted artist with a passion for creating beauty.
"I'm happiest when I get to make something every day," says Coy. "I feel much more complete with a finished product to show at the end of the day."
Read on to see what inspires her, how running her own business has changed her for the better, and her top three tips for creating a beautiful flower arrangement at home.
How did you get into floral design?
My career in floral design has been a constant evolution. Beginning with a BFA in sculpture and furniture design, to a career in interior design, onto garden design, and finally, finding a home in a boutique floral design studio in Philadelphia where I spent nearly a decade learning the trade.
I left the Philadelphia studio to begin my own keepsake bridal bouquet company, To Hold & To Have, and have enjoyed running that business. Blooms in Hand, a floral business that offers a subscription-based floral delivery service for Essex County, New Jersey,  is my new focus and passion.  The customer can choose their delivery frequency, budget, delivery day, and delivery time. I artfully design and curate the wrapped bouquets and deliver a fresh look every week that is vase-ready and always unique.
What inspires you?
When I am planning my arrangements, I am inspired by so many things. It can be as simple as a flower that I find beautiful and am dying to use or perhaps a room interior with a striking color story. Often, I share those inspirations on social media, as I like for people to see how I work as well as the end result. It is very satisfying to see it all come together.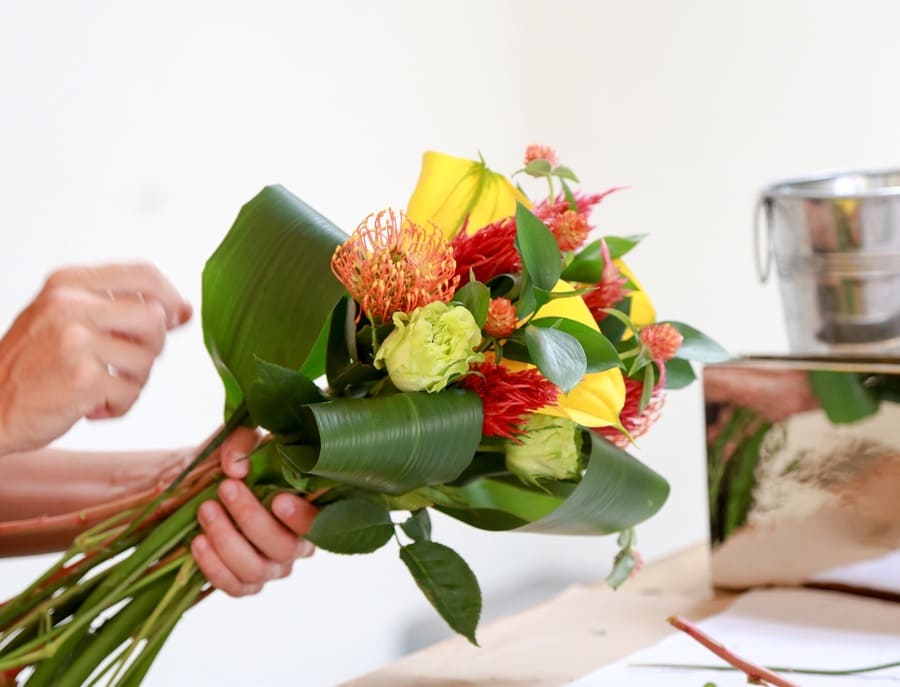 What is the most rewarding thing about being your own boss? The most challenging?
I have a soon-to-be two year old, and the most rewarding thing about being my own boss is being able to structure my schedule and business model in ways that enable me to have flexibility and allows for more availability at home. Along with that comes the challenging part of never really having an "off" switch. I am taking calls, writing proposals, and answering emails at all hours. That can be exhausting at times.
How has running your own businesses changed your outlook on life?
Running my own business has given me a whole new appreciation for all the other small businesses out there. The dedication and sacrifices that it takes to have longevity in an ever-evolving world make you look at that shop that has been in operation for 20+ years in awe. I just hope to be one of them.
Best part of the job:
Having creative freedom is my favorite part of the job. I have a vision of something I'd like to see, and I get to create it and then share it with others. It's the dream I've wanted since I tried to sell my drawings along with lemonade when I was seven.
Most surprising part of the job:
Most people would be surprised by how much a florist knows about their customers. I know my clients' birthdays, anniversaries, likes and dislikes. It's a very personal thing when you are asked to play a small part in people's lives by helping them celebrate or commemorate the events in their lives. I don't take that invitation lightly, and I am thrilled when I am asked to create things that mean something to someone else.
What makes for the perfect arrangement?
My favorite floral arrangements feature the seven elements of design that are present in the pieces of artwork I am typically most drawn to: line, shape, color, form, value, space and texture. When all of those elements come together in one vase, it's magic.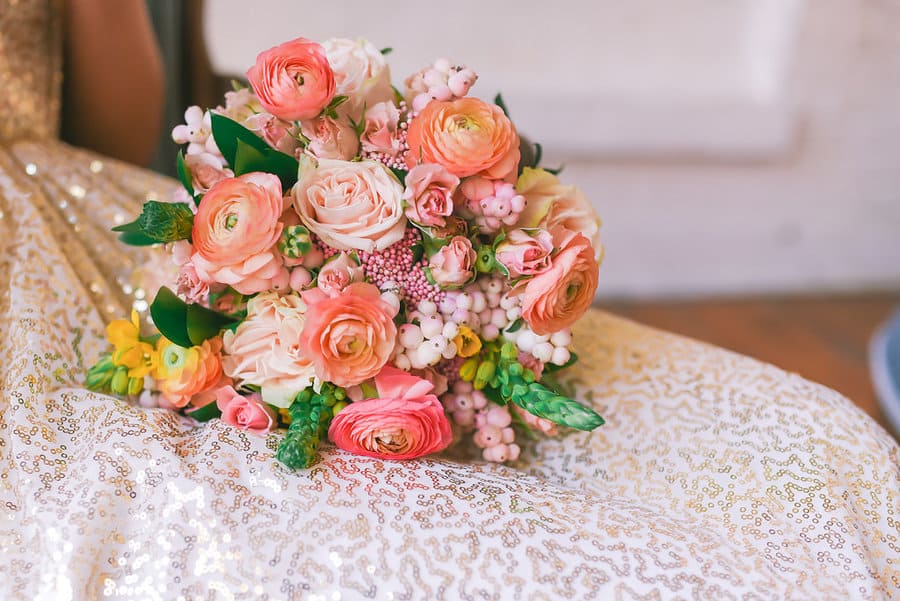 Your top three tips for creating a simple arrangement at home:
To design at home, you can make a beautiful arrangement with three items. You need greens, statement flowers, and a filler flower. Start with the greens first. They will act as the grid for your florals, and use odd numbers for your statement flowers. It creates a more balanced look.
Tips for picking the right flowers according to season:
Most florists order flowers from all over the world so we aren't necessarily limited to seasonal flowers to create designs. I do, however, love using local seasonal blooms when I can. At the farmers market for instance, one should look for blooms that aren't all the way open. Tighter is better because it will give you longer vase life. If it's a really hot day, try to select the stems in the shade as the hot sun can stress out the flowers. Always give a fresh cut when you get home, and warm water can perk up some blooms that may be weepy.
Tips for choosing the right type of vase and location in one's home to display flowers:
I always say the flower stems dictate the vase. Tall linear flowers like gladiolas or delphinium crave a taller vase. Full rounded flowers like hydrangea or roses can fit a lower, wider vase more easily. Never put them in front of a heater or air conditioning unit and change the water frequently. A bedside table is one of my favorite places to tuck a simple bud vase. It may help make that alarm clock more tolerable if you have a scent of freesia helping you wake up.
How your unwind and relax after a long day:
I have a very fast turnaround time before I go from boss to mommy, usually the time it takes to walk from the car to the house. If I wrap up my day a little early I may stop by a friend's shop and chat for a bit or relax with a latte at the coffee shop up the street.
Advice you'd give to other female entrepreneurs looking to start their own companies:
My business has been growing organically since I started just a couple of years ago. I couldn't have guessed it would have grown into what it is today, and I am thrilled when I look at the horizon. I would say to a young entrepreneur to remain flexible and open to opportunities, never turn down a coffee meeting with someone new, and don't be shy about talking to the people you admire.
Motto you live by:
I have no idea who said this but I read it somewhere and it really stuck with me. I try to remember it when I'm feeling a little rundown or perhaps not in a creative mood. "Every time you create something, you have the ability to make it extraordinary."